DVD: Macbeth |

reviews, news & interviews
DVD: Macbeth
DVD: Macbeth
Rupert Goold's imagination sprawls in TV remake of sharp stage production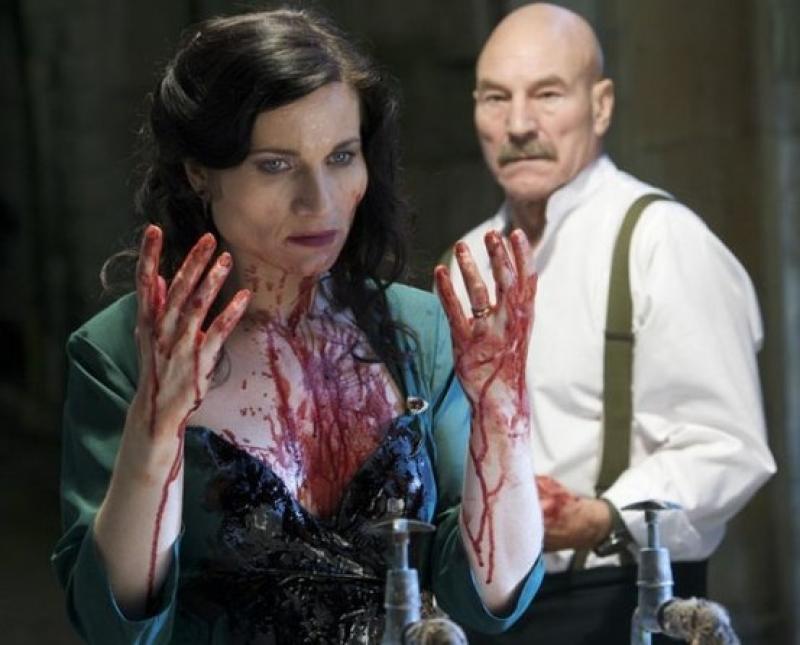 The famous egghead of Patrick Stewart and the Slavic cheekbones of Kate Fleetwood are fabulously well lit as style-icon Macbeths
Your Macbeth opens in the round, tailored to a small studio theatre. In entrusting it to television, do you engage someone experienced in the medium to render faithfully the spaces and the talking heads, as Trevor Nunn did for the deservedly legendary McKellen-Dench double act? Or do you cry your own havoc and let slip the dogs of all your favourite film directors, as happens in Rupert Goold's ambitious TV transfer?
Either could work. But the only proof is in the end result. And while the 1970s film still chills my blood, I can't help feeling that here so much tension and imagination flails while the camera jumps nervously from place to place (Goold had even less time - 18 days - than Orson Welles in his infamous short shoot to really focus on his atmospheric setting, Welbeck Abbey). The famous egghead of Patrick Stewart and the Slavic cheekbones of Kate Fleetwood are fabulously well lit as style-icon Macbeths, their Shakespearean language clearly articulated and the trajectory of their relationship – she much younger and nervily ambitious at the start, he rising to more frightening heights of tyranny – well charted. But both swim in an unsupportive sea of secondary, sometimes third-rate acting that rarely adapts well to the naturalism of television.

The vaguely Stalin reign-of-terror premise, too, doesn't always convey the social context of power as Goold says he intended, while the supernatural dimension served by witches as nightmare nurses made me laugh more than it scared me, surely not the intention. The banquet scene is messy in the wrong way, a round-table camera job that's a poor compromise for the clever action replay of Goold's concept in the theatre. Stewart, Fleetwood and Goold (twice, including the always fascinating, ideas-all-over-the-place commentary) make eloquent special pleading in the generous bonuses. But ultimately I was much less convinced than Adam Sweeting when he reviewed the TV screening.
Explore topics
Share this article