theartsdesk in Hay-on-Wye: More Light than Heat at Hay 25 |

reviews, news & interviews
theartsdesk in Hay-on-Wye: More Light than Heat at Hay 25
theartsdesk in Hay-on-Wye: More Light than Heat at Hay 25
What have Shakespeare, ancient Greece and history ever done for us? The 25th festival answers a lot of questions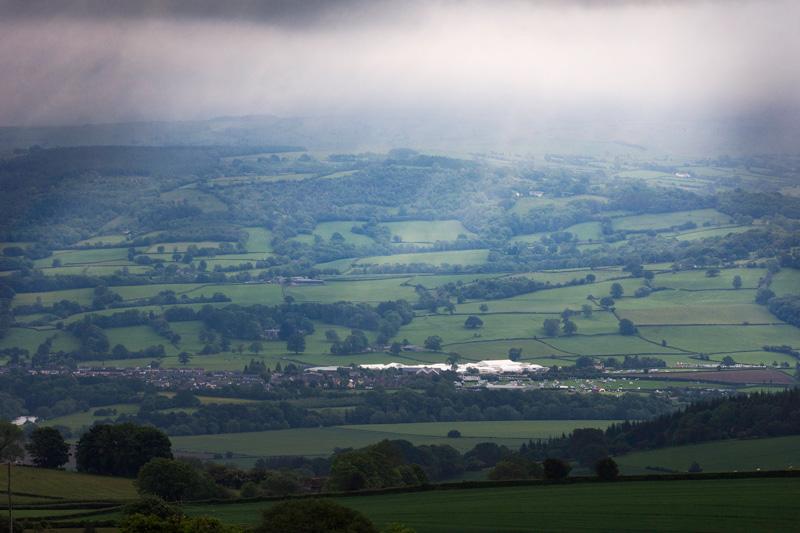 Hay 25: Roman encampment on the edge of wet Welsh town
To each their own Hay. The Roman encampment that is the modern-day literary festival, circled by pantechnicons and trending in the Twittersphere, looks very much like a monomaniacal content provider for all comers. Astroturf walkways deliver the cagouled hundreds and thousands to events in tents with clockwork regularity. But the reality is, of course, that no two experiences of Hay are alike. A bit like snowflakes.
Talking of which, the one common denominator to every event in my two and half a days on site alluded in some shape or form to the weather. As the winds crack its cheeks outside, Michael Dobson of the Shakespeare Institute proposed "a hyperrealist impromptu King Lear in the car park". Doors flew open, bits of wall cladding came loose from their moorings, the infrastructure of the mainstage Barclay's Pavilion moaned and creaked like a galleon's rigging in a storm. "Do you think this is the end of the world?" wondered Julian Clary, only half joking as gusts rattled the timbers of Llwyfan Cymru (Wales Stage). For his encore Bryn Terfel, fresh from The Ring in New York, cranked up the elemental atmos for a climactic moment from Das Rheingold. "I wanted to see how the tent would take a bit of Wagner." Pity poor Mark Tully, who turned up from Mumbai with insufficient layering. Several female performers wore the signature Powys combination of flowerprint dress and Wellington boots.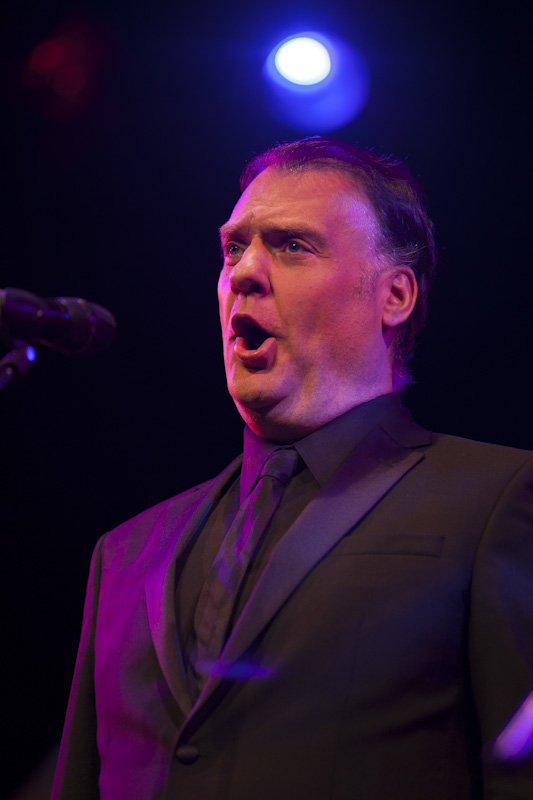 And then there was Gillian Clarke, the National Poet of Wales, introducing her next set of poems, many inspired by the big chill which had the country in its grip in December 2010. "Frost has got its knives out," she read. As she shared millennial reflections on ice, it was as if the Welsh weather was putting on a sort of immersive son-et-lumière accompaniment.
Weather aside, the Hay Festival brings annual confirmation that reports of the book's demise are, at least for the moment, exaggerated. After each event readers have lined up for signatures from writers. Until the technology is invented, you can't sign the digitised facsimile known as the ebook. In this corner of a Welsh field, the pen is still mightier than the Kindle. Supplementarily to that, Hay more than any other festival answers the very contemporary hankering to put a face to the name and the voice. The many top-line comedians, singers and even politicians who have passed through Hay this year may always be available to audiences, but people of all ages also hunger to clap eyes on celebrated novelists, historians, journalists, commentators and broadcasters. So much so that they are prepared to traipse as if in a biblical caravan to a small, inaccessible town on Wales's border with England to find the great and the good (and the sometimes not so good) roosting en masse. It's no coincidence that national broadsheets fall over themselves to sponsor Hay – the Daily Telegraph's contracted columnists were out in force - while Radio 4 regularly broadcasts from here and Ian Rankin chose Hay to announce a comeback for Rebus.
The big names were not all contemporary. In my couple of days migrating around the Astroturf, the headliners were Shakespeare, ancient Greece, World War Two and Wales, all of them thematic subjects daisychained across the schedule. Bettany Hughes, who mints quite brilliant five-minute answers to every question popped at her, showed up at regular intervals to expatiate on both Divine Women and, as part of a panel in a series of discussions, on what the Greeks did for us. "Idea," explained Hughes, "is a completely Greek word – which initially meant a thing a form, from the Greek verb to see. We can conceive of something and then change the world." OK, Hay hasn't quite changed the world, but it has changed the concept of the literary festival out of all recognition.
Ideas pass around a festival like this in a way that can be thrillingly unexpected. Thus Germaine Greer's seductive and extremely funny lecture on the omnipotent boy lover in Shakespeare (the last of three contributions to the World Shakespeare Festival). Pausing to note the tragic and inevitable passing of Westlife's good looks (her assistant was off to the last ever concert), Greer moved on to think about the links between the petulance of Bertram, the peevish boy Orlando and the inundation of sexual references in Romeo and Juliet. Among the surprises were her championing of Merry Wives as "an extremely serious play" and her refusal as a feminist foghorn to damn The Taming of the Shrew. Greer is so often seen on television in three-minute gobbets. An hour-long appointment is recommended.
What with such a large roster of performers, speakers and artists, Hay every year aspires to a kind of snapshot of the culture. This being Hay's 25th jubilee (while Diamond Jubilee bunting dripped here and there in town), there has been an effort to formalise the procedure with a series of panels answering set questions about The Way We Live Now. Friday's panel consisted of historians Simon Schama, Kate Williams and Max Hastings, novelist Emily Perkins and Val McDermid and leftie-baiting columnist Peter Oborne. The question "Were you to be leader of this country, what would you change?" prompted apocalyptic thoughts about education and particularly the teaching of history. In an adjacent question, they were asked, "Should politicians have history lessons?" To thunderous applause, Hastings insisted they be taught about World War One, the commemoration of which in 2014 is not considered worthy of government expenditure (unlike in France). He went off and came straight back on to lecture compellingly about World War Two and his new one-volume "global portrait from the bottom up". He reported that in a recently polled group of Japanese schoolchildren, one in five were ignorant of the fact that Japan had been at war with the US. So perhaps history has diminishing status in the Far East too.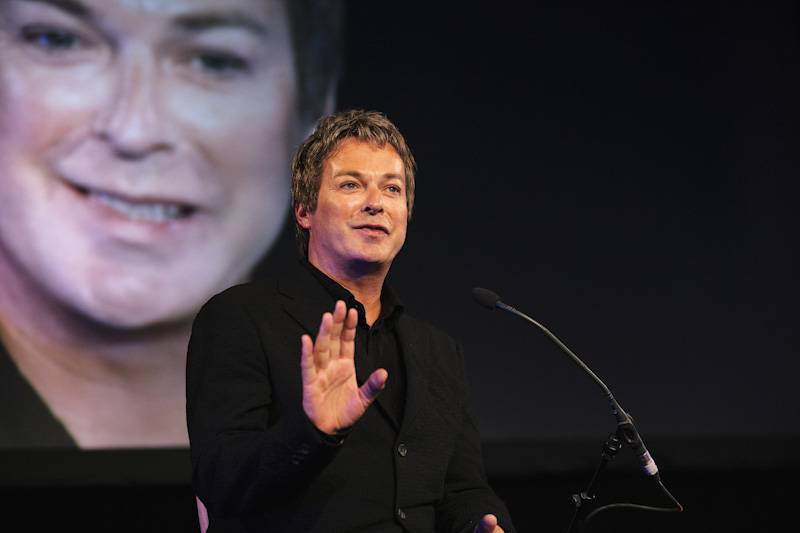 In a festival where they are laid on in the evenings for light relief, comedians wouldn't necessarily be expected to take part in the literary conversation, even if half of them are also bestselling novelists nowadays. And indeed Julian Clary's first few words contained a fusillade of single entendres involving (a) Kate Humble and (b) Welsh breakfasts. "Anyway, we're not here to talk about buggery jokes," he sighed before embarking on a lightly intriguing explanation of his novel inspired by living in the Kentish house once owned by Noël Coward. He could feel the master breathing down his neck as he ventriloquised his speech patterns in the very same study. It's an odd juxtoposition: the immaculately turned-out Clary talking to a roomful of shivering people in cagoules lugging, as he observed with a shudder, "rucksacks". But it is in the town's second-hand bookshops, he intuited, that his legacy will be measured against Coward's. "I like the idea of someone picking this up in 50 years in one of the dusty old shops in Hay and not knowing who I am."
And that is one of the joys of this Hay as much as of others: to find writers of yore looked over the shoulder of today's giants and wannabes alike. This happens as much in the Welsh section of a festival which, though heaving with the chattering classes up from London to flog their wares, does not shirk its responsibility to look west into the mountains and valleys. As well as Bryn T and Cerys Matthews, and Clarke's delightful poems and stories, one event was devoted to a new venture to bring the medieval Welsh urtext The Mabinogion into both English and the present day. Fflur Dafydd from Carmarthen and Horatio Clare from the Black Mountains, two of the seven writers invited to update the much loved stories, talked about importing drones from Afghanistan (Clare) and turning King Arthur into an unsuccessful private detective. "King Arthur enthusiasts have come after me," said Dafydd. Arthur, it should be said, is regarded as very much a Welsh monarch in these parts.
The reigning Welsh monarch sang on Friday night, just as he had at the first Hay Festival and the 20th. This time Bryn Terfel generously budged up to share the limelight with two young Welsh singers - Caryl Hughes, a spritely mezzo from the far end of the Llŷn Peninsula, and Trystan Llŷr Griffith, a lush tenor from Pembrokeshire. To piano accompaniment Terfel sang John Masefield's elemental lyrics, a couple of Schubert lieder and three songs in homage to the American baritone John Charles Thomas, including "Home on the Range". Then came the thunderous Wagner before, in the departing encore, the three Welsh singers brought it right down with the Welsh folksong "Ar Hyd Y Nos" (All Through the Night). The middle verse in English made hopeful reference to weather. As three sweet pianissimoWelsh voices sang "While the weary wind is sleeping..." you could almost hear it coming true.
Hay hasn't quite changed the world, but it has changed the concept of the literary festival out of all recognition
Explore topics
Share this article