Cannes 2012: French master turns up the temperature
Cannes 2012: French master turns up the temperature
Audiard's Rust and Bone, Anderson's Moonrise Kingdom and a striking tale from the Arab Spring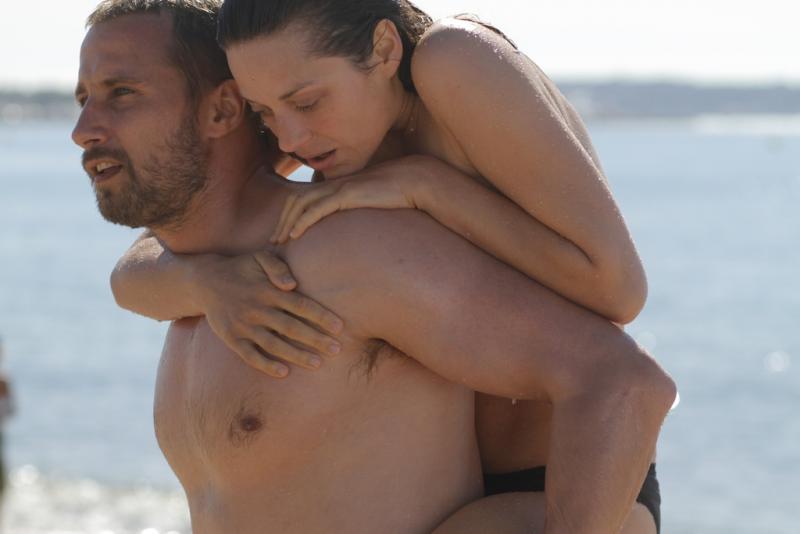 Unlikely couple: Marion Cotillard and Matthias Schoenaerts in 'Rust and Bone'
The first full day of Cannes started with a cracker, appropriately by a Frenchman and one of my favourite contemporary directors, Jacques Audiard. Rust and Bone features a love story between a woman who's had her legs bitten off by a killer whale and a man who makes his living from illegal street fighting. It ought to be preposterous; Audiard, typically, makes it profound.
It opens with Ali (Matthias Schoenaerts) on the road with his five-year-old son Sam, stealing food from diners, on the way to his sister in the resort town of Antibes. We never learn much of Ali's back story, or Sam's mother, other than the fact that she used him to traffic drugs. The father has decided to take the boy's care into his own hands, and is totally unequipped for the task.
He gets a job as a night club bouncer, where one night he breaks up a brawl where the victim is a woman, Stéphanie (Marion Cotillard). As he drives her home, his commentary on her dress sense is "I'm surprised a whore can train orcas". One wouldn't expect them to meet again.
Audiard combines melodrama and verité in a way that is natural, gripping and intensely moving
But the next day, while Stéphanie orchestrates her team's dance routine at Marine Land, the unthinkable happens. Months later, when sympathy suddenly still seems distasteful, the one person she calls is someone who hasn't an ounce of sentiment. And in his odd, offhand way Ali brings her slowly back to life.
Their romance develops at the same time as his career in the murky world of illegal fighting, and a job as a security man whose job is not to protect the customers but to spy on the staff. It's a rich mix, of the kind in which Audiard specialises. The Beat That My Heart Skipped was a crime drama whose central character yearned to be a concert pianist; Read My Lips also involved the underworld, but began as an office drama in which a deaf woman falls for an intern. In these, and A Prophet, the Frenchman combines melodrama and verité in a way that is natural, gripping and intensely moving.
Cotillard (pictured right) is heartbreaking, particularly as Stéphanie starts to emerge from her despair. The scenes where she returns to see one of the whales, and when she sits and replays with her arms her old Marineland routine, will probably be as affecting as any we'll see in the next 10 days. But there's wit, too, as when she goes to buy her first car after the accident. "Automatic," she declares. "But it has to be hot."
Wes Anderson's Moonrise Kingdom doesn't find the director at his best, but this highly eccentric evocation of childhood romance and rebellion was a charming choice to open the festival.
It's set on a fictional island, whose adults are melancholy and children restless, particularly two 12-year-olds who decide to elope, he using his scouting skills to good advantage in the wilderness. Bruce Willis plays the local cop on their tail, Bill Murray and Frances McDormand feuding parents, Ed Norton the troop leader who is pointedly asked, "Why can't you control your scouts?!"
As one would expect from Anderson, the production design and soundtrack (featuring Benjamin Britten and Hank Williams) are splendid, here creating a fable that will most resonate with children.
In stark contrast to Anderson's fantasy was Yousy Nasrallah's After the Battle, a strikingly up-to-date Egyptian drama centred on the consequences of the Arab Spring. Rather than an easy swipe at Mubarak, this is a nuanced (if also occasionally shouty) look at issues of gender and class, as well as politics, concluding that the country's problems have not been solved by revolution.
Read all Demetrios Matheou's reports from Cannes 2012