George Harrison: Something in the Vaults
George Harrison: Something in the Vaults
Producer Giles Martin on scouring the late Beatle's private tapes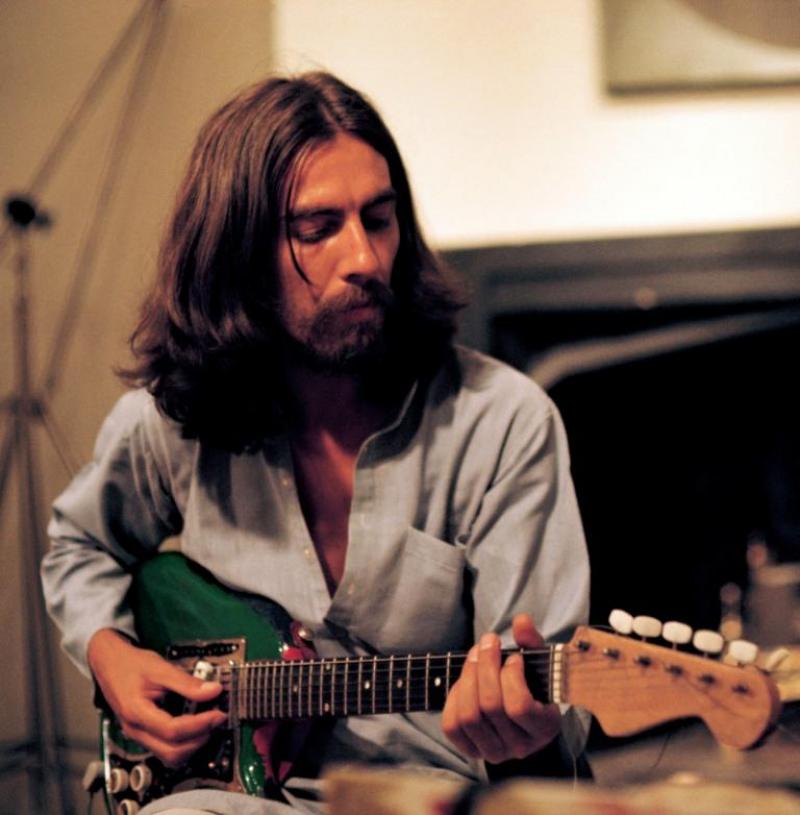 George Harrison: 'embroidering a very complex tapestry with a very fine needle'
My, what strange and wondrous treasures await the record producer given exclusive access to the private vaults of a Beatle. He will, for instance, find entire radio programmes preserved on multi-track tape, and recordings of F1 cars roaring past at some unspecified race track. He will stumble upon a humbled Fab being given his very first sitar lesson by Ravi Shankar, and be privy to a brief musical moment beamed in across the decades from a room at the Jaipur Palace Hotel.
There will be a few decent songs, too.
One day every last 1/4 inch of this eccentric audio trove may well be exposed to the light, but the first significant retrieval from George Harrison's voluminous archive is a little more conventional. Released as a companion piece to last year's epic Martin Scorsese documentary, Living in the Material World, Early Takes Volume 1 features 10 unreleased demos and embryonic versions of familiar songs which casts Harrison - the solo artist - in an unfamiliarly intimate light.
He used to wake Olivia up in the middle of the night because he wanted to do an overdub and he had no one to press the record button
The project was handled by Giles Martin (who is, aptly, talking to theartsdesk from Abbey Road.) The son of Beatles producer George Martin has increasingly taken over his father's mantle in recent years: he was music director for Love, the Cirque du Soleil's lavish Las Vegas production which featured the "reimagined" music of the Beatles, before overseeing the musical details of the Scorsese film. The Early Takes album spins off from that project, which began several years ago.
"Olivia [Harrison] approached me and said that Marty was thinking about doing a film and would I look after the music," says Martin. "I went down to the studio at Friar Park, and they have tapes of everything, all numbered: 'Demos 106' or whatever. We were looking for things we could use in the documentary, things that could demonstrate moods more than anything else. Some of the stuff they used, but lots of it they didn't, because Marty wanted to use a lot of originals. When it came to doing the soundtrack album we snuck some more on."
The tracks on Early Takes include the occasional relatively polished band version (notably of the Harrison/Dylan co-write "I'd Have You Anytime"), but in general the approach is appealingly grainy and unadorned. Six of the tracks appeared on Harrison's classic 1970 triple album All Things Must Pass. Some of them are startlingy raw, particularly so compared to Phil Spector's reverb-drenched production on the finished record. "Run of the Mill" is piercingly fragile, while a "how-the-hell-does-this-go?" early run through of "My Sweet Lord" sees the band gamely trying to latch on to the song.
"I deliberately didn't do all the things that you can do these days," says Martin. "I got moaned at on Love for doing digital manipulation; audio is like silly putty these days – you can stretch and bend anything you want, but you can also lose personality through production. On this record you can hear George's personality: his frailty, his cockiness, all that. The more things that are added the less it's him."
"The Light that Has Lighted the World", played late at night for a friend at Friar Park, frames the song at a very different angle from the original. There is light relief, too, in the form of "Woman Don't You Cry For Me", a fun, unfettered solo acoustic blues.
Listen to "Woman Don't You Cry For Me"
Martin hopes Early Takes will provide a "different way of listening" to Harrison. "I didn't want it be 'an education', I wanted people to put it on and listen to it as a proper album. There was a singer-songwriter thing I wanted to get to, I was trying to bring him as close as possible. It's nice to be able to hear him singing and accompanying himself at the same time – you never really hear that on his records. My Dad always said that when George was writing a song it was like he was embroidering a very complex tapestry with a very fine needle. The problem with people who like doing that kind of intricate stuff is that finding a raw first take is quite hard. But he also had the ability to spontaneously perform, and that's really what I wanted to capture."
Although most of the material dates from the early 1970s, there are also a couple of interesting later recordings, both cover versions. The lilting "Let it Be Me" was recorded by Harrison after going to see the Everly Brothers reunion concert at the Royal Albert Hall on September 23, 1983. "He went back that night and decided to record an Everlys tribute on his own," says Martin. "He'd do things like that quite a lot. Very sweet. At first I thought Jeff Lynne was doing the other vocal but actually George is harmonising with himself."
Listen to "Let it Be Me"
Bob Dylan's "Mama You Been on My Mind" is also a later recording, a folky solo performance rescued by Martin from the depths of a track all but destroyed by the worst excesses of Eighties programming. "The demo was heavily laden with drums and synths," says Martin. "I eventually found the master track and discovered that he played finger-picking guitar on it, which you couldn't hear. I took everything else off and left it with just guitar and voice, turned it into a singer-songwriter thing. If you listen to the beginning you can still hear the drum programming spilling over. I couldn't get rid of it."
Was it ever earmarked for a specific record? "I don't think so. He was funny. I think he would often go into his studio and just record stuff and not be bothered about making a record. He used to wake Olivia up in the middle of the night because he wanted to do an overdub and he had no one to press the record button."
Appending Volume 1 at the end of Early Takes implies there will be more. But what? And when? "I'm meant to be going back in there soon. There's so much material we have to go through, boxes of cassettes, and the only way you to listen to it is in real time: a 90-minute cassette will take 90 minutes to listen to. It's like panning for gold, and you need to take some time off to make sure you're fresh enough to hear it. There's a lot more later stuff I still need to go through, and there are things that weren't really relevant to what the film was saying. There's some lovely instrumental stuff, and weird things like the Ravi Shankar sitar lesson – you couldn't put that out as record, but it's really interesting. It all has to be respected and done in the right context."
Beatles fan will naturally be salivating over the prospect of any genuinely "lost" recordings showing up, but Martin dampens down any wild expectations. "Most of the Beatles stuff was covered in the Anthology series," he says. "They were so bloody good as a band that they'd be able to do stuff so quickly. I've never heard another take of 'Here Comes the Sun' other than the master. They did 'Paperback Writer' in one and a half takes. They started once, it broke down, then they recorded the song. And that was it. The only reason the White Album has so many outtakes is because they were a bit rusty by that point!"
There was a singer-songwriter thing I wanted to get to for the collection. I was trying to bring him as close as possible
Share this article