Globe to Globe: The Tempest, Shakespeare's Globe |

reviews, news & interviews
Globe to Globe: The Tempest, Shakespeare's Globe
Globe to Globe: The Tempest, Shakespeare's Globe
Post-colonial high-energy singing and dancing for the Bard's last play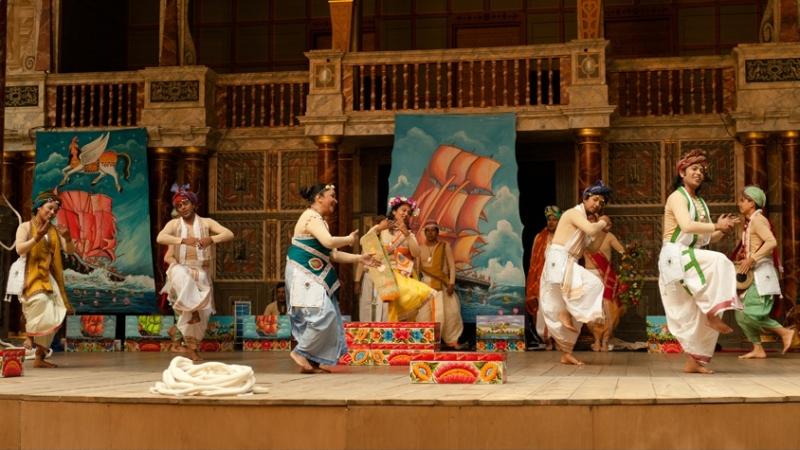 Dhaka Theatre's 'The Tempest': heavy stress laid on the musical and physical
This music crept by me on the waters. Bangladesh's Dhaka Theatre's version of The Tempest took the musical route, and why not? It was always Shakespeare's most musical play (with extant music for "Full Fathom Five" and other songs written by Robert Johnson).
Four centuries after its premiere, probably over the river in Blackfriars, the play has been done in myriad incarnations around the world, including numerous sci-fi accounts, and bounced back to London last night courtesy of Rubayet Ahmed's version.
The adaptation included snippets of well-known Bengali folk tunes – drinking songs for Stephano, wedding tunes and so on. The exotic element even for Bengalis came with a couple of Manipuri drummers, spirits who somersaulted with their drums. Ariel was covered in blue gauze and played by Shimul Youssef with a terrific voice singing high classical alaaps, which was a useful counterpoint to all the rhythmic energy.
Prospero moved around like a crane moving slowly on hot coals
This was, more than anything, a good-natured production. You never felt the characters were in jeopardy – this was a resilient rather than a demure Miranda, Caliban was a hail-fellow-well-met sort, and Prospero did not particularly emanate mystery or power. This was all partly because of the production's semi-successful attempt to use gestures and stylised movements to signify character. In the case of Prospero, played likeably by Rubol Noor Lodi, he moved around like a crane proceeding slowly on hot coals, which rather undermined his air of authority.
The knock-about slapstick of Trinculo certainly amused the audience, about a third of whom were Bengalis. But heavy stress laid on the musical and physical meant it worked for us non-Bengali speakers too, even if we missed out on the translated cadences of Shakespeare's last, most profoundly poetic play.
The leaping into song at any prompt gave this Tempest a Bollywood flavour, as did the romance-in-danger and happy ending. I've sometimes thought that Shakespeare might nowadays be writing Bollywood movies with all their family feuds and mistaken identities. You could certainly imagine a version of this production working on film even if the dancing here was a little amateurish - disconcertingly so until you got used to the idea that Miranda's, for example, lent the character an untutored innocence. After all, she hadn't spent her life in dancing academies.
If the emotional resonances of the play seemed muted in the first half, the scenes of forgiveness, the renunciation of Prospero and the marriage of Miranda and Ferdinand did bring some spiritual depth. But here the climactic moments featured the liberation of Ariel, who danced and laughed for joy, and, even more so, Caliban on a makeshift throne, blowing a conch, all deformity gone. This was a post-colonial reading of the play, in which freedom from oppression by the magic-wielding colonialists gave rise to hope.
This music crept by me on the waters. Leaving the theatre, with the Globe at my back and Blackfriars and St Pauls in front, a busker played a flute as I crossed the river.
Shakespeare might nowadays be writing Bollywood movies with all their family feuds and mistaken identities
Share this article