Written on the Heart, Duchess Theatre |

reviews, news & interviews
Written on the Heart, Duchess Theatre
Written on the Heart, Duchess Theatre
David Edgar's exploration of the English Reformation is a historical marvel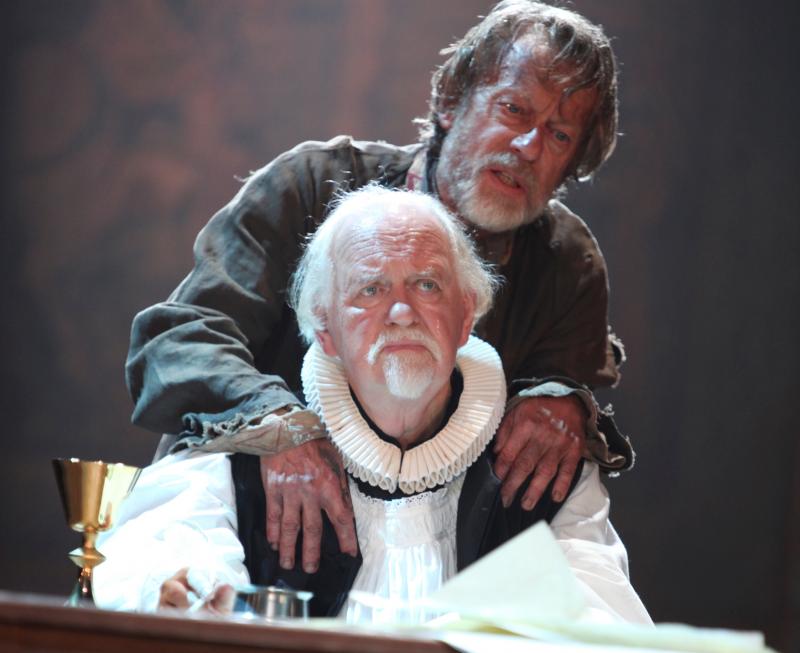 Clerical sweats: Oliver Ford Davies and Stephen Boxer in 'Written on the Heart'
Unlike the National, the RSC has not had a good record of producing exciting new plays in the past 20 years or so. But one exception to this rule is the theatre's support for the work of David Edgar, whose masterpiece Pentecost was put on by them in 1994.
Now, with his latest,
Written on the Heart
, arriving in the West End, where it opened last night in a production directed by Gregory Doran (the RSC's newly appointed artistic director), audiences will have a chance to travel back in time to explore a crucial event in the creation of English culture and national identity.
But they will need to pay attention, and brush up their history. So dust off those tomes about the Reformation, remember that the Bible was once only available in Latin, and recall that translating it into the vernacular was a capital crime. Edgar's play starts in 1610, when the King James Bible was being completed, and shows how bishops and other clerics, led by Lancelot Andrewes, discussed the last-minute changes to this massive joint project (54 clerics were involved).
It's the story of all progressive social movements
Edgar then compares this episode to another translation, in 1536, when the lone Protestant William Tyndale was imprisoned in Flanders for daring to make God's word accessible. On the eve of his execution, he defends his translation, converts a young priest sent to persuade him to recant, and smuggles his manuscripts out of prison. We then move forward to Yorkshire in 1583 and witness the acts of the militant Protestants — who smashed ungodly religious images — in Elizabethan times. Finally, the last act returns to 1610, summarising what we have seen and projecting forward into the bloody history of the 17th century revolution.
Written on the Heart, which was first staged in Stratford-upon-Avon last year as part of the celebration of 400 years of the King James Bible, offers a serious and detailed look at the story of how English men and women were able to read the Bible in their own tongue. In the background is the long conflict between a High Anglicanism, which threatened to return England to Roman Catholicism, and the more radical reformers, who might plunge the country into anarchy. In outline it's the same story as all subsequent progressive social movements.
One of the best moments is a long scene in which Lancelot Andrewes argues with the ghost of Tyndale, whose once-banned translation formed much of the final King James Version. By looking so closely and with so much sympathy at these Protestant fundamentalists, Edgar is able to create suggestive and resonant echoes that illuminate our own age. Central to traditional ideas of British national identity, the Bible had a massive influence on English literature, and Edgar not only acknowledges this in his quotations from it, but also shows just how dangerous religious politics could be.
Hundreds of people died for the chance to be able to read the word of God, but — Edgar implies — what is God's word if not man's translation? And this applies to all the religions of the book. And he also shows how different political attitudes shaped the final text of the Bible, how choosing a word for political rather than linguistic reasons was the norm. Religious reform is the result of conflict and compromise. And, once started, those who lead reform must always ask themselves: have we gone far enough, or too far?
As Edgar neatly puts it, 'No Tyndale, no Kindle'
Reading in between the lines it is also evident that when people began to read the Bible they also began to think more independently than in previous centuries. So here we are at the dawn of a critical modern sensibility, which ironically led to the rise of scepticism and a questioning not only of religious authority but of belief itself. If independent thought is essential to liberty, it all starts with independent Bible study. Or, as Edgar neatly puts it, "No Tyndale, no Kindle."
Doran's production is brisk and lively, with standout performances from Oliver Ford Davies as Andrewes and Stephen Boxer as Tyndale. Ford Davies in particular seems to have an affinity with Church of England clergy and his interpretation of Andrewes has a chilly dignity which often cracks to allow us a glimpse of the man's inner uncertainties. A large cast (pictured on previous page), which includes Mark Quartley, Ian Midlane and Jodie McNee, perform clearly and with conviction. While it must be admitted that the second half of the play gets a little lost in detail, this is a thrilling account of a crucial historical moment that is written with heart, brain and mercy.
This thrilling account of a crucial historical moment is written with heart, brain and mercy
rating
Share this article