Wild at Heart, ITV1/ McQueen and I, More4 |

reviews, news & interviews
Wild at Heart, ITV1/ McQueen and I, More4
Wild at Heart, ITV1/ McQueen and I, More4
Animal magic with the Trevanions, plus triumph and tragedy in the rag trade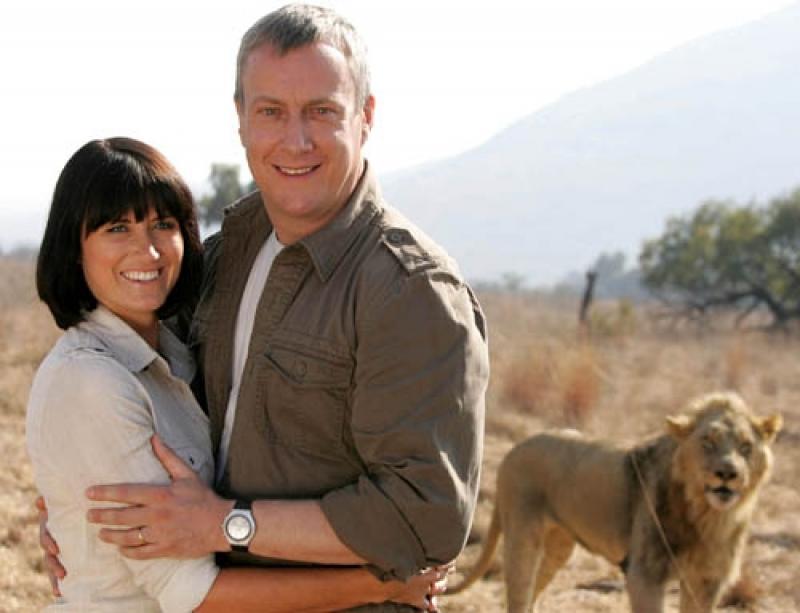 Dawn Steele and an unusually cheerful Stephen Tompkinson as the animal-loving Trevanions
Now nearing the end of its sixth series, Wild at Heart has quietly parked itself in the middle of the Sunday-evening schedules, where it goes about its task of hoovering up ratings with single-minded efficiency. Last week's debut of South Riding on BBC One was considered a triumph with 6.6 million viewers, but Wild at Heart pipped it with 6.8 million. The week before it scored over seven million.
How does it keep doing this? Evidently Stephen Tompkinson, playing Bristol vet Danny Trevanion who has transplanted himself to the Leopard's Den game reserve in South Africa, has a loyal legion of fans. This is baffling, because he's permanently grouchy, sullen and stressed-out, and even under blazing African skies he seems to tow a private black cloud around with him wherever he goes. His wife Alice (Dawn Steele) bears all this with pragmatic Scottish fortitude, but she's hardly a blazing comet of charisma streaking across the screen.
The various African characters are young and good-looking but dramatically trivial, while Christian Peeters (David Butler), the unscrupulous boss of the Afrispec mining company which is threatening to dig up Leopard's Den, exhibits all the delicately nuanced expression of an African burial mask. Most of the colour is supplied by Anders Du Plessis (Deon Stewardson), a drunk, gambling-crazed Afrikaner whose infantile schemes to ward off the Afrispec threat only make matters worse.
But Wild at Heart seems to have tapped into several powerfully escapist themes. There's the "you can change your life if you want to" angle, with the Trevanions upping sticks from the dreary UK to build a new life south of the Equator. There's the Out of Africa factor, with its infinite landscapes and incandescent sunsets (Tompkinson as Redford? Pah). And there are loads of adorably photogenic animals - lions and lion cubs, zebras and wildebeest grazing on the lawn, a cheetah which wanders in and out of the house, and last week a suspiciously well-fed rooikat. Bind it all together with some... uh... undemanding storytelling, and start planning series seven.
Nothing more freakish than the fashion business ever came out of Africa, and we peered into its innards on Friday evening in More4's McQueen and I. Alexander McQueen's rise from his rough East End upbringing to turn fashion on its ear with his anarcho-punk attitude and sensational catwalk shows with titles like Highland Rape and Widows of Culloden is the stuff of rag-trade mythology, and his suicide a year ago at the age of 40 has lent his story an aura of wastefulness and tragedy (Isabella Blow and Alexander McQueen, pictured above).
Some of the film's voiceover was tragic too ("This is a fable of fashion, a world that discards its past in an instant..."), but with the aid of previously unseen footage and interviews, it constructed a plausible picture of the fevered inspiration that fuelled McQueen, and ultimately drove him too far. As his international success ballooned at Givenchy and then under the patronage of Tom Ford and Gucci, and Hollywood stars and pop singers flocked to wear his clothes, the pressures to keep delivering grew immense as his connection to planet earth became increasingly tenuous.
Fashion may seem frivolous, but seen in this light it certainly wasn't funny
At the heart of the story was McQueen's relationship with stylist, journalist and talent-spotter Isabella Blow, who championed him from the day she saw his graduation show at Central St Martins. There was a Mitfords-like quality about Blow (billed here as "aristocrat and fashion anarchist"), whose grandfather had been acquitted of murdering Lord Erroll in Kenya in the "White Mischief" case and later committed suicide, though her instincts about McQueen were unerring. In 2007 she, too, killed herself, seemingly upset that McQueen had left her by the wayside as he soared into the fashion stratosphere, and feeling crushed by depression, illness, a faltering career and lack of money. Fashion may seem frivolous, but seen in this light it certainly wasn't funny.