Mogwai, Brixton Academy |

reviews, news & interviews
Mogwai, Brixton Academy
Mogwai, Brixton Academy
Guitar heaven: blowtorch blasts from five Glaswegians
Saturday, 26 February 2011
Mogwai: From a whisper to a threshing, shredding, screaming climax
There are some glorious sounds to be heard in the world of music: a big band in full swing; a symphony orchestra in full flight; a gospel choir; the Hammond B3 organ. But to my mind there's nothing quite like the sound of a line of electric guitars – not chugging along like the Quo or Lynyrd Skynyrd, but meshing, interweaving, thrumming, humming, threshing, shredding, screaming; like Mogwai.
It's more than 15 years since these five guys from Glasgow pioneered the largely instrumental form of music that's become known as "post-rock", a description that some may find pretentious but which seems to me as apt as any: it suits the abstractness of their soundscapes, the sense that theirs is music that's not really "about" anything, except music itself. And although they're still pursuing pretty much the same shtick – like the brontosaurus in the Monty Python sketch, most of their songs are thin at one end, much, much thicker in the middle and then thin again at the far end – there are no signs that its appeal is diminishing among their fans, who packed the Academy for this show towards the end of the band's UK tour.
So here they were, on stage at Brixton, five guys dressed like graphic designers – drums, keyboards, bass, two guitars, plus another bloke who chipped in occasionally on violin and extra guitar duties – making that epic sound. Opening with "White Noise" (which is actually one of their gentler numbers), they approached their task with diligence and studied concentration, nodding away during the slower sections, perhaps arching their backs or slashing at their guitars during the climaxes.
And what climaxes! The zenith, for instance, of "Batcat", the closing number, was a blizzard of sound, heavy enough to make Metallica cry and yet still soaringly melodic; I stood and laughed out loud as the riff looped and repeated hypnotically.
But Mogwai's music is not just about the loud bits. The quiet sections are exquisitely delicate, and all the more beautiful for their sense of latency, for the way they build a sense of anticipation of the roaring blowtorch blasts of sound that are to come; they are the tension before the release. It's an aspect of their music that's fully appreciated by many of their fans: this was one of the very few rock concerts I've attended where huge numbers of people in the crowd made "Sssh!" noises to quieten the hubbub of chattering during the delicate passages. In fact, "frontman" (he's the one who says "thank you" at the end of songs and occasionally contributes heavily treated vocals) Stuart Braithwaite (pictured below) was one of the performers at a recent all-day concert in London entitled Shh! A Celebration of Quiet Music.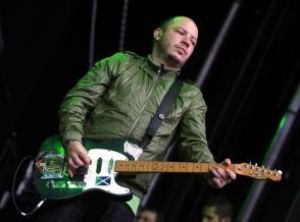 Also, as they get older, Mogwai, far from slowing down, seem to be getting faster, with up-tempo tracks such as "George Square Thatcher Death Party" (from their new album, Hardcore Will Never Die, But You Will) adding a racy new dimension to their music, as well as adding to their rich stock of song titles which are almost short stories in themselves (my personal favourite is "Secret Pint").
There was, it must be said, not a great deal to look at here. The band were gloomily lit, while a long narrow screen showed sporadic imagery, sometimes graphic, sometimes fairly random (traffic flowing across interchanges, that sort of thing), although "How to Be a Werewolf" featured a specially made video of round-the-world cyclist James Bowthorpe pedalling across Norway, which was rather lovely.
Also, it has to be said that the Mogwai live experience is a pretty passive one: although there was a little light moshing at the front, the crowd mostly stood and watched and listened as waves of music washed over them. But at the end of a long, hard week, for me this was absolutely ideal; as the guitars ramped up again for another pummelling of the eardrums and the drums hammered out another sternum-bruising rhythm, the effect was deliciously cathartic.
Watch the video for Mogwai's "Mexican Grand Prix"
Mogwai's music is not just about the loud bits. The quiet sections are exquisitely delicate
Explore topics
Share this article