Now McCartney writes a ballet |

reviews, news & interviews
Now McCartney writes a ballet...
Now McCartney writes a ballet...
Former Beatle scores for New York City Ballet - latest pop star drawn into ballet
Thursday, 24 February 2011
Hot on the heels of the Pet Shop Boys' foray into ballet for Sadler's Wells next month, it's revealed that Sir Paul McCartney has composed a ballet for New York City Ballet, a love story called Ocean's Kingdom.
Scheduled to premiere on 22 September, the four-act ballet so far has 45 minutes of music, and a cast of around 40. The New York Times reports that the first act is having its first run-through next Thursday at the Lincoln Center, NYCB's home stage.
The world premiere will be half of a gala programme including George Balanchine's Union Jack, as a compliment to Sir Paul's Britishness.
According to the Times report, the ex-Beatle says the ballet is a narrative about two worlds, the earth kingdom ("the baddies") and the ocean kingdom ("representing purity"). In a take on Romeo and Juliet, a forbidden love affair between the kingdoms provides the romantic plot.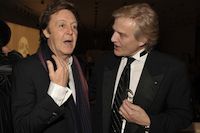 The commission apparently came up when Sir Paul ran into NYCB's balletmaster-in-chief Peter Martins at a fundraiser for the School of American Ballet (the pair pictured right). Martins suggested he could write some music for ballet.
Sir Paul told the NYT: "For me the sheer athleticism is the most astounding thing about what I'm seeing. It's like a meeting of the Olympic Games and art, and I find that fascinating and challenging for me, to see what can be done."
Though it regularly raises eyebrows to hear of pop musicians entering ballet, it's been old news for a century. The fine Ballet Rambert choreographer Christopher Bruce used Rolling Stones songs with huge success in Rooster (1991), and Balanchine, America's classical ballet giant, used the popular composers of his own youth: Slaughter on Tenth Avenue (music Richard Rodgers) and Who Cares? (George Gershwin) make regular appearances in the repertoire of Birmingham Royal Ballet and English National Ballet. The Alvin Ailey American Dance Theatre has always used popular American music (their junior company, Ailey 2, is about to tour the UK) for their contemporary ballet.
Sir Paul, 68, has regularly dipped into classical music: he composed two oratorios Liverpool Oratorio and Ecce Cor Meum and a symphonic poem, Standing Stone. He's commented of the mixed reviews: "They don't match up to Mahler, but that's OK. I don't particularly want them to."