West Is West |

reviews, news & interviews
West Is West
West Is West
Sequel about British-Pakistani family is funny and touching
Wednesday, 23 February 2011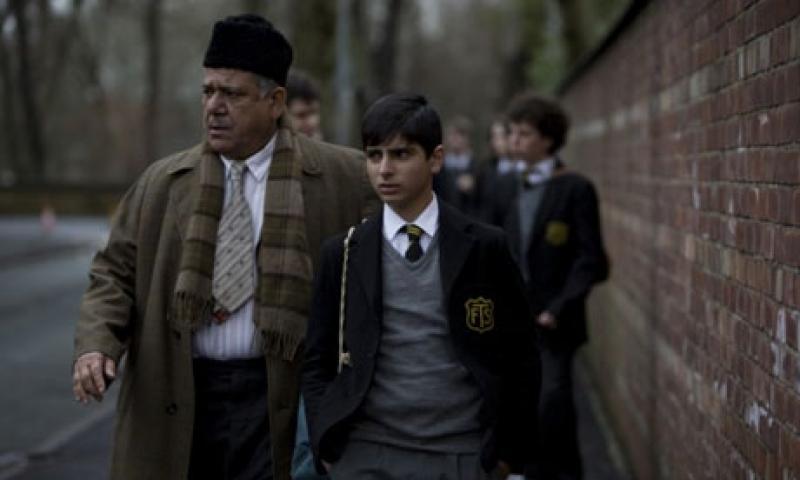 Father and son: Om Puri and Aqib Khan in West is West
Ayub Khan Din's belated sequel to 1999's East is East moves the story on by five years as we revisit the Khan family in Salford in 1976. East is East (directed by Damien O'Donnell) concerned chip-shop owner George Khan's determined attempts to marry off his sons to Pakistani girls, while West is West (directed by Andy DeEmmony) centres on Sajid, the youngest brother whom we previously saw permanently in a hooded Parka.
Most of the leads are here again, including Om Puri as the always angry patriarch, Linda Bassett as his long-suffering English wife, Jimi Mistry and Emil Marwa as two of his sons, and Lesley Nicol as Auntie Annie. Sadly Archie Panjabi doesn't return as a member of the clan because she's busy winning Emmys for her cracking work in The Good Wife and we have a new Sajid too (now played by Aqib Khan).
Sajid is a cocky and foul-mouthed 15-year-old who, George decides, is going off the rails so he decides to send him to the remote village in Pakistan where he left his first wife and daughters 30 years before. Another son, Maneer (Marwa), has already gone back to the village to find "a good Muslim" wife. And so the action moves to Pakistan as father and son travel together, much to Sajid's consternation. George, now addressed by his proper name of Jahangir, immediately starts dressing in local garb, while Sajid, who thinks of himself as English, won't change out of his suit and tie, or speak the little Punjabi he knows. But he befriends a local boy (Raj Bhansali) and slowly we see him reclaiming the part of his heritage he had previously ignored.
But at the film's heart is George's story, and his realisation that - in insisting his sons live good Muslim lives despite his desertion of his first family - he has been a dreadful hypocrite. He may have been sending money back for three decades but now, riven by guilt, he decides to stay awhile and rebuild their basic home - and in doing so he is effectively deserting his second wife. At which news, Ella and her sister Annie arrive in the village unannounced.
The two menopausal women sweat in their Crimplene slacks and get dreadful wind after eating the local food, and these scenes provide a ream of culture-clash jokes in a film that mixes nicely played comedy (much of it from Aqib Khan's fizzingly funny cheeky little sod Sajid) with some subtle social comment. Maneer is not such a catch for the locals as he is mixed race, for example, and George's extended Pakistan family are greedily obsessed with land and property.
Puri's portrayal of a man slowly appreciating the havoc he has caused and his attempts to put things right is affecting, but it's the scene between his two wives that stays in the memory. Neither is able to speak the other's language but Basheera (Ila Arun) and Ella (Bassett) tell each other they bear no bitterness to the other, and that they share the bond of two women wronged in different ways by the same man.
The cartoonish poster for West is West wrongly suggests Khan Din's semi-autobiographical story is a broad comedy. Funny though it is, it's more an affectionate study of people discovering who they are.
Watch the trailer for West is West
At the film's heart is George's story, and his realisation that he has been a dreadful hypocrite
Explore topics
Share this article