The Sarah Millican Television Programme, BBC Two |

reviews, news & interviews
The Sarah Millican Television Programme, BBC Two
The Sarah Millican Television Programme, BBC Two
A so-so start to the stand-up's debut series
Sarah Millican appeared to be genuinely engaged by her guests
There comes a point in every successful stand-up's career when television executives start calling. First it's appearances on panel and quiz shows, then a solo programme that showcases their live talents - but what then? Not everyone is a Graham Norton or a Dara Ó Bríain - both instant hits in whatever format TV can throw at them - so producers keep trying to invent a twist on well-tried formats when they shepherd a new star into the spotlight.
With Sarah Millican, they have melded two - stand-up and chat show - and given hers a USP in that each week the comedy is themed around TV genres. In last night's opener of a six-part series, the themes were nature programmes and dating shows. Millican did a few gag-filled routines in front of a studio audience and then chatted (separately) with her guests. But whereas another tried and tested approach used by the same channel in the recent debut of sketch duo Watson & Oliver, which had echoes of Morecambe and Wise and The Two Ronnies, served its stars well, here it rather diminished Millican's talents.
I don't even need a milky drink... much to my boyfriend's dismay
She's a superb stand-up and one who interacts brilliantly with her fans, but there was only a brief exchange with the studio audience when she asked, bizarrely, which animals they might like to have sex with. That would have been comedy gold for so many comics - and usually would be for Millican - but here was a damp squib and seemed like it was left in to make up the 30 minutes, in a show (directed by Geraldine Dowd) whose editing made it disjointed and lacking comedic flow.
But there were some things to enjoy. Millican's show is on well after the watershed, so her saucy gags survived, even if my heart sank when she trotted out an old, old joke about always watching Newsnight before going to sleep - "It sends me right off." But it was merely to cue up a great gag, as she immediately followed with a seemingly innocent and beautifully timed "I don't even need a milky drink... much to my boyfriend's dismay."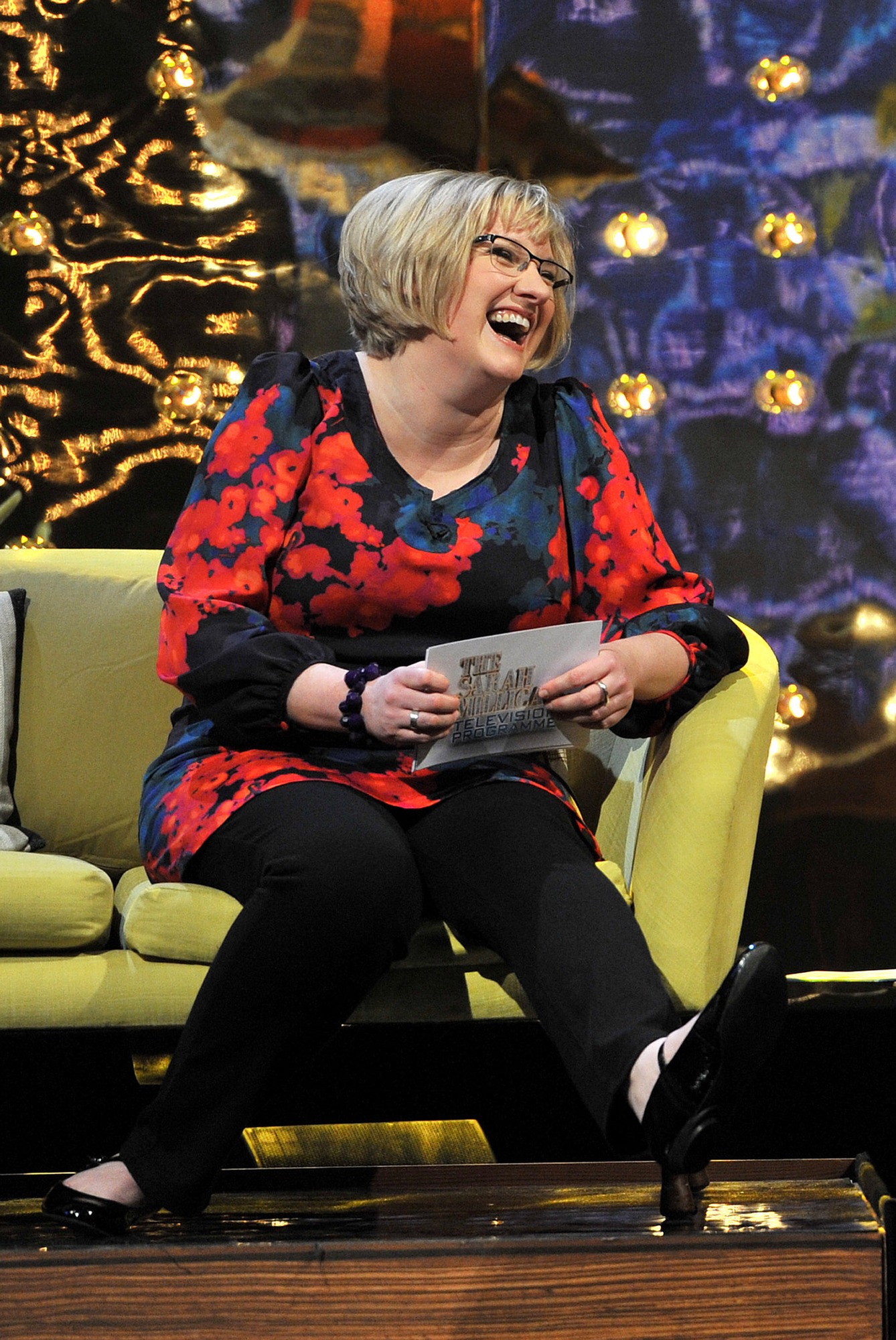 She interacted well with her guests, too, and there was a neat inversion of roles as Millican sat on the sofa and they behind a desk (pictured right). And, unusually for a chat-show host, she appeared to be genuinely engaging with them, listening to what they had to say and amused by their responses.
Chris Packham, of Springwatch, Autumnwatch and Winterwatch fame, was greeted with a cheeky barb about Springwatch being on every year - "Isn't it mostly the same?" - but she was generous enough to allow him room for his quips to hit home. Sexpert Tracey Cox, meanwhile, was a chat-show staple of someone flogging their wares, but her mention of being at a Los Angeles sex fair where she had a stand selling sex toys was met with a nicely withering "It's like WI with vibrators, then?"
There followed some stagey scripted nonsense with Millican, tutored by Cox, trying out some disastrous flirting techniques, and a Skype link with her dad giving his views on how to achieve a successful marriage. As Millican has given credit to her dad for being the reason that she's so funny, I hope this regular feature will throw up some nuggets.
Millican has had what one is contractually obliged to call a meteoric rise to fame since she won Edinburgh Comedy Awards best newcomer at the Edinburgh Fringe in 2008, but I suspect anyone tuning in last night and seeing her for the first time may have wondered what all the fuss is about. It was entertaining enough, but she has not been best served by her production team. Let's hope that changes over the next few weeks.
The Sarah Millican Television Programme continues each Thursday on BBC Two