The Duke Spirit, KOKO |

reviews, news & interviews
The Duke Spirit, KOKO
The Duke Spirit, KOKO
(Oc)cultish London quintet breaks new and unhallowed ground
Bruisers: The Duke Spirit stand up
You could say the Duke Spirit have come a long way since I saw them support The Rapture (the who, now?) at the Oxford Zodiac, in 2004 – where, for my five quid, they accidentally sold me their band-wagon copy of Roy Orbison's Big Hits from the Big 'O'. Since then, they've released three studio albums, been lauded by the likes of NME, travelled well in the States, had their tracks remixed by such eminences noirs as Gary Numan, bolted their horse to the door of the Universal stable, got a song on Guitar Hero V and put their frontwoman's face on a T-shirt by Alexander McQueen. Now The Duke Spirit have their own support band. Two, actually.
On the other hand, only one of their albums, the first, has ever cracked the UK Top 50 – and on a gruff day one might say that in the last eight years their sound has been slow to "develop". If you incline to this second opinion, I must recommend you get hold of a copy of Bruiser, The Duke Spirit's latest album, and, even better, see them perform live.
This musical communion is 100% vicarious – and the vicar's a bit of a minx
In the cosy theatrical environs of KOKO, last night, there were no multicoloured lights, no revolving sets, no flashy antics of any kind; just the thump and thrum of a grainy, b&w kind of solid rock. And a hot chanteuse. Happy days.
As they played their way through the tracks from Bruiser – in no discernible order – it became clear that The Duke Spirit (hereafter TDS) have made significant forays in several new directions, without ever taking their eyes off the start. The result is a collection – in unequal parts alt., indie, and a heavy kind of rock'n'roll – of aggressive love-songs of a type which (with Liela Moss at the mic, especially) make you rather wish you were on the receiving end.
From the high-energy "Everybody's Under Your Spell", to the almost country-ish "Don't Wait", via the Numanesque "Procession" (Miss March – himself a guitarist – was in raptures over the almost matching pair of semi-acoustics on display, and lamenting that Luke Ford and Toby Butler were not given more rein in the TDS audioscape), they toured the tones and paces to an extent I don't think it's unfair to say was unexpected. There was the dark, Supergrass (c. In It For The Money) sound of "Surrender"; "Bodies", with its strong petrol whiff of Black Rebel Motorcycle Club (another band for whom TDS have played support in the past, and whose sound, by cruel comparison, hasn't budged an inch in four bestselling albums); the balladic "Villain" – Miss Liela Moss at the keyboards, ladies and gentlemen! – a really great song, if not one that's likely to land The Duke Spirit a UK #1; and the spacey, lyrical "De Lux", in which Moss comes over like an English Nico, but without the disabling avant-gardism of The Velvet Underground.
But there is that high-art, slightly (oc)cult atmosphere about TDS, a sincere relationship with the muse, howsoever dark and stormy (they once did an entire download-only EP of songs by recently-dead artists; and the KOKO stage is decked out with three illustrations of animal heads that could most easily be described as "things Edgar Allan Poe might once've doodled on a rock"). Their songs feel like they've sprung, fully-formed, from somewhere – certainly, it's hard to imagine them as a capella drafts – and not necessarily somewhere good.
This hint-of-folk atmos might well explain the somewhat "eclectic" crowd, too. I spotted one dead ringer for Emperor Palpatine, and one kid who'd never even seen a razor, but was clearly a big fan of Dennis the Menace. Plus the usual collection of blokes who looked like Howard Marks. Some of the older chaps bobbed about a bit – think Harry Enfield characters at a disco – but the vast majority were content all doing the zombie-head-nod thing. Few were attempting the kind of pagan solstice-type whoopee which one suspects was more the general idea.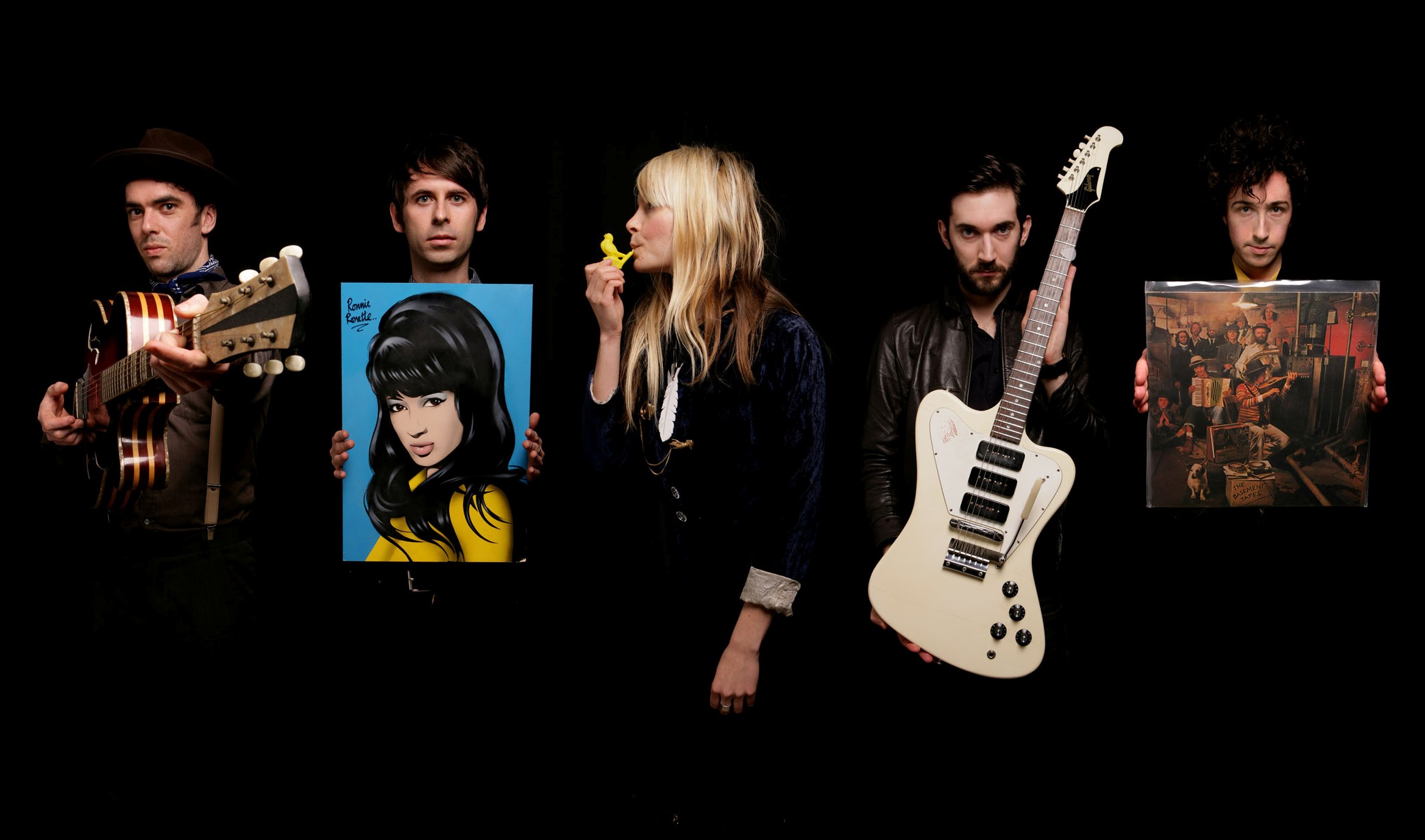 But then with Moss lashing around on the stage, nobody really has to. Moss's performance could be described as stagey (imagine if Beethoven had been a woman, and conducted not from the keyboard but from the elbows and the hips), were she not so evidently at home on the stage – and if you weren't completely certain that she dances like this in the privacy of her front room, or in the her stone circle, or wherever she generally does her dancing. After only about ten minutes she'd built up enough steam that she had to request the lights be turned down.
If The Duke Spirit is a kind of a cult, then Moss is the embodiment of whatever it is that we're here for (whisky and women, I'd guess: pity for her if she's not into either). With the dark outfits, the flaxen hair, the ducking and weaving in the spotlight like a bendy gargoyle, Moss is like some dangerous Angela Carter character, a sexy Ariel. This musical communion is 100% vicarious – and the vicar's a bit of a minx. As she welcomed the crowd under the full moon, it struck me that she would not be out of place at one of the original incarnations of Woodstock. She is, perhaps, the nearest thing we have to a mic-wielding, female Jim Morrison – The Duke Spirit as a whole within touching distance of Jefferson Airplane. The guitar wails and Moss wails and you can't always tell which one is which. "Like a wild animal howls…" as one of their earliest songs had it. She's mischief, this woman. In fact, if Liela Moss had been born 500 years ago, she'd defo have been burned as a witch. And when she said she'd swim to the bottom of the sea for me, well, I wasn't talking her at face value, or anything; but that's not to say I didn't give it some thought.
Liela Moss is, perhaps, the nearest thing we have to a mic-wielding, female Jim Morrison
rating
Share this article
Subscribe to theartsdesk.com
Thank you for continuing to read our work on theartsdesk.com. For unlimited access to every article in its entirety, including our archive of more than 10,000 pieces, we're asking for £3.95 per month or £30 per year. We feel it's a very good deal, and hope you do too.
To take an annual subscription now simply click here.
And if you're looking for that extra gift for a friend or family member, why not treat them to a theartsdesk.com gift subscription?