DVD: We Need To Talk About Kevin |

reviews, news & interviews
DVD: We Need To Talk About Kevin
DVD: We Need To Talk About Kevin
Lynne Ramsay's remarkable horror film strikes even closer to home in the living room
Eva (Tilda Swinton) and Kevin (Jasper Newell) in 'We Need to Talk About Kevin'
With most horror films the monster gets flushed down the metaphorical toilet - blown up, spat out, switched off. In this one you must live with the monster forever. As most people know, We Need to Talk About Kevin is about a boy who becomes a multiple murderer.
That's established in the opening shot (using barrel-fuls of tomato passata, I'd guess) with a vivid repellency and realism that you only slowly realise has drawn you deep into his mother's mind - where you will stay for the rest of the story.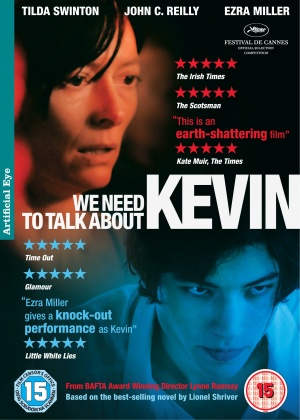 Lionel Shriver's novel seemed to me somewhat too schematic and clever in its treatment of her terrific plot - Lynne Ramsay, in making the film, has brilliantly disturbed the floor. Nothing is solid here, everything is fractured with ambiguity, even when her camera narrows its eyes on the oddly alien gaze of Kevin in his three ages (the middle one, Jasper Newell, is particularly good). Children, any mother knows, are like that - up to a point. But Ramsay makes even trivial episodes troubling, and so vulnerable and fallible does Tilda Swinton make the wiry mother, Eva, a successful travel writer who lives in a schism between her work and her family, that any of us feels her shame, her self-blame, her paralysis, her culpability, as her husband (lovable, unimaginative John C Reilly) disputes her view of their son.
The cinematography constantly draws blood with its flashes and slices of memory, forward and back, greatly suspenseful. Red invades everywhere like an infection, for horror, for erotic flushes, for sickening dreams, for a dress or lampshade in a white room. But there are also exact, telling vernacular shots: the gathering of pregnant mums in the locker room, all swelling naked bellies, which segues into a rush of little pink-tutu'd ballet girls to their class - how Eva wishes her child were a fairytale. With her box of cinematic tricks, Ramsay opens the Pandora's box of the age of criminal responsibility, of parental irresponsibility, of what exactly goes beyond redeemability (those last few moments). It's Shriver's story, but it's Ramsay's treatment that worms its way into the murky, scary corners of unrecognised truth. Even more than Swinton, Ramsay deserves a gong in awards season.
Watch the trailer for We Need To Talk About Kevin
Ramsay opens the Pandora's box of the age of criminal responsibility, of parental irresponsibility, of what exactly goes beyond redeemability
rating
Explore topics
Share this article