Homeland, Channel 4 |

reviews, news & interviews
Homeland, Channel 4
Homeland, Channel 4
Is rescued US Marine Nick Brody a national hero or an agent of Al Qaeda?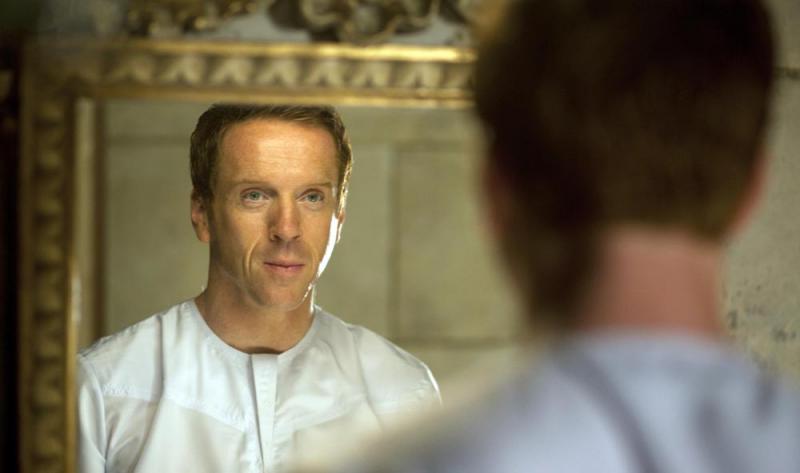 Damian Lewis as Sgt Brody, scarred by eight years in terrorist captivity
While Homeland is hardly unique in being a TV series born in the shadow of 9/11, it may prove to be one of the most resonant and troubling responses to that ghastly event and its aftermath. Sergeant Nick Brody, who went missing with a fellow Marine sniper in Iraq in 2003, is found alive by a Special Forces team raiding a safe house used by notorious terrorist Abu Nazir.
He is brought back to the USA as a shining symbol of War on Terror heroism, stoically addresses his fellow Marines at Edwards Air Force Base, and is ferried home through jostling reporters to try to pick up the traces of his former life
(Brody on parade, pictured below).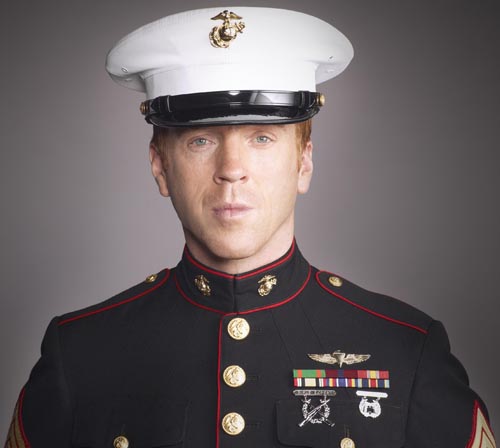 CIA analyst Carrie Mathison (Claire Danes) can't buy the story, though. An Iraqi informant has tipped her off that an American soldier has been turned by Al Qaeda to be used as a double agent on American territory, and she's convinced that Brody is that man. She suspects that Abu Nazir cunningly lured the Americans to Brody, with the collateral slaughter of Nazir's own men helpfully lending authenticity to the rescue. All Mathison lacks is proof, so she goes out on a limb and has Brody's home extensively, and illegally, bugged.
It soon becomes clear that Brody isn't the one-dimensional war hero the media and the American political establishment want him to be (as soon as he touches down in the States he's being glad-handed by the smarmy Vice President). Hauntingly played by Damian Lewis, who with a minimum of outward show manages to suggest a man struggling to maintain a soldierly facade while grappling with an inner holocaust of pain and dislocation, Brody may very well be the walking bomb Mathison fears (Brody and Abu Nazir, pictured below).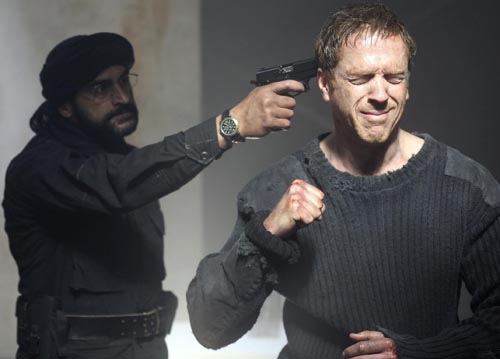 But whether he's a terrorist plant or not, his plight embodies the experiences of military veterans faced with living down experiences they can't bear to talk about while trying to live up to impossible expectations in both the private and public spheres. There was a standout scene where Brody was about to have sex with his wife Jessica (Morena Baccarin) after an eight-year hiatus. The horror on her face when he took his shirt off to reveal a mass of hideous scarring made dialogue superfluous, and the mechanical violence of the act itself told you more than you wanted to know about Brody's years of torment. The sequence was given an extra twist by the fact that it was being observed by Agent Mathison on her surveillance screen, prompting murky questions about voyeurism, privacy and intrusion. We've become accustomed to these in relation to the secret services, and we're now having to recognise that they apply to social networks too.
Homeland, originally aired on the American Showtime network, has been praised by US critics for bringing some nuance and insight to its portrayal of 21st-century wars and counter-terrorism. It makes many sharp observations about how the price is being paid, not least in the way authoritarianism and paranoia have become such corrosive intrusions into the daily life of supposedly civilised nations (David Harewood as CIA boss David Estes, pictured below).
To muddy the moral waters further, Homeland's writers have established a subtle balance of uncertainty in their key characters. The story Brody tells during his CIA debriefing is brutally undercut by searing flashes of memory, which reveal that he did come to know Abu Nazir only too well (having denied ever meeting him), while the death of his Marine partner, Tom Walker, was - horrifyingly - seemingly by Brody's own hand. A nod to The Manchurian Candidate perhaps, surely one of the inspirations for Homeland.
At the same time, Carrie Mathison makes a disturbingly flawed poster girl for the intelligence community. Prone to trawling for guys in bars while chucking down Clozapine capsules to combat a bipolar disorder she keeps hidden from her superiors (though it's difficult to imagine how that could have got past the CIA's screening procedures), she's obsessive to the point of self-destructiveness.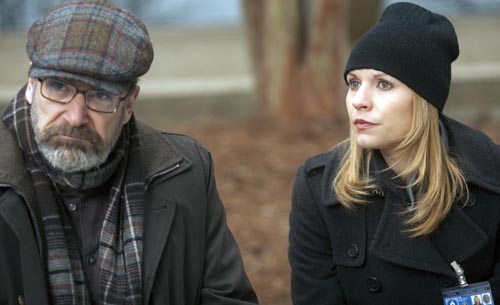 We know that past mistakes have damaged her career, but she still won't think twice about playing off her immediate boss David Estes (played with gravitas by David Harewood) against venerable Middle East expert Saul Berenson (Mandy Patinkin, pictured left with Danes). It emerges that Estes had an affair with her which wrecked his marriage, while Mathison's response when Berenson threatens to have her indicted for the unlawful surveillance on Brody is to start rubbing up against him suggestively. He recoils in disbelief, and she's left deflated and full of self-disgust.
The amount of information packed into this pilot episode, which still managed to sustain an urgent dramatic pace while creating a shivery sense of foreboding, is a testament to the quality of the writing and performances, which have already won Homeland a couple of Golden Globes. On this evidence, you'd be mad to miss the next 11 instalments.
Lewis's Brody is a man struggling to maintain a soldierly facade while grappling with an inner holocaust of pain and dislocation
Explore topics
Share this article