Mainetti, Perianes, BBC Symphony Orchestra, Pons, Barbican |

reviews, news & interviews
Mainetti, Perianes, BBC Symphony Orchestra, Pons, Barbican
Mainetti, Perianes, BBC Symphony Orchestra, Pons, Barbican
London strings go sensuous in a Latin-American and Spanish fiesta
Saturday, 15 January 2011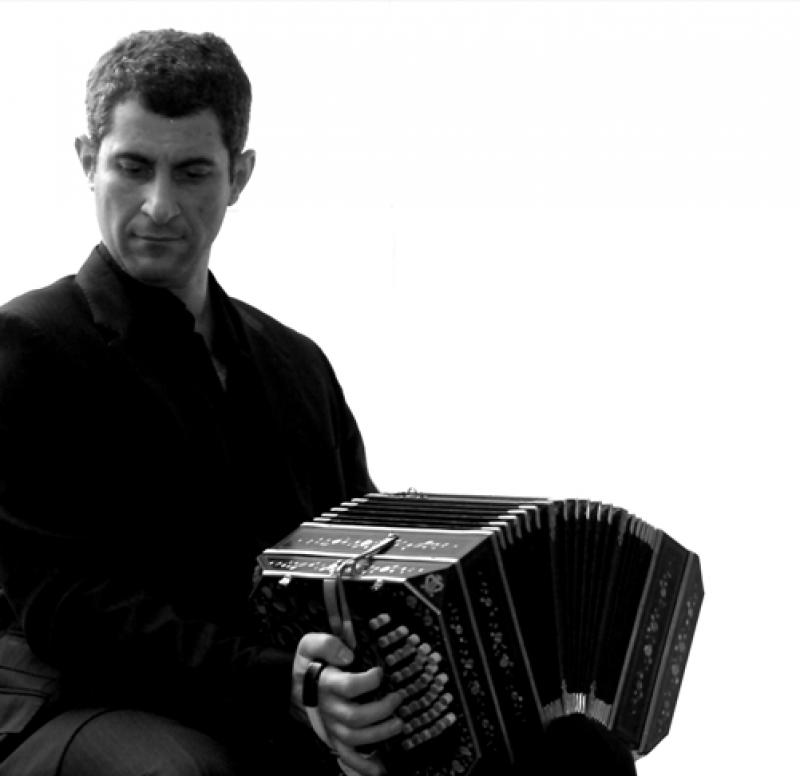 Pablo Mainetti: A relaxed and easy successor to Astor Piazzolla on the bandoneón
This was a programme born for marketing cliché: banish the winter blues by bathing in Latin American/Iberian warmth. And it turned out to be true, by virtue of an unexpected watershed. How did the BBC Symphony strings manage to be first among the London orchestras to slip into something truly sensual, whether tangoing with an Argentinian bandoneónist - "A what?" you may ask, and I'll tell you shortly - or dancing malagueñas with a Spanish pianist?
Was it the after-effect of the
John Wilson Hollywood treatment last Sunday
, or just sheer joy in welcoming back the high, bright style of conductor Josep Pons?
Probably a bit of both. But hearing the strings come alive like that - I even wondered if they might be miked in Piazzolla's Aconcagua, only to be assured they were not - gave food for thought. Is it really true, as Barry Millington claimed this week in an admirable Evening Standard article on the London orchestras' fight for survival, that "each has an identity, a sound, an ethos of its own"? Ethos, perhaps; sound, until now, possibly identifiable only in certain brass and woodwind players. But that made me wonder if I would really be able to tell the five apart as ensembles in the round in the way that you still often can the orchestras in Berlin, Amsterdam and Vienna; wasn't it the conductor who stamped the sonorities?
Well, here was my answer: nourish the strings to sound as vibrant and alive as they came across in the Barbican hothouse yesterday evening - I know Wilson does, and Pons apparently built on that - and there's your identity. It might not be appropriate for all music, but it was last night. And it couldn't have worked without getting them to unbend in a way that fabulously complemented Pablo Mainetti and his bandoneón.
Say the word to many concert-goers and they'll look at you as blankly as if you said "heckelphone" or "guiro" (that, incidentally, is the scraper which played a part in last night's percussion). But the bandoneón's leading exponent, Astor Piazzolla and his hyper-symphonic, tradition-threatening Argentinian tangos may have helped to immortalise it. In short, it's a square-button accordion or concertina placed on the knees; Piazzolla spotlights it as a concertante instrument in Aconcagua, makes sure it isn't in competition with any woodwind and only lets it step out of line in a handful of meditative cadenzas.
Mainetti was as collegial, as relaxed and drew as wide a range of sonorities from his squeeze-box as Piazzolla always used to. He must have marvelled at his string companions' dark chest voice, startling glissandi and sheer authentic tangoesque smooch so well inflected by the equally free and easy Pons. That combination helped to flash past us material that maybe isn't supremely memorable - until we arrive at a procession of four descending chords, ushered in by Mainetti with a spellbinding pianissimo and leading to a haughty final climax. No encore; what a shame - the players deserved to sit back and enjoy Mainetti's artistry at a more flamboyant level.
For all the iridescent colours of De Falla's quasi-concerto and its Argentinian counterparts, it was his ballet music for Diaghilev which brought forth a chain of brilliant ideas
The curtainraiser was the bullish Estancia Suite by Argentina's No 1 composer Alberto Ginastera - again, not as well known as the dance-title of the final number, Malambo. Could the BBCSO and Pons be as extrovert in it as the Simón Bolívar Youth Orchestra of Venezuela under Dudamel, whose encore calling card it has long been, with much standing up and conga-ing around the platform? Of course not. Which is the point to tell you that owing to bike indisposition and tube chaos, I was stuck in the auditorium for the first 12 minutes, watching it on a screen with OK sound. Enough, at least, to tell that this performance highlighted a different virtue - the aggressive, mechanistic thrash in three of the four movements - and that two of the solos, flautist Daniel Pailthorpe's in the morning wheat-dance and timpanist John Chimes's ricochets in the ranch-hands' stomp, were as classy as you'll ever hear.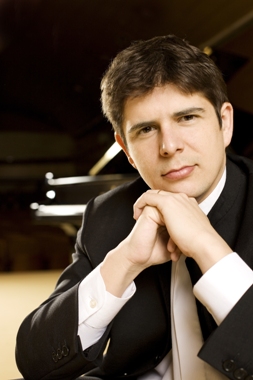 For the second half, we moved to Pons's special cause, the loveable and ever-resourceful Spaniard Manuel de Falla, whose unflagging masterpiece El Amor Brujo was a highlight of the conductor's last concert with the orchestra two seasons ago, complete with wild flamenco cantaora Ginesa Ortega. Her spirit lived on in the subtler flourishes of pianist Javier Peraines (pictured right by Ben Ealovega), another perfect teamworker in the Post-Impressionist Nights in the Garden of Spain, and in the siren call of cor anglais player Alison Teale at the start of the Miller's Dance in the second suite from The Three-Cornered Hat.
And for all the iridescent colours of De Falla's quasi-concerto and its Argentinian counterparts, it was his ballet music for Diaghilev substantially reworked from an over-gestural Madrid ballet-pantomime which brought forth a chain of brilliant ideas: the difference between a first-rate work and honourable second-rankers. Pons again knew exactly what to do with the ever-headier variations of the final Jota, taken at quite a lick from the start, and the orchestra let down its newly acquired glossy raven locks with ideal exuberance.
Watch the Simón Bolívar Youth Orchestra conducted by Gustavo Dudamel in the final dance (Malambo) from Ginastera's Estancia Suite
Mainetti was as collegial, as relaxed and drew as wide a range of sonorities from his squeeze-box as Piazzolla always used to
Share this article