Mozart Unwrapped, Aurora Orchestra, Collon, Kings Place |

reviews, news & interviews
Mozart Unwrapped, Aurora Orchestra, Collon, Kings Place
Mozart Unwrapped, Aurora Orchestra, Collon, Kings Place
Bright young conductor steps into Sir Colin Davis's shoes with Mozartian aplomb
Thursday, 06 January 2011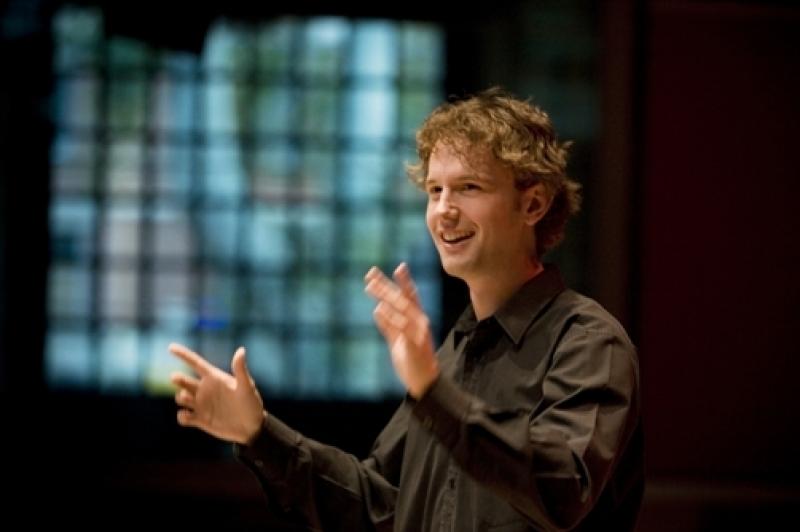 Nicholas Collon, filling Sir Colin Davis's shoes in high Mozartian style
Which he filled, as it turned out, with mature aplomb - no tricks, no wild extremes, but plenty of colour, space and that rare knack of finding the right tempo at any point which is the instinctive gift of the born Mozart interpreter. The programme was a mixture of top and (by Mozart's standard) second-drawer works. The earliest, fifth of those perfectly decent violin concertos which loom perhaps too large in the orchestral repertoire, needs an authoritative Mercury among soloists to keep us riveted. Aurora leader Thomas Gould was perhaps a bit too sweet and nice for that. Was it my fault I lost concentration in the rather invertebrate Adagio? Perhaps. But I like to think that a more communicative player like James Ehnes, so good in these concertos, would have held my attention. Gould's best coup came first, effecting a dreamy introduction between matter-of-fact allegros, the second of which suffered from a few intonation problems. He livened up considerably in the finale, though I still missed the gypsy dash that complements the strings' janissary-band romp.
The rest had its fair share of pure Mozart gold, though that still had to be worked at. Having only heard pianists and maximum five-strong groups in Kings Place's wood-rich Hall One, I was amazed how well it served an orchestra of this modest size, though Collon and his players took proper care, too (trumpets, seated on the floor rather than the dais that lodged the horns, came across in perfect blend). The rosy-fingered Auroran strings never overstepped the limit. I hope it sounded as handsome on the live Radio 3 broadcast. There was one major risk. An all-Mozart programme without clarinets after the overture - La clemenza di Tito, spruce in the bass beneath all the bell-ringing - can be a bit like a year without an autumn; not on this occasion. First oboe Thomas Barber had the limelight, dovetailing those unearthly-high lines Mozart loves so much uncannily with soprano Fflur Wyn (pictured below right) in the concert aria "Vorrei spiegarvi"; its companion piece, similarly written for old flame Aloysia Weber - Konstanze Mozart's sister - brought teamwork with bassoon and flute of a kind usually reserved for the late, great piano concertos.
Wyn had a beguiling way with the lines of these two very different pieces, though the bright, light voice is a long way from the peaches and cream of Wales's chief Mozart goddess Margaret Price, whose timbre I can't get out of my head in the Italian-language concert arias. The tender little homage of "Nehmt meinen dank", though, is perfect for a Barbarina-verging-on-Pamina soprano with the personality of fair Flur.
Besides, it warmed us up for the more stately utterance of Mozart's first grand symphony, No 36, the "Linz". Again the wind-and-brass ensembles came across clear and sometimes surprisingly, but without exaggeration, while Collon saw to the feminine phrase endings, the tender dance of the second-movement Siciliano as well as the elegance of the minuet. Mozart may have wanted his presto finale as fast as possible, but Collon understood that to be up to the limits of clear articulation. Even at this unrushed speed, the second-half repeat brought welcome extra adrenalin. I haven't enjoyed a live performance of a classical symphony so much since Yannick Nézet-Séguin's Haydn with the Orchestra of the Age of Enlightenment in the Queen Elizabeth Hall. And the Auroras have the benefit of a venue infinitely brighter and warmer in which to charm.
An all-Mozart programme without clarinets after the overture can be a bit like a year without an autumn; not on this occasion
Explore topics
Share this article