In Our Name |

reviews, news & interviews
In Our Name
In Our Name
Froggatt is marvellous in an otherwise poor study of post-Iraq breakdown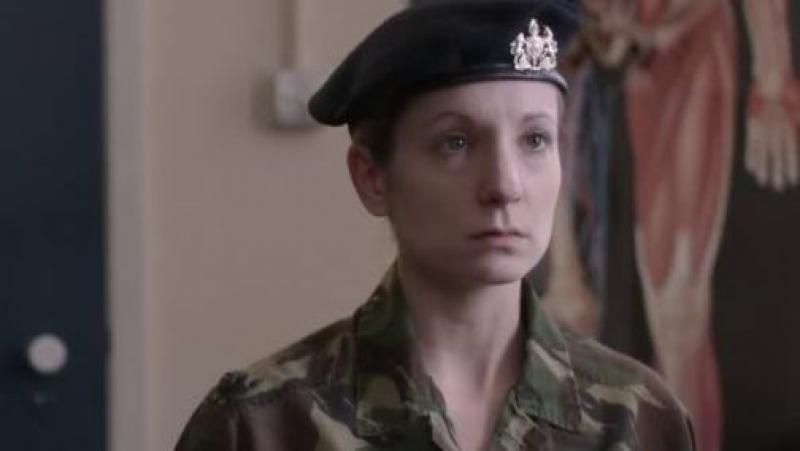 Joanne Froggatt: Award-winning central performance in a film let down by a weak script
Suzy, a private in the British army, has just returned from a tour of Iraq, back to the loving embrace of her close family in Middlesbrough. There are a couple of flies in the ointment, though; her nine-year-old daughter is distraught at her absence and refuses to speak to her, and her husband, Mark, a squaddie in the same regiment who has not been on the same tour, wants his loving embrace immediately and frequently.
But Suzy (Joanne Froggatt, recently seen as the sweet-natured maid Anna in Downton Abbey) finds any number of excuses to avoid Mark's doubtful charms. Is it because she's fallen for comrade Paul (Andrew Knott), with whom she formed a close bond in Iraq, or because she is suffering post-traumatic stress disorder (PTSD) after witnessing the death of an Iraqi girl no older than her daughter?
It soon becomes obvious, as her paranoia and odd behaviour grows, that it's the latter. Mark (Mel Raido) is a doltish brute who we learn, in a distressingly ugly scene involving a British-Pakistani taxi driver, is a racist to boot. His own foreign tour was an excuse to pick up "war booty" souvenirs and so he is unable to see what's happening to his more fragile wife. An army doctor appears to want to help but nothing comes of his gentle probing, and Suzy rejects her sister's offer of support.
But the many themes of In Our Name don't coalesce - Mark's racism (and Suzy's complicit approval of it) in particular jar - in a film lacking a clear narrative. Several characters make only fleeting appearances without driving the story along and even Paul appears briefly, to act as some sort of prissy conscience. The film, which has a magnificent central performance by Froggatt (for which she won Most Promising Newcomer at last weekend's British Independent Film Awards), could have been a serious and sympathetic study of a condition that undoubtedly affects a percentage of those who see active service - regardless of whether they have been conscripted, as many First World War and most Second World War personnel were, or go of their own accord, as all British servicemen and women now do to Iraq and Afghanistan.
But instead it's a weakly scripted, poorly directed mishmash of competing stories that ultimately go nowhere after being signposted a mile off. Youths having a laugh on the street at night obviously presages a break-in, a stolen gun must surely end up in a child's hands and a randy husband is clearly going to force himself on his wife as her breakdown progresses.
The cast, with the honourable exceptions of Froggatt and Chloe Jayne Wilkinson as her daughter (pictured right), are unconvincing. But if the film itself is underwhelming, then writer and debutant director's mission statement, shown in its last frame, will wake you up. I quote it in full: "Dedicated to the thousands of servicemen and women who have been incarcerated in British prisons after attempting to return to civilian life."
What? Such a ridiculously emotive - and plain wrong - sentence doesn't make sense and insults those who have, in many instances, bravely worn a uniform and then gone on to be happy and productive citizens in civvy street without ever feeling the need to commit a crime. Yes, a disproportionate number of servicemen (not women) make up the prison population, but there are many factors - pre-existing poverty or family breakdown, or lack of education for instance - that factor in here, and PTSD is only one of them.
In Our Name has the feel of a film that started with a high concept - expressed in the bombastic terms above - but whose makers lack the necessary storytelling skills to bring it to life. What a shame that such an important subject has been so badly served.
Watch the trailer for In Our Name
It's a weakly scripted, poorly directed mishmash of competing stories that ultimately go nowhere after being signposted a mile off
Explore topics
Share this article