Gorillaz, O2 Arena |

reviews, news & interviews
Gorillaz, O2 Arena
Gorillaz, O2 Arena
Damon Albarn, half of the Clash and a soul legend - and that's not all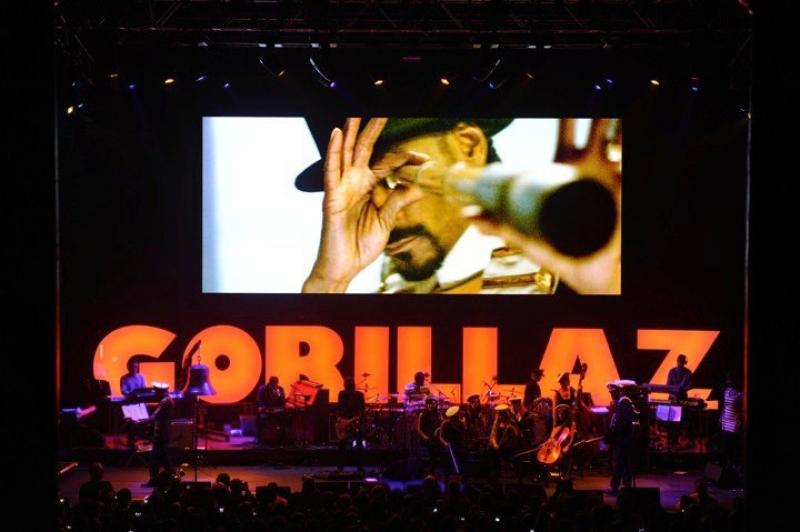 Gorillaz: Bewildering, and brilliant
Then there was the succession of guest artists, among them Neneh Cherry, De La Soul and Mark E Smith (who looked as if he had just nipped across the road from a session in the pub), who passed across the stage. Oh, and the endlessly inventive Jamie Hewlett animations that poured across the video screen.
It was bewildering, and brilliant. Although Gorillaz were created by Albarn and Hewlett in 1998, it took seven years for them to make the transition from being a "virtual" band of animated comic-book characters to a proper stage ensemble, with their sensational 2005 residency at the Manchester Opera House. Clearly, bringing such an ambitious audio-visual concept to the stage is a big deal, because it's taken a further five years for them to embark on their first world tour; having trailed across the US, they're now in the UK for a few nights before heading off to the Antipodes. Prior to all that, of course, was their Glastonbury headlining slot earlier this year; here was a show that seemed to thoroughly divide opinion – the critical consensus seems to be that they fell flat, but I've met many who saw it who were blown away (I watched on TV; not the same thing as being there, I know, but I was gripped).
At the heart of the Glastonbury business was the complaint that they didn't play enough crowd-pleasing singalong tunes. Well, if you want crowd-pleasing singalong tunes, then Gorillaz are not your band. Tunes, they certainly have plenty of, but usually they're not where you'd expect them to be; they're lurking in a synth riff, or a bass pattern, or a string-section motif.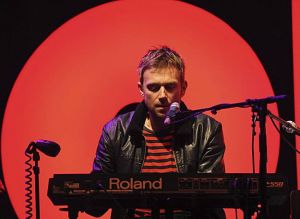 Damon Albarn (pictured right) is a really clever songwriter and composer; in fact, given the quality and prodigiousness of his musical output – don't forget that as well as the Blur thing he's also written an opera, Monkey – I'd say that he's the nearest thing contemporary popular music has to a genius. He makes music that's about rhythm, about layers, about textures, about atmosphere, about mood (often sombre; another Glastonbury complaint).
One of the highlights of this show for me was "Glitter Freeze", which featured Mark E Smith shouting into a crackly microphone through a barrage of pulverisingly heavy beats. Not exactly singalong stuff, then, but it was sensational. Actually, when he puts his mind to it, Albarn can write a crowd-pleasing hit: "Feel Good Inc" and "Clint Eastwood" both had the crowd bouncing along with glee, especially when the rappers came bursting in. But for the most part, the pleasure in a Gorillaz gig lies not in the easy simplicity of big melodies, but in the totality of the experience – the rhythms, the breadth, the depth, the visuals, the sheer noise of the thing.
Oh, and I can't sign off without mentioning the electrifyingly propulsive, rhythmic appearance from members of the Syrian National Orchestra; the young Manchester singer called Daley with a gorgeous glossy voice who sang a new song, "Doncomatic"; and the achingly beautiful duet, "To Binge", sung by Albarn and Yukimi Nagano of the Swedish band Little Dragon, on which Albarn's heart seemed to be on the point of bursting. Fabulous, just fabulous.
Gorillaz's UK tour continues in London (16 Nov), Birmingham (17 Nov) and Brighton (18 Nov)
Damon Albarn is the nearest thing contemporary popular music has to a genius. He makes music that's about rhythm, about layers, about textures, about atmosphere, about mood
Share this article