Woody at 100, Celtic Connections, Glasgow |

reviews, news & interviews
Woody at 100, Celtic Connections, Glasgow
Woody at 100, Celtic Connections, Glasgow
Jay Farrar and friends celebrate the enduring legacy of Woody Guthrie in his Centennial year
Thursday, 26 January 2012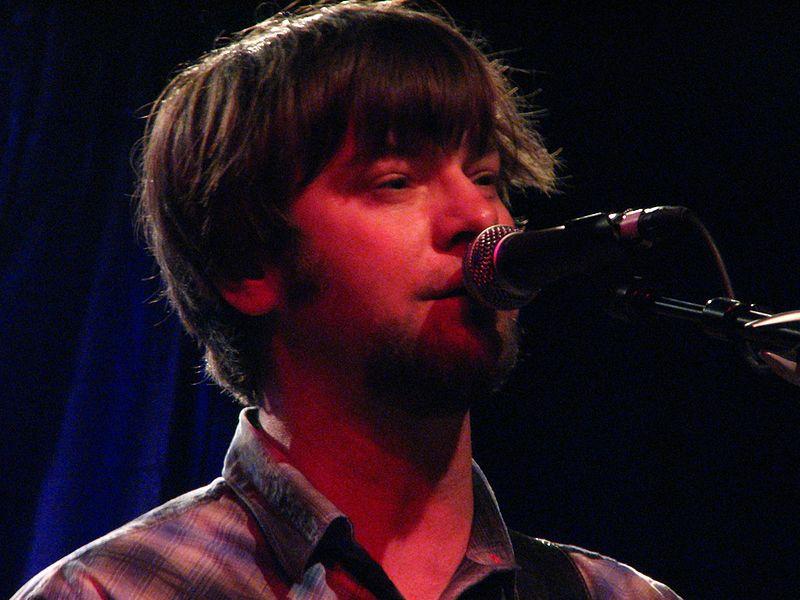 Jay Farrar: the words of Woody Guthrie ringing in his head
It would be easy to begin with a reflection on how little the world has changed in the 100 years since the birth of Woody Guthrie; to draw parallels between the Great Depression and our own troubled economic times. Yet en route to last night's "Woody at 100" celebrations at Glasgow's Celtic Connections festival, I realised that to do so would constitute a disservice to undoubtedly one of the most important songwriters of the 20th century.
For Guthrie's centenary, his daughter Nora has once again opened up access to the thousands of uncompleted lyrics and writings curated by the Woody Guthrie Archive to some of the talented contemporary artists continuing his musical legacy. New Multitudes, out next month, sees Jay Farrar, Anders Parker, Will Johnson and Yim Yames (pictured below right, wth Woody Guthrie centre) set some of Guthrie's earliest Los Angeles writings to new music. It's a warm, intimate production, like a correspondence course in the old folk tradition, and last night the artists (minus Yames, who pulled out shortly beforehand) debuted that material on the other side of the ocean. Sitting almost in the round and dividing vocalist duties between them, it was like watching storytelling hour around the campfire, the torch being passed on to a new generation.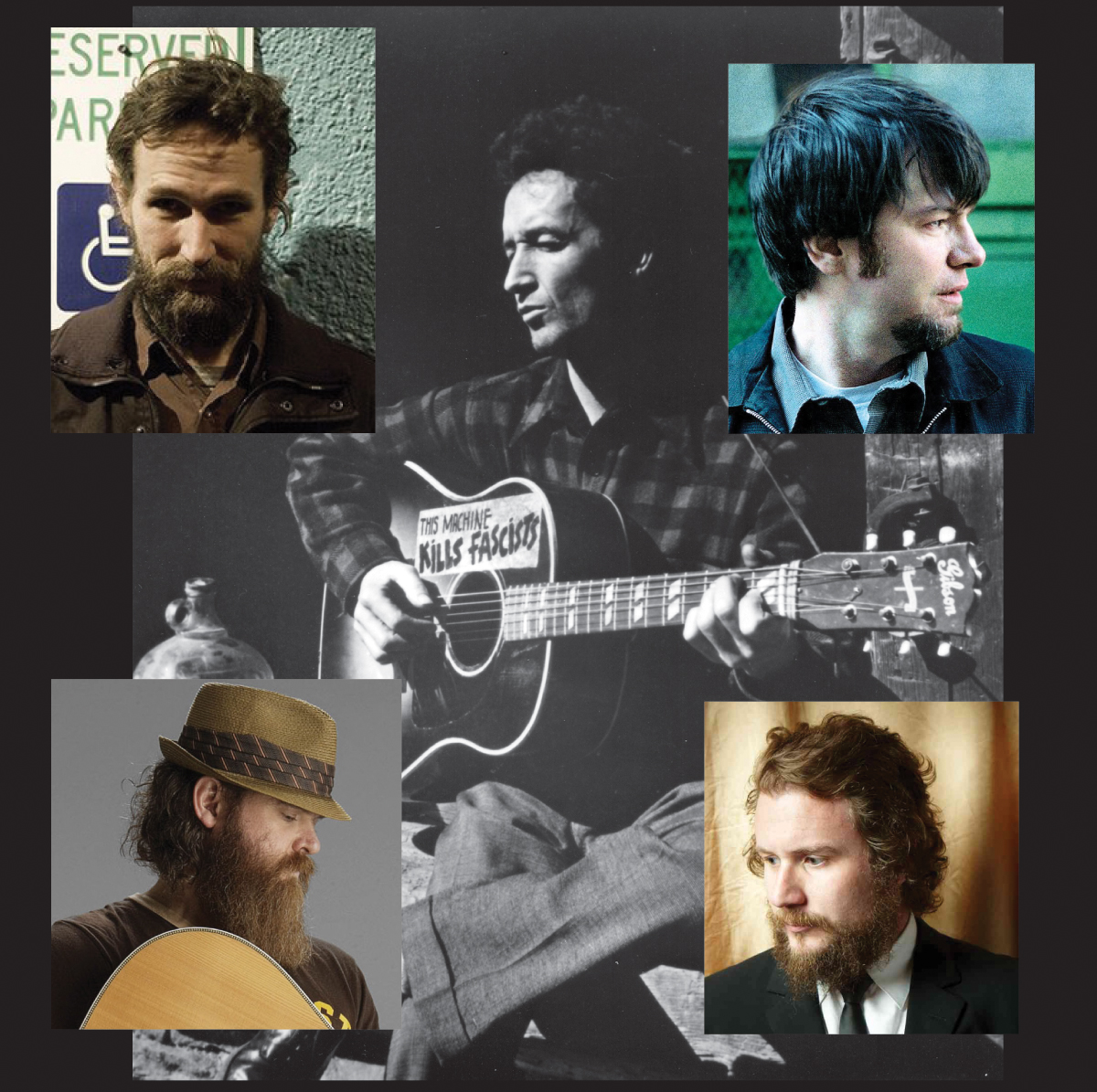 Guthrie is of course most famous for his politics, as the travelling troubadour setting the stories of the trampled working class to music, but as important as his legacy is in this regard to cast him as such is to only see part of the story. His songs resonate so powerfully now because they cover the simplest and most universal of themes: love; sex; family.
It is the latter of these that was most strongly in focus as his granddaughter Sarah Lee Guthrie opened the evening with her husband and songwriting partner Johnny Irion. Much of the set consisted of their own material, taken particularly from last year's Bright Examples. The music had a sweetness, an innocence to it showcased beautifully by Sarah Lee's angelic voice, but every time you began to convince yourself that the pair live in some idyllic gingerbread house set-up by the Appalachian Trail there arrived a lyric - or a blast of evocative, mournful harmonica - reminding us that folk music is not the preserve of some rose-tinted nostalgia but a living, breathing art form.
Sarah Lee was able to draw parallels between her own musical family and that of Scotland's own Gerry Rafferty, who died last year. A celebration of Rafferty's life was also part of the festival line-up this year, and it seemed appropriate when his chldren Martha and Mark Rafferty were invited onto the stage for a performance of a song from the Guthrie archives. They claimed it was almost unrehearsed - the Raffertys having only just learned the song "in true Woody fashion", as Irion says - but their voices blended together beautifully.
It is rightly the songs of struggle and hope that remain his enduring legacy
It underlined the simplicity of these songs, but it's difficult to put into words the talent required to create music so instantaneously a part of the human condition that it barely needed to be learned before your on-stage family were encouraging you to join in on the chorus. It's something that became more obvious during the latter part of the show: material by Farrar, Parker and Johnson made up part of the set and it was easy to pick out which songs were theirs without being told. The influences were clear. The main set ended with a beautifully harmonised rendition of "Bandages and Scars" as originally performed by Farrar's old band Son Volt, with its refrain of "the words of Woody Guthrie ringing in my head", but there's a magic to Guthrie's own words that can never quite be replicated. Guthrie himself borrowed from old folk melodies when setting his lyrics to music, so the collaborative way in which this new-old material has been produced forms pretty much the perfect tribute.
Still while it's easy to smile at Guthrie's wry and sometimes risqué observations, whether a riff on "the dangers of wood alcohol and the resulting nerve damage", or the minister in the barn who tells his red-lipped young lady that "there'll be no church tonight", it is rightly the songs of struggle and hope that remain his enduring legacy. While Billy Bragg's recent sweeping generalisation that nobody makes protest music any more does a woeful disservice to hundreds of talented underground voices, a song like "Pastures of Plenty", so evocative of the Dust Bowl, sounds just as pertinent today. As an encore performed by Guthrie's descendants - both biological and musical - it made a powerful statement of a continuing legacy.
His songs resonate so powerfully now because they cover the simplest and most universal of themes: love; sex; family
rating
Explore topics
Share this article