The Cecil Sharp Project, St George's, Bristol |

reviews, news & interviews
The Cecil Sharp Project, St George's, Bristol
The Cecil Sharp Project, St George's, Bristol
A tribute to the grand old man of British folk - with a healthy dose of irony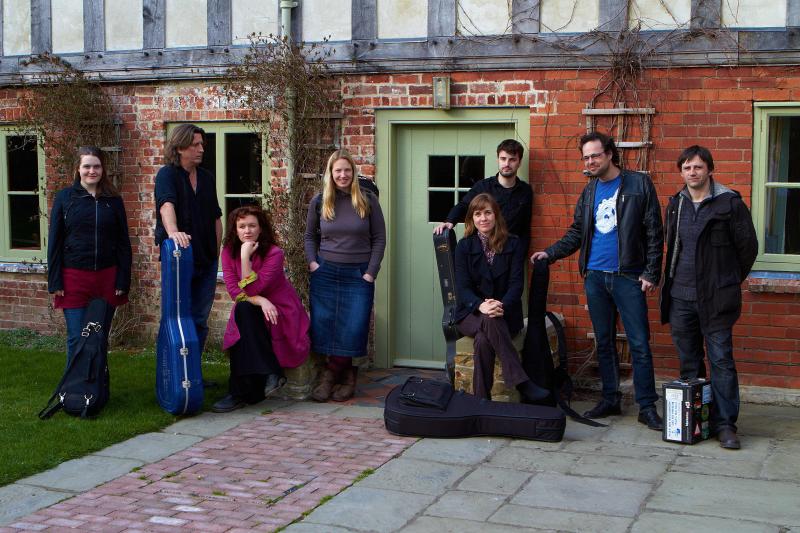 Super-folkies gathered for Cecil Sharp tribute
Folk music is about roots and place and while rootedness can provide a welcome balance to the vagaries of a virtual and globalised world, it can also raise some less salubrious spirits: the British folk movement expresses at times a folksy form of insularity, in which place or nation are made just a little too sacred and exclusive.
The Cecil Sharp Project, which emerged out of a week of workshopping sponsored last year by the Shrewsbury Folk Festival, avoided these pitfalls with a great deal of deftness, a sense of irony as well as a dose of humour.
The assembled musicians drew from the songs collected by the great British folk archivist and revivalist Cecil Sharp on his trip through Southern Appalachia in 1916-18. A precursor of John and Alan Lomax who followed the same rich mountain trail, Sharp, a Fabian socialist as well as a vegetarian, yearned for simpler times. His work, however tainted by romanticism and nostalgia, has had a crucial impact on the music of the last century.
In Appalachia, accompanied by his assistant Maud Karpeles, Sharp found the descendants of Scots, Irish and English settlers who had mostly reached the area in the 18th century, bringing with them the songs of the old countries. He noted that they sang with more feeling and improvisatory élan than the "English peasant", who would deliver the ancient ballads po-faced and frozen to the ground.
The music that evolved was touched by melismatic singing and syncopated rhythms
The Cecil Sharp Project were definitely not po-faced. Neither did they pretend to be peasants. They worked their audience like the pros that they are. As with all supergroups, they all shone, but no one hogged the spotlight for too long. They worked as a well-rehearsed team, from Jim Moray, who sang his version of "Lord Douglas" concocted from no less than 21 versions collected by Sharp to his sister Jackie Oates, whose crystalline voice rang out pure and clear; from stately Kathryn Roberts with her soulful vocals to Andy Cutting's incomparable squeeze-box drones and washes of mournful harmony; from Leopold Podolak's fluid banjo and audience-grabbing comedy turns, to highly accomplished Scots fiddler Patsy Reid with her elfin looks, and last but not least, Caroline Herring, from Oxford, Mississipi, whose aching tones were so typical of American folk and country.
Cecil Sharp is hardly the ideal candidate for a tribute: not unless you buy into his fantasy that the mountain people were unreconstructed Elizabethan peasants who still sang ballads long since forgotten in the British Isles. As the Lomaxes discovered a few decades later, Appalachian music had been irreversibly changed by contact with the music of Africa, when the white settlers heard (and probably jammed with) their newly arrived black neighbours. The music that evolved was touched by melismatic singing and syncopated rhythms. Cecil Sharp was so convinced of his theories that he failed to record more than one African-American source and complained about the "negroes" he came across, as they were of no interest to him.
The Cecil Sharp Project dealt with these issues with real brio, combining respect for Cecil Sharp's groundbreaking work with a sense of perspective free from politically correct indignation. They went instead for irony, delivering sideswipes at the legend with a delightful sense of play: the beautifully executed traditional material, never presented with the intention of keeping it pure, was performed playfully with an ear for the differences between British and American versions or made new in a way that observed the spirit of the original while gently skewing the letter. By way of contrast, there were new songs, specially written for the show: a lament from the black source who suggested Sharp might cast his collecting net more widely, a tribute to Maud Karpeles, the devoted secretary who trailed after the master taking notes, and even a scurrilous song suggesting they may have had a liaison.
How they managed to put this show together in five days is something of a miracle. There were moments of breathtaking beauty and emotion and others of uproarious and irreverent fun. They managed the transitions with an assured sense of pace and atmosphere, telling a complex story in a way that informed without being didactic, and which entertained while gently questioining some of the myths that shape our sense of folk music, new and old.
Overleaf: watch The Cecil Sharp Project at the Shrewsbury Folk Festival 2011
The Cecil Sharp Project on Tour until 27th January
The Cecil Sharp Project were definitely not po-faced. Neither did they pretend to be peasants
rating
Explore topics
Share this article