The Kids Are All Right |

reviews, news & interviews
The Kids Are All Right
The Kids Are All Right
Bening, Ruffalo and Moore embrace life's confusions in a more than all right film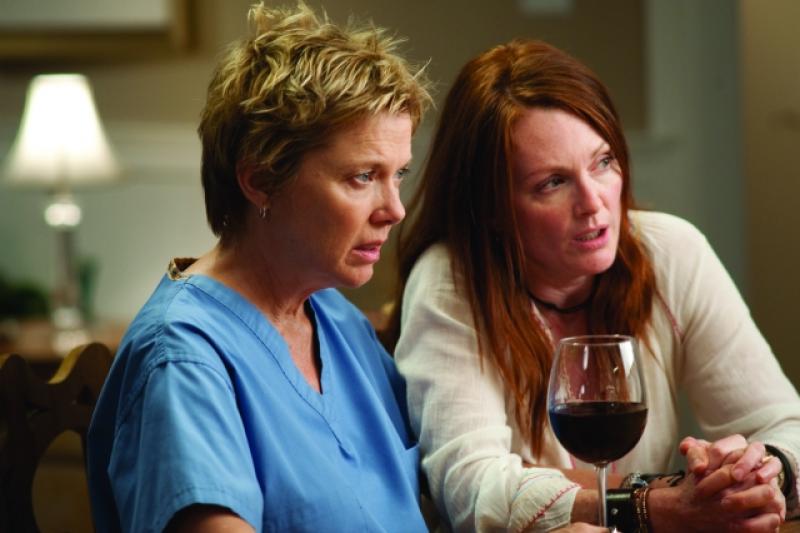 Mums x 2: Annette Bening and Julianne Moore play lovers, and mothers, in Lisa Cholodenko's film
Americans are chastised, often wrongly, for possessing a scant sense of irony, so I mean it as no criticism whatsoever of The Kids Are All Right to point out that the title of Lisa Cholodenko's wonderful film is altogether un-ironic. In less caring or careful hands, or a not so fully empathic context, this might be a portrait of irretrievably damaged youth with the parents deemed responsible, of the sort that proliferates on the London stage.
Instead, the movie embraces conflict and confusion, lustful impulses and our capacity to wound, all the while suggesting that life in its imperfections somehow does go on. As Annette Bening's Nic would in the movie, I'll drink to that.
Cholodenko is best known for films such as Laurel Canyon and High Art, the second of which provided a startling vehicle for Ally Sheedy as if to prove that life does indeed carry on post-Brat Pack. Bening and her co-star, and screen lover, Julianne Moore hardly need career rehabilitation: they're both Oscar-ceremony regulars (though, so far, only the bridesmaids, never the bride), and Bening, especially, is generating award-season buzz at the moment on the strength of her performance as the fiercely maternal, red-wine-friendly California medic, Nic.
There are no villains in Cholodenko's landscape, just people seen in all their fallibility
But both actresses at the film's outset look slightly tired and drawn, while nonetheless vivid and recognisable and ripely human. That's to say, they resemble people as you might actually encounter them in life, a virtue Hollywood tends to scorn: by way of proof check out the facial overhauls that have befallen seemingly every major actress of the Moore/Bening generation, and beyond. If, as suggested by this film's title, the children are doing OK, so, by implication, are their two hard-working, occasionally anxious, always loving mums.
The "kids" in question are Joni (Mia Wasikowska), 18, and younger brother, Laser (Josh Hutcherson), 15, both of whom have reached that age when parents and children are more often than not at odds. Laser has a ne'er-do-well friend, Clay (Eddie Hassell), whose influence is dubious at best. In a delicious moment typical of the strength of Cholodenko and Stuart Blumberg's screenplay, Moore's gently restless Jules puts Clay on the rack to Laser's face: "Do you think he's the kind of person who's going to help you grow?"
In fact, the teenagers' agent of growth turns out to be a local manchild, Paul (Mark Ruffalo, pictured right with the cast), the sperm donor that made these kids possible. Anonymous no more, Paul has had some success as a restaurateur, and scored infinite victories in the sack with the ladies, but the sudden emergence into his midst of two grown-up youngsters for whom he can take at least biological credit sends the narrative ricocheting smartly this way and that, Cholodenko wise enough to know when extended silence is every bit as telling as even the most pointed speech. (The only cop-out on that front: a lengthy car ride near the end where we really want to know what is being said and the film won't tell us.)
It doesn't help, of course - SPOILER AHEAD! - that Paul drifts into an affair with Jules, who has begun work landscaping Paul's garden as part of a new career that has been funded by Nic. The discovery of this liaison - think tell-tale clumps of hair - works in dramatic terms in the same way as the handkerchief in Othello, in this case punctuating a remarkable dinner-table scene that will land most resonantly with those, like myself, who share an abiding fondness for Joni Mitchell's Blue. (The singer is the person for whom Nic and Jules's daughter is named.)
Thankfully, there are no villains in Cholodenko's landscape, just people seen in the round in all their fallibility, and no one does the wounded-dude routine better than Ruffalo, the New York theatre-spawned film name who on this evidence should be snapped up to do some Chekhov, and soon - though having said that, how many Chekhov characters use words like "wigged out"?
And despite the inevitably prurient interest in some quarters in Moore and Bening locking lips, the film extends way beyond issues of sexual orientation to fold all its characters into a collectively smart embrace; only the yobbish Clay is, quite rightly, left out in the cold. There's a lovely moment when Jules admits to wishing her son were gay because then he would be more sensitive, a musing belied at every turn by the abiding, sad-eyed melancholy of the rabidly straight Paul. Here's a movie wise enough to know that sensitivity isn't the sole preserve of one sector of society or another. It's either there or not and this film has it, which is just one of many reasons why The Kids Are All Right is all right, too.
The Kids Are All Right is on general release from today
Find High Art on Amazon

Watch the trailer for The Kids Are All Right:
No one does the wounded-dude routine better than Ruffalo, playing the sperm donor that made these kids possible
Explore topics
Share this article