Nearly Ninety, Merce Cunningham Dance Company, Barbican Theatre |

reviews, news & interviews
Nearly Ninety, Merce Cunningham Dance Company, Barbican Theatre
Nearly Ninety, Merce Cunningham Dance Company, Barbican Theatre
His final work doesn't light the touchpaper, but it's not after all the final word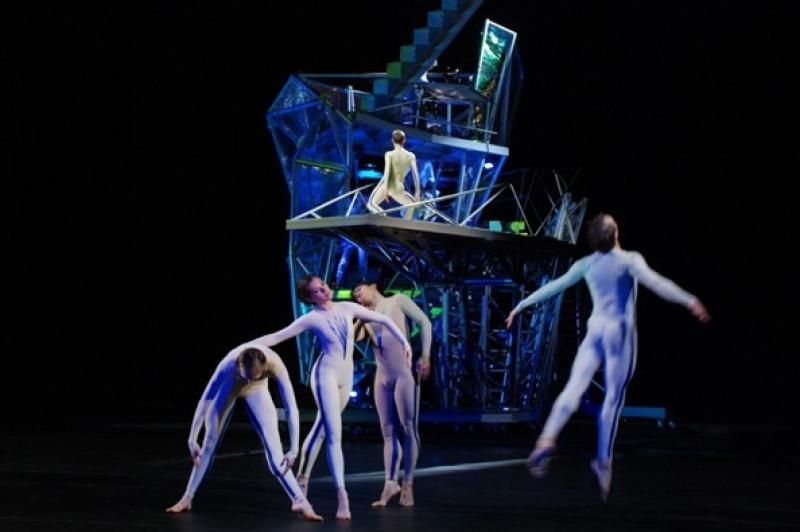 'Nearly Ninety': A very rock-show set against which the dancers hardly stand a chance
I'll retain lifelong, life-changing memories of the joyous mysteries of Merce Cunningham's dances, so it's unimportant for me that Nearly Ninety, his final creation before his death last year, won't be one of them.
Naturally his company brought it like a memorial on their farewell world tour before the troupe closes down, but last night's UK premiere of it at the Barbican felt both sketchy and cumbersome, overburdened with fussy set and effects, and underburdened with the usual vigour and unearthly certainty of his dance. I'm happy to find that MCDC will make London one more pass next autumn in the last weeks of their existence, and will keep my candle to light then.
As usual there was no planned connection (one gathers) between set, sound and dance. The dancers were lightly warming up on stage as the audience came in - that's not something I remember before, and it rarely adds a thing. Here neither. Sound and set then kicked up - a wonderful faraway, echoey rumbling, like the creaking of a great rusty old schooner, and projected silhouettes like the Flying Dutchman's doomed ship, a lurching shattered rigging with musicians just discernible up there, from the shape of a clarinet or the gleam of a guitar. Dark, stormy mood music (John Paul Jones is credited), with Cunningham's longtime sound man Takehisa Kosugi doing his usual freehand found noises and vocal cadenzas.
After a while pairs of dancers enter, in strangely sliced black-and-white overall leotards with black gloves over their hands. Achingly slow balancing moves are offset by single dancers charging around - a man with a curious medieval hop-skip, clenching his fist over his ducking head like a Breughel peasant, or a woman skittering high on the balls of her bare feet, randomly to and fro, like a battery rabbit. Some operatic lighting changes, piercing blue rays or red glows, turn the shapes and shadows into a wrecked oil rig, or a mauled space station. Or the crow's nest on some gigantic liner torn in two, the suggestion of people lost inside being rather fun. At any rate, it is a very rock-show sight, which the klaxons and alarms of the aural effects enhance.
But then the video starts up, pouring amoebic shapes across the scaffolding, while rheumy coughs crescendo through the amplifier, and it all goes over the top. Against this overweening visual banality the choreography hardly stands a chance. Perky, springy, pointy dancers who make little leaps onto unyielding legs in that curious hard-angled way. But I love the characteristic Mercian stance they strike here and there, tilting, torquing, pliable, a curve in every dimension, like a Valentine Gross drawing of Nijinsky - and I let myself fancy that the black-and-white leotards could be a throwback to the Faune's mottled costume.
Still, one is only about half an hour into the two-hour show before it's possible to feel that this may be all there is, this deliberate, small-scale movement in demanding tiptoe balancing combinations, many of which the dancers couldn't do without wobbling noticeably. Until its very last minutes Nearly Ninety's momentum seemed hesitant, stilted. Was this piece finished, I wonder, when it was premiered on his 90th birthday? It looked to me like the dance computer was saying yes but the human body was saying no. Poor Julie Cunningham struggled several times to make a one-knee balance and failed. I've not felt before in his work that some of these eccentric movements were a pointless challenge, failing to find a melody of motion.
The second half strips away the scrims to let us have a good long look at Benedetta Tagliabue's wonky scaffolding - very Hammersmith Apollo - and to notice the rock band, Sonic Youth, secreted within it with their drum kit. They pour out a constant stream of squawks and bangings, while somebody rolls ball bearings across a cooking tray to add scratchy sounds. Kosugi adds adenoidal snuffles and hiccoughs in his inimitable fashion, and I found myself treacherously thinking of the Trocks on their recent London visit and their exquisitely funny parody of an "early Cunningham". What they got there was the sheer weirdness of Cunningham at his irresistible best, a duende that even when you sat baffled worked its charm on you. Till next time, alas, which really will be final.
Watch the Barbican trailer for the production: