Röschmann, Collins, BBCPO, Noseda, Royal Albert Hall |

reviews, news & interviews
Röschmann, Collins, BBCPO, Noseda, Royal Albert Hall
Röschmann, Collins, BBCPO, Noseda, Royal Albert Hall
Intimate song flows through a thoughtful programme of orchestral and vocal works
Thursday, 09 September 2010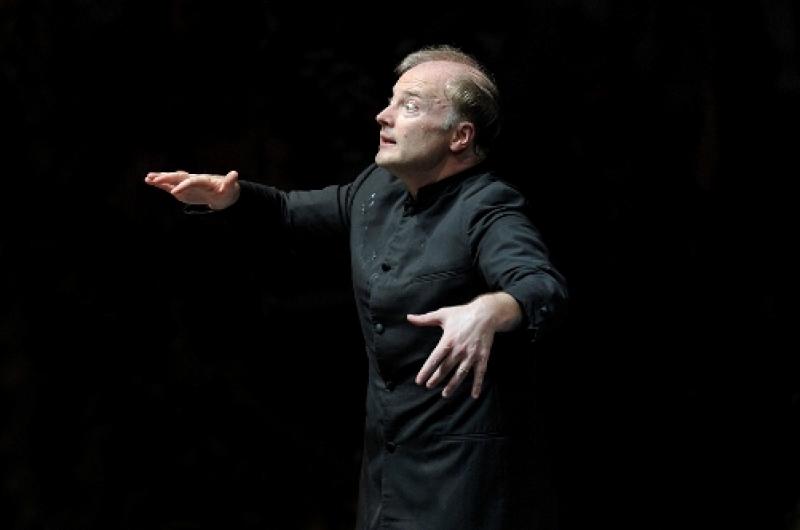 Ginandrea Noseda: a master of introspective orchestral vocalising
Maybe it's a truism that most instrumental music, at least before World War One, aspires to the condition of song. Few have gone farther in that respect than the composers of the three purely orchestral works in last night's Prom.
Add to the mix a conductor of impeccable operatic credentials who knows how to draw intimate vocalising from his players, a promising lyric-dramatic pianist and one of the most unusual great soprano voices of our time, and an evening of singing heartbreak was the result.
It must have been difficult to know which of these private worlds to throw to the Albert Hall lions first. The two often painful completed movements of Schubert's Eighth Symphony took a bit of time for another surprisingly full and rather noisy audience to settle to, but that was no fault of Gianandrea Noseda and the BBC Philharmonic Orchestra, which he has moulded to his supple will over the last - can it really be? - eight years. His approach was the ideal mixture of dark intimacy at the start and enought buoyant projection to make us want to hear Schubert's exposition repeat. It was only alongside the even greater miracle of Mozart's Symphony No 40 at the end of the programme that Schubert's pathos came to seem a little over-extended - not the case, incidentally, in his late piano sonatas and chamber works - but that, too, was simply because Noseda gave the most individual interpretation of the most riveting of all 18th-century symphonies.
We've become used to fleeter, more nervous readings of the tumultuous but elegant opening Molto allegro than used to be the case. But even so, I don't remember the plangent woodwinds' humanising voices conveying so much tragedy at such a lick as they did here before Mozart hurtles back into the famous theme's high-speed melancholy. It never struck me before, either, how the Andante might work as the most private and ambiguous of minuets (again making the repeat not a bore but a necessity). As in Monday evening's great slow movement, the Adagio un poco mosso of Beethoven's Fifth Piano Concerto, a conductor hit on a tempo that seemed to have a perfect rightness. In that respect, I reckon the supreme claimant to that skill in Mozart and Beethoven, the late Sir Charles Mackerras, would have warmly applauded both Stephan Denève and Noseda.
The rich symphonic bread of life had a Schumann filling, but not a Schumann that's widely familiar. In fact I've never heard the Introduction and Allegro appassionato in a concert before, and this energetic performance told us why. There's hardly a moment's respite for the soloist, who has to move from arpeggiating moonshine to a cascading brilliance of which Tchaikovsky must surely have taken note when he wrote the gargantuan opening movement of his First Piano Concerto.
Young Irish pianist Finghin Collins (pictured right) managed the sometimes pained sensitivity with all the poetry one might expect from someone who's tackled all of Schumann's piano works, and he made a virtue of straining every muscle, but ever so energetically, in the showier passages. But the best songs belong to the orchestral woodwind and an eloquent first horn - Jonathan Goodall, distinctive throughout - and with typical individuality Schumann launches us into them without any prefatory flourishes.
Then came the last of the season's BBC Radio 3 commissions, the world premiere of a Schumann "framework" by Robin Holloway. Best to give it this often garrulous composer's full title: RELIQUARY: Scenes from the life of Mary, Queen of Scots, enclosing an instrumentation of Robert Schumann's 'Gedichte der Königin Maria Stuart'. Does Holloway fulfil his brief? Absolutely, and more, especially since this first performance happened to be graced by a performer of such unique vocal timbre and charisma as Dorothea Röschmann (pictured below left).
Few listeners hearing her for the first time would realise that Röschmann is the most commanding interpreter of Mozart's Countess Almaviva I've ever seen on a stage. Indeed, the distinctive but controlled vibrato with its tearful inflections sometimes reminiscent of the adorable Frederica von Stade might have suggested a mezzo. It was a shame, perhaps, that Schumann's maybe purposefully penny-plain Lieder, the last he composed before his final breakdown and death, never gave her a chance to soar as she so uniquely can. But their constriction, as Holloway argues, can be an obsessive virtue, and she could still colour the text, not least in Mary's "song of hope, fear and reproach" to her "dear sister" Elizabeth. And the lift on the word "Frieden" (peace) in the "Farewell to the World" was unforgettable.
But this is a cycle in which the instrumental commentary and sometimes its contradiction of the simple songs flesh out the tragedy of Mary's short existence. I guess one would describe Holloway as a neo- rather than a post-Romantic, but his orchestration is masterly - indeed, that's all I can remember of his very elaborate opera Clarissa - and he uses restrained forces with almost as much tact and sensitivity as Berg or Mahler. It's certainly a work I want to hear again. Funny thought that I'll still be able to do just that on the BBC iPlayer once this year's Proms (and this was as personally rich an experience as any of the 15 I've attended) start their slow retreat in the memory.
Share this article