Serenade & Giselle, Bolshoi Ballet, Royal Opera House |

reviews, news & interviews
Serenade & Giselle, Bolshoi Ballet, Royal Opera House
Serenade & Giselle, Bolshoi Ballet, Royal Opera House
Comedy one week, tragedy the next, Osipova can do no wrong
The sickest Giselle I ever saw: Natalia Osipova loses her mind in the Mad Scene
We're getting used to expecting the extraordinary from Natalia Osipova - and then getting some more. With her impish face and farouche capriciousness, with a spring like a high-jumper and shoulders like a swimmer, she is without doubt the most explosively delightful comedienne and virtuoso around at the Bolshoi, but could she be a Giselle?
A weak-hearted innocent, a sorrowing ghost, an angel of pleading mercy? Doubt it not. Last night Osipova proved her versatility breathtakingly, weaving the supernatural magic of
Giselle
in a wholly individual way, defying her own image, and she was twice as moving for it.
Who could look healthier on stage than this sprite with her exultant bounciness and bursting merriment? But here she was, transformed into a very young and gullible Giselle, and the sickest Giselle I ever saw, which is an inspired reading. Osipova's wax-pale face and the softness, even weakness - if it's possible to say that - of her Act One dancing said something very direct about a doomed child longing to cut loose from a fate she already knows.
As with any great artist, you can't separate her acting from the exciting emotional speech of her dancing, her exquisite way of tapering a phrase in a reticent molto piano, then crescendoing suddenly into passionate heedlessness. Her Act One solo was like this - her hops on point as light as a humming bird's wingbeats, but there was also an arc that began in apprehensive shyness and ended in hapless joy, her arms held wide as if to beg, why not? The audience went mad. Everything in the interpretation matched - this was a real Giselle in front of our eyes, a girl piteously misused by life, a windflower trampled underfoot. Her Act Two was not that of a redeemer but one of protest, wrapping her arms firmly around Albrecht, her flying grands jetés and springs all adding to the sense that this Giselle is as uncontainable in the afterworld as on Earth.
The production needs this kind of verismo; it is Yuri Grigorovich's unatmospheric 1987 admixture of the classic versions. Much as the Russians want to get rid of mime, you can't wipe it in Giselle, but there are wilful changes in it here that fray the dramatic narrative (no Wili story told by Giselle's mother, which reduces the suspense; a muddle of the exchanges between Albrecht and Hilarion, which reduces the dangerousness of their fight over Giselle). Simon Virsaladze made gorgeous costumes as usual - fine plumed Tudor caps and thigh boots for the Courland aristocrats, mournful white ballgowns and floral circlets for the Wilis - but his backdrops are gawky and sketchy, wretchedly lit so that the images never leap off the cloth and into our imaginations. No lighting designer is credited, and it shows.
Yet the acting was fine, as well as the dancing - the tragic trio well knitted in dramatic union, a very young Giselle, a protective and not much older Hilarion, and a seasoned Lothario for Albrecht, carving another notch on his scabbard as he rakes his estate for conquests. Bouquets to Ruslan Pronin's urgent and extremely likeable Hilarion (another rarity) and Ruslan Skvortsov adds to his fine and correct dancing the physique of a god and a face and barnet like David Ginola - just irresistible. Viacheslav Lopatin was a redoubtable Peasant in the pas de deux that always looks as if it dropped in from another ballet.
The tall, elegant Maria Allash, one of my favourite Bolshoi ballerinas, brings such serene authority to her "bad" roles that as Myrtha she can dance as tranquilly as she likes and still appear the deceptive essence of the diabolical, but in fact a little more melodrama from her would have raised the flatness of Act Two, which hasn't an atom of supernaturalism in it, no flickering will-o'-the-wisps, no foul fogs or bubbling mists, no brides' veils, none of the sensory tripwires that this act cries out for.
Much of the lack of atmosphere was down to Pavel Sorokin's over-loud conducting of Adolphe Adam's sweet and elegiac score - though even his volume paled next to the fortissimo attack on Tchaikovsky's Serenade by Igor Dronov before it, who had crashed through Coppélia last week. Loud is the name of the game from the Bolshoi pit, it seems.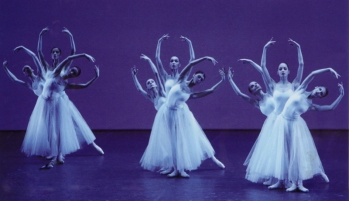 Pairing Balanchine's sublime moonlit piece with Giselle should be ideal - there are so many exquisite echoes of the 1841 work in Balanchine's 1934 one, quotes from the corps de ballet steps (the famous hopping arabesques), the whirling authority of the second ballerina echoing Myrtha, and the angelic ascension of a girl's soul to a celestial destination, the end that poor Giselle deserved.
This is simply too perfectly imagined a dance poem to carry off as untidily as it was done last night. Several girls looked uncertain of their places, the orchestra was sometimes in disarray, and Dronov's persistent decibel attack had nothing of the moon about it.
Ekaterina Krysanova was an unexpectedly meek lead, paling next to the gorgeous pliancy and offcentre quick wits of Anastasia Yatsenko and the plush, grave Anna Leonova. Karim Abdullin is yet another handsome young Bolshoi man, but he let Krysanova down with a thump onto the floor when she was in his arms. I know how she felt. I hate being dropped to the ground when I'm in the arms of Balanchine too.
The Bolshoi Ballet performs Balanchine's Serenade and Giselle tonight and tomorrow; a 'Russian' triple bill of Fokine's Petrushka, Ratmansky's Russian Seasons and Petipa's Paquita, Thur-Fri, Spartacus Sat (mat & eve). Le Corsaire is on 2-5 August and Don Quixote 6-8 August, all at the Royal Opera House
Find the Bolshoi Ballet Giselle on DVD (1974, Natalia Bessmertnova)

More about the Bolshoi's principal dancers: Natalia Osipova, Ruslan Skvortsov and Maria Allash

As with any great artist, you can't separate her acting from the exciting emotional speech of her dancing
Share this article