WOMAD 2010, Charlton Park |

reviews, news & interviews
WOMAD 2010, Charlton Park
WOMAD 2010, Charlton Park
An entrancing experience full of wonderful music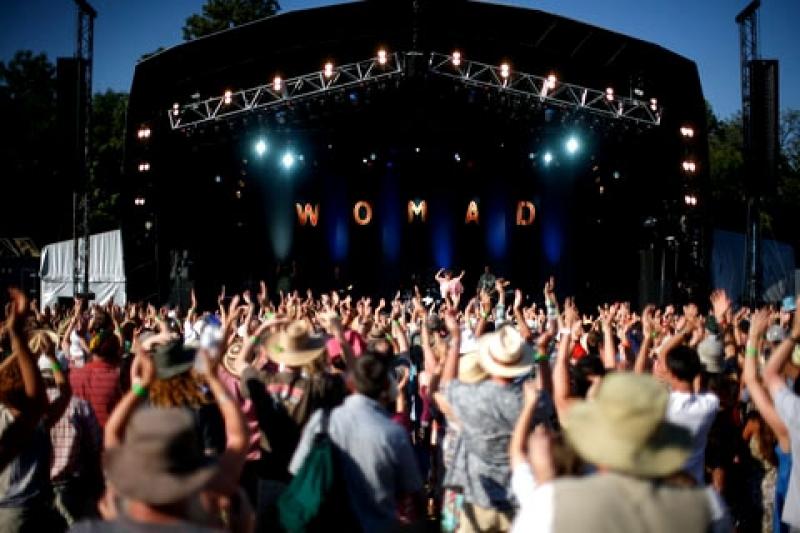 WOMAD: A utopia?
"We all come from the same DNA, as Desmond Tutu is always reminding us, and we shouldn't be surprised that these musical collaborations take place - and work so well." That was Peter Gabriel's comment on the music at WOMAD last weekend, a festival he co-founded in 1981, now crammed with more and more bands revealing obvious genetic connections."
Gabriel could have been talking about the entire programme but was, in fact, standing on the Siam stage to present the Songlines Award for Cross-Cultural Collaborations to Justin Adams (UK) and Juldeh Camara (Gambia/UK, pictured below). They had just finished one of the most sensational concerts of the weekend, and guitarist Adams and one-stringed fiddle player (riti) Camara, were still grinningly punch-drunk. "You can hear the links in the extraordinary music we just heard," Gabriel pronounced. The long set featured a series of explosive build-ups, crescendos of dialogues between the two men, two continents, and melodies which floated in the hot atmosphere and united the audience in a trance-like ecstasy of African rock'n'roll dancing which matched the music.
Gabriel has worked with Justin Adams's diverse productions for years, and just released a CD of the Adams-Camara project as three long tracks, The Trance Sessions. Created in Gabriel's Real World studio, the laboratory where cross-cultural experiments took place for over a decade and yielded unexpected results and connections, here involves familiar genetic routes between Adams's American guitar blues and Camara's traditional West African Fula instruments, song structures and vocal style. Key to the sound is Adams's passionate electric blues style; we heard the mighty Bo Diddley beat (think The Rolling Stones's "Not Fade Away") and sharper, more rooted Delta blues, twangy psychelia and repetitive, trance-like melodies which always fit into Camara's exquisitely raw, strident fiddle-playing, his long sawing riffs clashing and harmonising with the guitar. Apart from being utterly mesmeric, their performances are lessons in precisely what Peter Gabriel was talking about.
Trance-inducing music permeated many WOMAD sessions - not the Nineties electronic Ibiza trance sound but music by virtuoso players with the skill to raise the mood of a huge crowd towards ecstasy. And not necessarily ecstasy in formal religious definitions but through the energy, intensity and passion of the players which unites the listeners. Even sitting or standing amongst massive audiences and the chaos of cheering and talking, the colours of costumes (for festivals are now stages for guests as well as performers), we can tune into these knowingly transcendental qualities. It's not a new element of WOMAD - it's already happening inside every iPod headphone set.
After years of media coverage, explanatory sleeve notes and radio programmes, audiences understand the Tutu's idea about DNA links without any training
The master of trance, the late and legendary Nusrat Fateh Ali Khan, lives on now through the singing of his nephews, Rizwan and Muazzan. They brought their version of Sufi Qawwali vocalising from Pakistan to Wiltshire, and like their uncle, got a vast audience floating with them towards whatever kind of deity was appropriate. With the two soloists came two harmoniums carrying the extended chordal melodies alongside a piping tabla's beats, and a chorus of five singers supporting their long, emotional, sung dialogues, wordless and sacred phrases, all building intensity as they make connection with god. The mellower love songs, gazals, possess less manic intenstiy but no less religious quality. The harmonium style is sharper and more staccato than Nusrat's and the singers' hand-clapping approaches flamenco with its crisp tones - the Desmond Tutu link referred to by Peter Gabriel. Their differently percussive quality brings them, like their uncle, into clubland territory through this dervish-like music.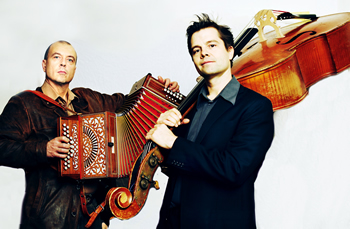 WOMAD now sees three generations on the site, all dancing as easily to Adams and Camara as to Colombian salsa, Iranian Sufi music or Imelda May. After years of media coverage, explanatory sleeve notes and radio programmes, audiences understand Tutu's idea about DNA links without any training. Celtic links are a more and more permanent and chameleon-like feature of WOMAD, each year bringing more surprises.
There is a geographical and historical logic to a Celtic presence in the Finnish duo Lepisto & Lehti (pictured above left), former members of the country's most popular folk band, Varttina. Playing under trees for Radio 3 live, the duo subdued listeners and transported them with just a double bass and accordions, button and piano, and told witty, deadpan stories in between. They moved (us) between landscapes, from dream-like melodies conjuring sublime snow scenes and infinite horizons, to a sensual version of Finnish tango, and a choppy shanty-like song, and always, somewhere in the mix, an underlying Gaelic strain lent its unique emotion. New to me, they were reminders that WOMAD is about discovery as well as familiarity.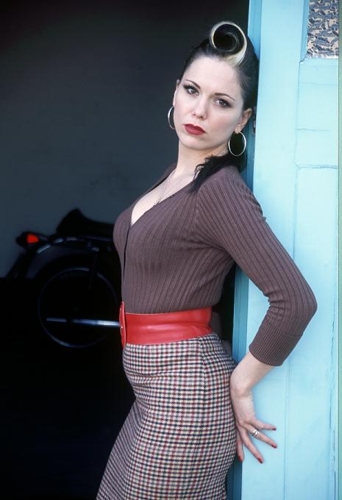 The Celtic link was literal with Dublin's latest star, Imelda May (pictured right). A dazzling surprise, this rockabilly vamp adds R'n'B classics to her repertoire, a perfect Mad Men character with a kiss-curl whiff and skin-tight dress, and a voice which transfixes you with its confident power and versatility. Comparisons with Nina Simone and Amy Winehouse are weak: her vocal style already belongs to Imelda May, the Dublin gal who plays bodhran with a rhythymic frenzy, dances like a slinky caterpillar and talks knowledgeably about the legends whose songs she transforms. Within seconds, she had control of the audience, her humour and spontaneity keeping them with her. The double bass player who moved at amphetamine speeds, slapped the strings in rockabilly style, plucked thick, phat notes which force the dance, as Imelda struck out on the bodhran like a shaman from Siberia. To paraphrase Juldeh Camara's comment about his own playing, the spirits were close.
Forget the real world: this is a utopia where politics and issues are everywhere, often subtly and unspoken, but always sneakily underlying it all


The close of the festival for me was the reunion of one of WOMAD's favourite bands, the Afro Celt Sound System who returned after a 10-year break. They came to celebrate their 15th anniversary and launch of a retrospective CD. The Pogues and Afro Celt multi-instrumentalist, James McNally told us, "The band were born in the Whirl-y-Gig tent," that long-gone psychedelic den which launched a genre of cross-cultural collaborations. Music without Borders is their category, and their music a model of enduring brilliance and collaborations. This was a non-stop, racing performance which exploded to a different level when the turbaned kit drummer Johnny Kalsi, leapt up and strapped on a thunderous dhol drum (the rhythymic voice of bhangra).
He rushed around the stage, in conversation with the high-pitched, chattering drum, dropped the volume to meet the bodhran player's softer rhythms, weaved amongst the prancing, spirit-like Fulani dancer, Demba Barry, then at a whim paused the organised chaos, to allow a chiming cascade of notes from N'Faye Kouyate's kora and Simon Emmerson's psychedelic bluesy abstract electric guitar melodies. Phew. Every song brought an upsurge of energy in an almost orchestral collusion. Unlike the performance of Justin Adams and Juldeh Camara, this music is not transcendental but Afro Celts operates as an organism, truly genetically mutant and their magic is euphoric and equally enduring. A magical ending to my weekend, I look back on it as a place to suspend reality, watch musicians you've never heard of as well as those you love, and hand over to fun. Forget the real world: this is a utopia where politics and issues are everywhere, often subtle and unspoken, but always sneakily underlying it all. Thanks to Peter Gabriel and the team at WOMAD's continuing passion, and long may it last.
Trance-inducing music permeated many WOMAD sessions
Share this article