Lewis, BBCSO, Bělohlávek; Pires, Royal Albert Hall |

reviews, news & interviews
Lewis, BBCSO, Bělohlávek; Pires, Royal Albert Hall
Lewis, BBCSO, Bělohlávek; Pires, Royal Albert Hall
Beethoven and Chopin from two pianists whose light touch leaves you walking on air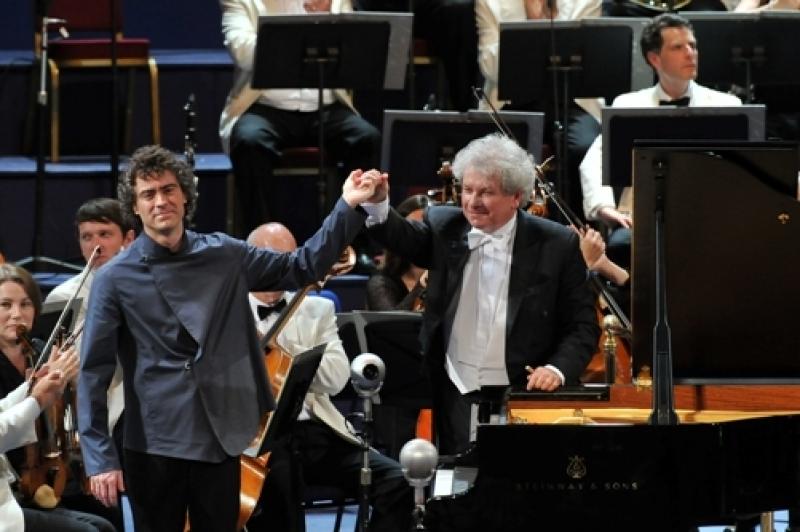 Happy partners in Beethoven: Paul Lewis, Jiří Bělohlávek and the BBC Symphony Orchestra
Two pianists, one indisputably great and the other probably destined to become so, lined up last night to show us why the Proms at its best is a true festival, not just a gaggle of summer concerts. First there was the prince of pearly classicism, Paul Lewis, consolidating the democratic Beethoven he's already established on CD withJiří Bělohlávek and the BBC Symphony Orchestra.
Then along came the queen of romantic night, Maria João Pires, to unfold a late-night brace of Chopin nocturnes. The whole, well-tempered experience left those of us lucky to be there walking on air.
Let me confess that I was no follower of the cult of Lewis until I heard him in the Beethoven Fourth Concerto with Vasily Petrenko and the Royal Liverpool Philharmonic. That was at a Prom two years ago, and it made clear that a certain cool objectivity on CDs of Beethoven and Schubert sonatas was exactly what he wants. There, though, it was compounded by a rare clarity of piano sound in the difficult vasts of the Albert Hall, and a dazzling interplay with his equally light and buoyant orchestral companions. Utterly consistent, he showed exactly those qualities last night, and this time his relationship with Bělohlávek and the BBCSO has had time to grow.
They've already recorded all five Beethoven concertos for Harmonia Mundi - look at Graham Rickson's enthusiastic review on theartsdesk - and the easy relationship could only stand out in a concert world where soloist, conductor and orchestra often meet for a rehearsal or two if they're lucky. That alone would be enough to banish doubts over whether giving Lewis a Beethoven cycle at the Proms was any wiser than spotlighting Stephen Hough in an interesting but wildly overparted Tchaikovsky series last year.
Bělohlávek's understated elegance is a good match. He began with a lighter, crisper than usual Egmont Overture, complemented by its fizzier counterpart for The Creatures of Prometheus after the interval . No thundering heroic underlay here for Goethe's freedom-fighter from the eight basses - later reduced to four and six according to the Beethoven period they were covering - but a sleek definition which would later allow them to bring out strange syncopations in the Fourth Concerto.
For the First, the forces were scaled back, beginning with a hushed opening that could have come from the gallery and embracing some effortless, startling modulations which help to define the young Beethoven, writing only four years after Mozart's death, as his own man. From the start, Lewis was in his own, concentrated world, one that he doesn't always encourage the audience to join, but playful touches there certainly were, especially in the heavy and light chords with which he snapped out of the massive cadenza and asks the orchestra to rejoin him. Both here and in the Fourth Concerto for which he returned, Lewis proved peerless in elegant, well-turned trills and crystalline upper register.
Where I'm not sure he's prepared to change or evolve is in making an adventure out of Beethoven's developments. The one in the Fourth Concerto almost seemed to go on to autopilot. That, I guess, is the difference between the young technical perfectionist and the philosophic grace of Pires (pictured right for her recent Chopin collection). Her late-night nocturnes offered a packed Albert Hall the chance for a meditation that went infinitely deeper than words, and if many audience members were only prepared to go with the supple flow in individual numbers instead of calmly absorbing the whole, that wasn't her fault. No pianist poises more supernaturally on the threshold of silence - Pires's evanescent codas were the surest sign of total mastery - or swells to turbulent protest or anguish more subtly.
Under the supernatural circumstances, it would be invidious to concentrate on the moment, but where Chopin's originality stands out, so did Pires's interpretation. How we got from the brink-of-tears limpidity of the F major Nocturne Op 15 into more troubled waters I'll never know, and where did those calm chords which make time stand still in the G minor number of the same set come from? Trust Pires, too, to make the most of the rolling harmonic adventures at the end of the E major Nocturne, Op 62 No 2. We had come a long way from Beethoven and his over-extended gestural finales.
As for the trilling reprise of Op 62 No 1, we could have been listening to Lewis again at his most refined, capped by a greater sense of the numinous . Even the insistent clappers seemed to succumb to Pires's cumulative hypnotic spell by the last 15 minutes. No wonder our feet still weren't touching the ground four hours after the start of the evening.
Share this article