Simon Boccanegra, Royal Albert Hall |

reviews, news & interviews
Simon Boccanegra, Royal Albert Hall
Simon Boccanegra, Royal Albert Hall
Domingo steals the show, and makes his death the best bit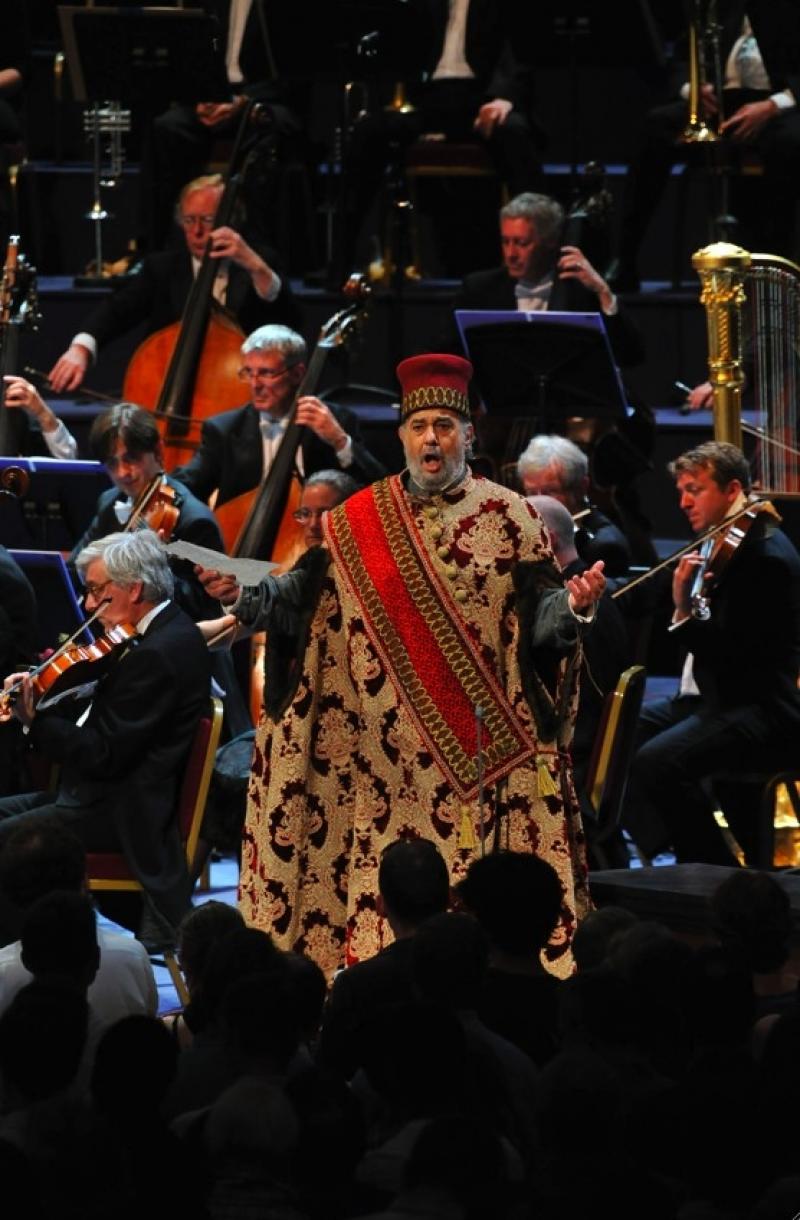 Domingo as Boccanegra at the Proms: 'Three hours of intense, serious, superlative singing and acting'
First to crane his head anxiously in Plácido Domingo's direction was the leader of the Royal Opera House orchestra, Peter Manning. Then came an agitated look from conductor Antonio Pappano. Soprano Marina Poplavskaya clutched Domingo's chest as if to feel for a heart beat. "Is he ok?" we all mouthed. We had just seen Domingo slam his wizened Simon Boccanegra to the ground, dead. The music had rumbled to a close. The Prommers' applause had erupted.
Yet, Domingo had remained grounded, motionless, eyes closed, face perhaps growing paler. As were ours. Was, er, Domingo, er, dead? For a few seconds, he was. Then, seconds later, he wasn't. That's acting for you, folks!
It would be grotesque of me to say that that was my favourite moment of this Proms night. The three hours of intense, serious, superlative singing and acting surely trumped Domingo's Chaplin-esque minute of playing dead. Even so, that minute of madness was certainly the most dramatic minute of the evening. Verdi's 1857 opera Simon Boccanegra (revised in 1881) has many musical things going for it - the woodwind writing, for example, in the Prologue and First Act is mesmerising - but dramatically speaking, it's lousy. Most of the problem lies with having a Mandela-like heroic saint for a lead. What drama there is here consists of people lamely plotting against Boccanegra, then lamely realising the error of their ways. There are emotional truths to be found in the cracks - especially in Boccanegra's relationship to his daughter - but the main dramatic, quasi-political thrust to the work is phooey. It was like being stuck inside the head of Gordon Brown.
One can usually blame the semi-stagers for the dramatic sluggishness of operas in concert - though, according to David Nice's review of the Covent Garden production, a semi-staging was the best staging this Elijah Moshinsky number was ever going to get. Certainly none of the villains had anywhere near enough villainy within them to provide a decent counterweight to Boccanegra's moral levitation. Having said this, Jonathan Summers's Paolo was impressively snarly and short; his voice is made for Disney wickedness. Ferruccio Furlanetto - so consistent vocally - needed a bit more characterful welly such as we saw from his Philip II in Don Carlo last year.
Joseph Calleja, playing the not-so-villainous-really Gabriele Adorno, was nicely headstrong, his voice moving wilfully into the stratosphere. It seems churlish to criticise his aria "Sento avvampar nell' anima", which rightly brought the house down, but the perfection of this rendition emphasised again the psychological lack to proceedings. Marina Poplavskaya (Amelia) was all subtlety, whether riding the radiant dawn waltz at the start of Act One with a surfer's ease, or spasming off into that small trill in the council scene.
But it was Domingo's night. I had to blink twice when he first bounded onto the stage. How old is that man? In the Prologue he could have passed for 30. He could also now quite easily pass as a baritone - throughout. He seems to have completed the vocal transition, remarkably. In a world where many singers singing in their favoured voices have lines and fissures running all along their tessitura, Domingo's flawless sound (only a touch too gravelly at the very bottom) is a marvel.
Pappano did his best with a score that yields interest only intemittently and mostly in the first half. The climax to Act One brings about the most exciting moment: a fantastical discrepancy of sound between the hushed, almost sucked, exhalation of a choir in whispered cry and the outward crash of cymbal and orchestra at full tilt. Now that's what I call drama. I wish there'd been more.
Listen to the Radio 3 broadcast of this concert on the BBC iPlayer for the next week: Part One and Part Two
In a world where many singers singing in their favoured voices have lines and fissures running all along their tessitura, Domingo's flawless baritone sound is a marvel
Explore topics
Share this article