Puss in Boots |

reviews, news & interviews
Puss in Boots
Puss in Boots
The feisty feline strikes out on his own in this just about adequate prequel
Wednesday, 07 December 2011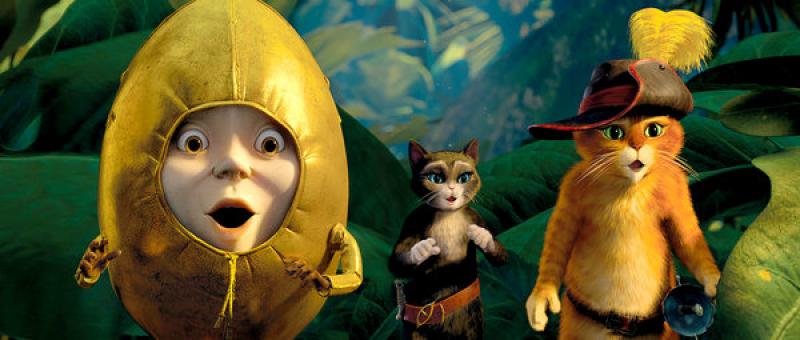 Moderately 'eggciting': Humpty Dumpty, Kitty Softpaws and Puss in 'Puss in Boots'
The Shrek series is resurrected once again for this amiable, action-packed - if less than purr-fect - 3D spin-off, featuring everyone's favourite diminutive swashbuckler. If the franchise was a feline it would be running out of lives (and good will) fast, but fortunately this prequel leaves the magical land of Far Far Away, well, far, far away - instead setting its story amidst the red dust and diabolical double-crossing of a spaghetti western.
After his summer stint as a maniacal plastic surgeon (in Almodóvar's The Skin I Live In), Antonio Banderas is back voicing the titular cat, wielding a more familiar (though considerably less threatening) blade. He is joined in his adventures by nimble puss Kitty Softpaws (Catwoman if she were actually a cat). Kitty is voiced, not terribly zestily, by Salma Hayek. Given its Latin-lover leads and sizzling location, it won't be a surprise to hear that Puss in Boots amps up the innuendo. In fact, it begins wittily with Puss sneaking out on a conquest, desperate not to rouse her sleeping owner; he tells us, "What can I say? I was a bad kitty."
Puss also gets his own comedy foil in the slightly hideous Humpty Dumpty (current go-to comic sidekick Zach Galifianakis, above with Kitty and Puss), his childhood friend who betrayed and disgraced him and who has returned with a plan to redeem them both. The plan involves the hijacking of magic beans which are currently in the possession of seemingly bad-ass bandits Jack and Jill (Amy Sedaris and Billy Bob Thornton, below left). As the fairy tale goes, once planted these beans will grow into a towering beanstalk, leading to a castle in the sky and to the goose who lays the golden eggs.
As you'll be able to tell from that, Puss in Boots - like the Shrek films before it - is an amalgam which combines fairy tales, nursery rhymes, film references (including a not terribly funny Fight Club nod) and the occasional original idea. This mash-up movie, directed by Shrek the Third's Chris Miller, is only so-so in the story department and, so desperate is it to adhere to the (tired) Shrek formula, it often feels hurriedly Pritt Sticked together. It might have been better off as a fully fledged animated western, in the mould of the imaginative and lovable Rango.
As Puss, Antonio Banderas continues to show his talent as a voice-actor. This is not remotely a given for Hollywood stars and the increasing reliance on big names to voice animated pictures has produced some mixed results. In the Shrek films Mike Myers, Eddie Murphy and Banderas worked well together, but other stars have been less than successful, including, unfortunately, almost everyone else here. Particularly disappointing is the usually top-notch Billy Bob Thornton as Jack, who makes for a lacklustre villain. Another problem is that, though it's beautifully animated, its clarity and so much of its gorgeous colour is lost in its stereoscopic rendering, with very little gained - novelty value and increased cash potential aside.
Its clarity and so much of its gorgeous colour is lost in its stereoscopic rendering
Puss in Boots is, however, exciting in places, fitfully witty (there's enough for adults here) and Puss makes for a worthy and charismatic lead. Crucially, it's cute and energetic enough for kids and, at 90 minutes, is thankfully short. There are some memorable moments: Kitty and Puss's first encounter culminates in a nicely executed "Dance Fight" in a basement bar and Humpty Dumpty's attempts to blend in amongst the golden eggs leads to him donning a comically uncomfortable "shell" suit (see main image).
In the end this feels like - and simply must be - the Shrek series' final hurrah (especially after Shrek Forever After promised that it was "The Final Chapter"). It's an adequate, tangential enough addition to the franchise, but there's certainly not enough potential here to warrant three sequels of its own.
Watch the trailer for Puss in Boots
This feels like - and simply must be - the Shrek series' final hurrah
rating
Share this article