Southland, More4 |

reviews, news & interviews
Southland, More4
Southland, More4
New fuzz-opera from the house of ER is brutal yet sensitive
Officer Ben Sherman (foreground) gets a guided tour of the LA lowlife from rugged Officer Cooper
The world isn't exactly sending up distress flares urgently demanding more cop shows, but this new effort from ER's producer John Wells proves that the genre can still be cranked into life if the writing is strong and the performances feel authentic. Catching the precise tone is always critical, and evidently some pushing and shoving went on about exactly where Southland should be pitched.
Its original Stateside host, NBC, started it at 10pm, planned to air the second series at 9pm, then dropped the show altogether. TNT snapped it up and restored it to its 10pm slot, which has also been deemed appropriate by More4, doubtless taking into account its existential tone and sometimes stomach-turning procession of brutal, squalid crimes.
After The Wire and The Shield, some might question whether there's much more to say about the moral murk and political minefields of American police work in the 21st century, but Southland's writer Ann Biderman is seeking to negotiate a slender track between unflinching realism and more traditional character-based drama. Thus, while this season one opener contained a startling drive-by shooting, in which a young black kid was nonchalantly riddled with bullets by a Latino gang, and a scene in which the cops discovered a rotting corpse partly devoured by dogs, it also put down roots for half a dozen inter-cop personal dramas.
When she's not out running down murderous paedophiles, Detective Lydia Adams (Regina King, pictured below) has to contend with the shrill demands of her invalid mother. Officer Chickie Brown (Arija Bareikis) has ambitions to join the specialist SWAT team, while trying to tune out the gross sexist put-downs from some of her male compatriots. Detective Sammy Bryant (Shawn Hatosy) is naive enough to believe that residents of gang-dominated neighbourhoods will stroll into the precinct station and start giving evidence against killers and drug dealers.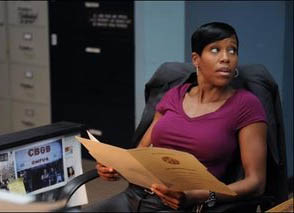 For its basic setup, the episode assumed the position familiar from movies like Training Day, putting us in an LAPD patrol car with rookie cop Officer Ben Sherman (Benjamin McKenzie) as he's given a crash course in gangland etiquette, survival and street smarts from veteran Officer John Cooper (Michael Cudlitz). Cooper plays the unshockable old pro card a little too readily, with his homilies about how he can judge the threat level of a situation by whether or not the hairs on his arms stand on end, and the way that a "real" cop mystically knows that police work is his one true destiny.
He even got a full-scale speech which amounted to a policeman's manifesto – "You will drag your weary fried ass out of bed, you will put on your gun and your vest and you will do it all over again. You know why? Because it's a front row seat to the greatest show on earth." At this point a lot of actors might have found themselves spinning their wheels in a quagmire of cliche, but Cudlitz (maybe you remember him as the burly Sergeant "Bull" Randleman in Band of Brothers) has the physical bulk and the armour-piercing glare to pull it off.
Officer Sherman spent most of his first day being ridiculed for his college boy demeanour and air of middle-class privilege (Cooper kept calling him "Richie Rich" and "90210"), but then we were given an unambiguous sign that he possesses the right stuff. When a handcuffed suspect somehow managed to draw a concealed weapon and shoot his arresting officer, Sherman promptly shot him dead as coolly as if he was knocking off targets on the firing range. Officer Cooper was impressed. Looks like it's going to be high noon for the scumbags, though naturally accompanied by an appropriate degree of anguished soul-searching.