Miss Bala |

reviews, news & interviews
Miss Bala
Miss Bala
Aspiring beauty queen is terrifyingly caught up in the Mexican drug wars
Laura's isolation is intensified by the gaze of the lens: Stephanie Sigman in 'Miss Bala'
Miss Bala, just to clear it up at the start, does not concern itself with beauty pageants. Or not like Miss Congeniality. Beauty is indeed involved in the form of Laura, a pretty young Mexican woman from a poor family who aspires to win the crown of Miss Baja California. Never has the advice to be careful what you wish for been more apposite.
Confronting beauty there is a beast in the form of the organised drugs trade which corrodes and toxifies all who come near it: police, military, civilians, indeed the whole body politic in a country which, in the final credits, advises that 36,000 lives have been lost to the drugs war in the last five years.
Gerardo Naranjo has turned in a profoundly upsetting portrait of his ailing homeland. It is at considerable odds with the Mexico seen in Y tu mamá también, the film which launched the international career of his producer Gael Garcia Bernal and posited Mexico as a place that needs merely to do a bit of growing up. Such is Miss Bala's grimness that it's almost as if Mátyás Erdély's camera cannot bear to look any of its characters in the face. The lens is often trained on the napes of necks, or crops heads out of the picture or, in the ghastly showpiece climax, hides features behind balaclavas. This is a Mexico whose mirror is cracked.
Bodies drop like flies in the corner of the camera's eye
But there's more to it than that. Naranjo reserves the focus of the camera's attention for his lead actress, Stephanie Sigman, whose isolation is intensified by the gaze of the lens on her captivating almond eyes, which exude catatonic terror and, as she is sexually abused, leak silent tears. Laura's innocent ambition to join a pageant turns sour almost at once. Not selected for the final pool, she is soon witness to a shootout at a party at which her friend, another aspiring beauty queen, is shot. She puts herself in the care of a policeman in good faith but, in the pay of organised crime, he promptly delivers her into the custody of a runty gang leader called Lino (Noe Hernandez, pictured below with Sigman) whose moustache travels across his wide face like a hairy slug. We get a good look at Lino leering like an animal at Laura. His intentions, you can tell as he shoves a disembodied paw between her legs, are not honourable. Later he will shove her head out of the SUV window and impassively rape her from behind.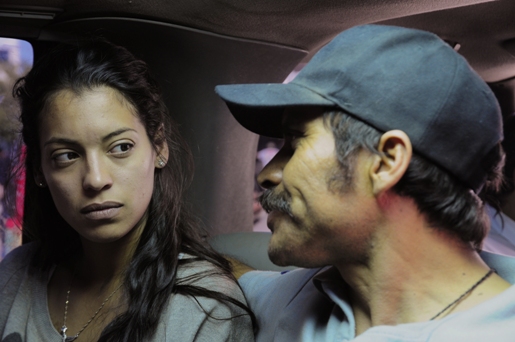 In the main Laura has more practical uses as a beautiful young sex object. Wads of dollars are gaffer-taped to her slender midriff and she is flown over the border as a cash mule. But Lino has grander plans for her. The first effort to thrust her into a beauty pageant causes her to flee home to her father and brother, abortively. The second time round she cannot escape the clutches of the pageant director, an elegant exploitress who is complicitly in up to her neck. Laura wins, live on television, with her face destined for the next day's front page. The newly crowned Miss Baja California is now perfect bait for Lino to claim a scalp among the top brass.
As Laura continues her journey on the carousel to hell, bodies drop like flies in the corner of the camera's eye. It lingers to watch only when an agent of the DEA, a lonely foot soldier in the war on drugs, prepares to meet his maker. Naranjo's indictment of Mexico's moral collapse is a devastating howl of pain. That it's not devastating enough to make a jot of difference, of course, the film is gloomily prepared to admit in its dying seconds.
Watch the trailer to Miss Bala