Fabulous Beast Dance Theatre, Rian, Sadler's Wells |

reviews, news & interviews
Fabulous Beast Dance Theatre, Rian, Sadler's Wells
Fabulous Beast Dance Theatre, Rian, Sadler's Wells
A contagiously delightful night of Irish dancing and music that blows Riverdance out of the water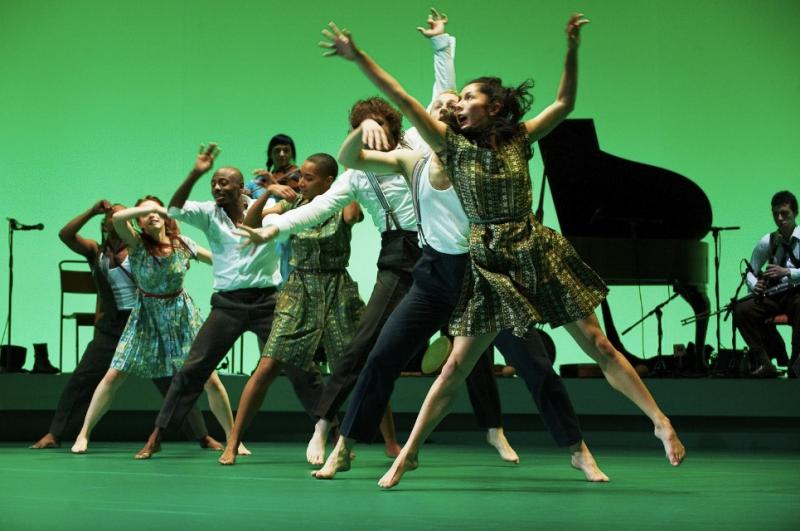 And they lived happily ever after: Louise Tanoto leads the line of village ecstasy
Wallets have been emptied by the proliferation of outstanding dance evenings in the past month - Akram Khan's Desh, Lucinda Childs, the Merce Cunningham farewell - but increase your overdraft, for here is a heart-lifting and ingeniously ingenuous Irish dance night from Michael Keegan-Dolan and Liam Ó Maonlaí that could beat all for pure delight.
Rian
brought Sadler's Wells to its feet last night in full-throated roaring and you have only tonight to catch it this time (though I'd bet my dog that it'll be back very soon, given that kind of reception).
Rian is the title of Ó Maonlaí's 2005 album, meaning track or mark, and this track is marked out by 108 "natural movements" listed drily by Keegan-Dolan in the programme, dubbed obscurantist names like "Cutting Katya" and "Brap-Brap", or cute names like "Bringing the Rabbit Back to Life" and "Gentle Squirrel Chasing Tale". All 108 dance fragments almost certainly are there, which accounts for the 100-minute length and for a certain feeling by the end that it ended three or four times, but the dancers hopscotch so lightly and enquiringly through the 108, the traces of human narratives and lives so lightly laid over them, that it feels like a blessing to see such an unstinting pouring out of well-finished notions.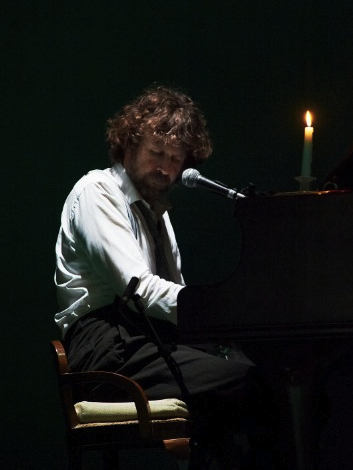 Us Englanders I guess will remain oblivious to a good measure of the pleasure embedded in Rian because almost all its songs are in Irish (last night there were several Irish in the audience singing along lustily), but you don't need language to love and be delighted by the dancing and music.
The stage is all Irish green, flooded with verdant light and beautifully used footlights - it's a village hall with a chintz lamp, a boudoir piano, a double bass, an Irish harp and chairs to sit on while you wait for the tune. Ó Maonlaí (pictured left) is a rumpled, amiable presence with a warm voice, voicing his songs with emotional longing, aided by the dewy soprano Eithne Ní Chatháin.
Keegan-Dolan is a known dealer in darkly disguised erotica, the nakedness under the shift, and again, even if less starkly sinister than in some of his Fabulous Beast productions (Giselle, The Bull and James, Son of James among other things), here be loves longed for and loves denied, village rites that allow ecstasy when shared in common, but possibly other outcomes in private. We don't know - the tone is swift and pastoral, he has a strong bent for individualising dancers as characters and we wish for all of them and for us a happy ending at this village dance.
As a choreographer Keegan-Dolan is happy to admit (like Pina Bausch) that his eight performers created the original steps on their own personalities, with which he has then worked out and developed the piece. And what dancers they are. This isn't an ethnic Irish display, even if Culture Ireland is its main sponsor. In fact the performers come from Kerala, Helsinki, Athens, Nigeria, Denmark, as well as Ireland. They wear standard Irish country togs, girls in virginal floral dresses with socks and lace-ups, boys in suits with braces underneath, all very Catholic on the outside, and it could feel out of true.
Yet this feels as tight and motivated an ensemble as a travelling family theatre company living in a wagon. They break out in full-bodied, abandoned dances rich with not only Gaelic but African and flamenco influences. The variation of the dances runs in parallel with the variation of instruments by the small band: fiddle, pipes, concertina, drums, piano, percussive rattles, harp, sweet-voiced female voice, honest, blokey male. While the sounds and the dance are fusion, they have none of the weakness of blood that you sometimes get in fusion.
There's been a great discipline at work in the delicacy with which they step on bare half-pointe, the nimbleness with which they prance, the purpose with which they kick booted heels into the ground. You note how the centre of gravity in this African-heritage girl, Louise Mochia, is about four inches lower into her loins and powerful thighs than it is in that Greek beanpole, Ino Riga, who dances like a crane fly because she skitters so high off the ground. They each completely transform the same movements thereby.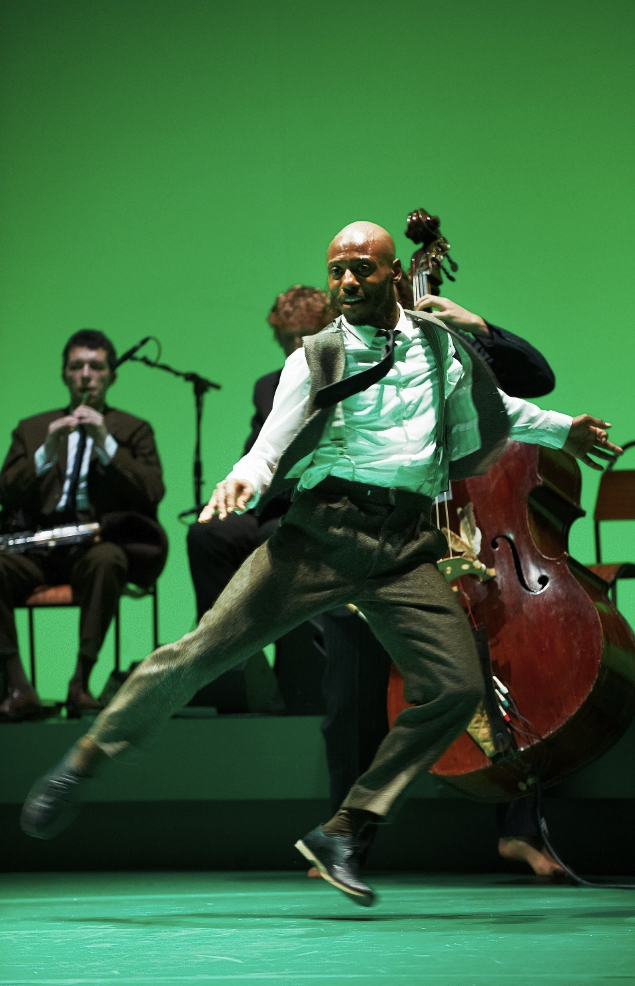 Louise Tanoto is a remarkable witchy little creature with flashing black hair, Keir Patrick bends and sways like a reed in water, Mani Obeya is a big sexy jazzman (pictured right), and the deceptively demure redhead Anna Kaszuba rolls on the ground with her legs hungrily in the air like a girl dreaming. They all have their time in private, alone or with another, where you conjecture whether this couple may make it together, or maybe it was just the thrill of the dance that threw them. And the ensembles jig and rollick, the skirts fly up, the knees fly up, the shoulders catch the pulse, and they sing and shout in glee.
To be so innocent and contagious with the joy of dancing, and so sensitive to how the encounters and gestures of vernacular dance can be all-revealing of the individuals doing it, that takes remarkable skill. Here Keegan-Dolan has shown that he's as capable of producing pure life-enhancing sweetness as he is the darker, more ominous metaphors of dancing. I will be back like a shot to see this on its return.
This feels as tight and motivated an ensemble as a travelling family theatre company living in a wagon
Explore topics
Share this article