Feist, London Palladium |

reviews, news & interviews
Feist, London Palladium
Feist, London Palladium
One of the greats of our age, but can Leslie Feist cut it in a posh venue?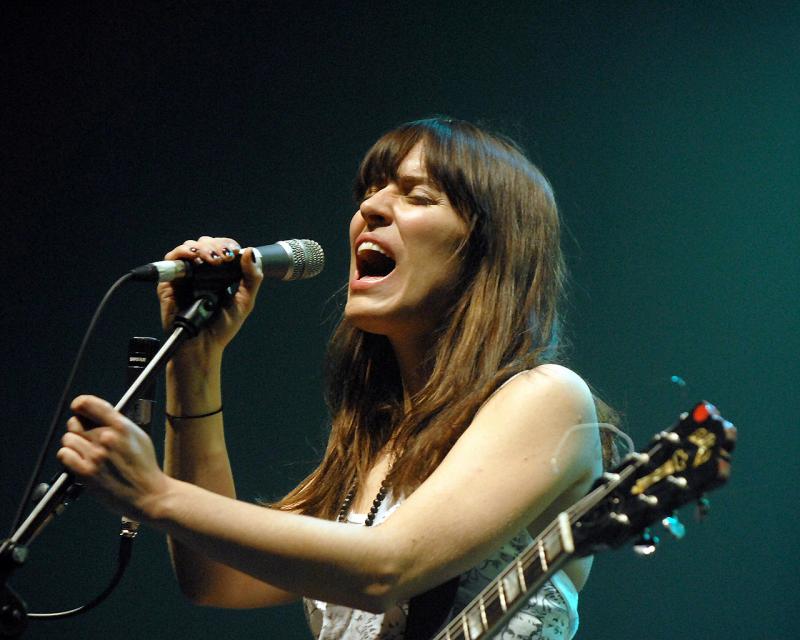 Leslie Feist in fine voice: understated yet forcefully expressed musicianship
A good measure of the passion felt for an act is how much of their crowd dresses like them. And though Leslie Feist is hardly Lady Gaga in the image stakes, it's gratifying that even in a rush to get to our seats I'm able to count at least five "Feist fringes" on audience members that I pass. It's a subtle tribute to a subtle artist, one who has come to major success without fanfare or grandstanding and attracts a discerning and knowledgeable fanbase.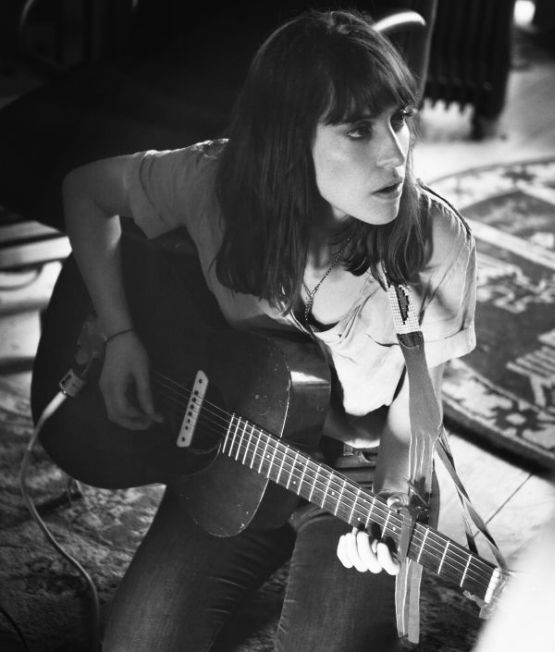 However passionate a crowd is, though, theatre shows have their own set of issues that can stifle even the best performers. Sitting down in rows, particularly in surroundings as formal and absolutely gorgeous as the Palladium theatre, doesn't encourage spontaneity one bit. Which was fine for the solo introduction to Feist's set, where she toyed with us a little, the classic feint of allowing tuning up and initial bluesy guitar doodles to seamlessly segue into the first song being the kind of thing one is used to from classic live albums.
But when, after the first verse of "Comfort Me", her band joined her with a bang, and the canopy above them lit with a blast of blinding white light, there was an awkward feeling that perhaps we ought to be rocking out with them, and there was a little light jigging in seats from various quarters, but ultimately we settled into politely watching once more. Feist played on this in her between-song banter, teasing gently, "Isn't anyone going to say anything?" and letting laughter break the ice.
Despite this jokiness, her songs are never really flippant, and the new album, Metals, in particular is pretty bleak in its examinations of relationships. Musically, her set has a starkness that matches its steely-eyed examinations of the perversities of the human heart, with desolate spaghetti-western twang and a stomping art-rock that approaches sounding like an intensely angry Talking Heads playing off the Carole King/Fleetwood Mac West Coast smoothness that has always infused her sound.
She is not just a stylist by any means, though, and what really carried the show was understated yet forcefully expressed musicianship. What the set's intro had hinted at, "How Come you Never Go There" made explicit: Feist is a brilliant and very characterful guitarist, wringing out fluid blues licks as well as more artfully abstracted indie-rock discords without ever entering show-off territory. The rootsiness to her country-blues influences - so very hip now in the post Fleet Foxes world - never feel affected, mind: rather, just as with Neil Young, they seem a natural expression of the wide open spaces of her native Canada.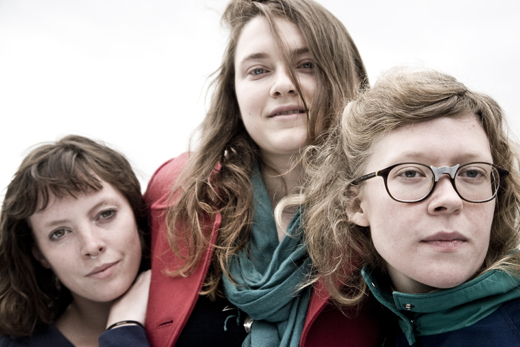 Likewise her singing was never showy, but as became clear when the backing was stripped back, or when she jokily led the audience in singalongs between a couple of tracks, her voice is both powerful and masterfully controlled. Her three backing singers, moonlighting from their normal a cappella project Mountain Man (pictured left), were lined up on the front of the stage for the whole show and provided absolutely stunning harmonies, but also some powerful unison singing on more than one occasion. This was striking as it's very rare we hear massed female voices singing the same melodic lines - they gave a distinctive and edgy feel to songs like "Graveyard".
That all of the songs I've mentioned are from Metals is no coincidence: the sound of the new album dominated the show, with older tracks, like the slowed-down Motown stomp of "My Moon, My Man" from the two-million-selling 2007 album The Reminder, given a makeover to fit into the new sound. And new tracks like "Bittersweet Melodies", with its near-perfect distillation of those 1970s Californian soft-rock chord changes, captured the audience's attention as easily as big tracks from the past. The fact that she chose not to play her best-known number, the iPod advert soundtracking "1, 2, 3, 4" was a mark of her confidence that her new material could carry the night.
The show wasn't perfect. That awkwardness in the audience never quite left, and Feist seemed to pick this up. Although she is without question hyper-intelligent and has a natural way with words, too often her banter with the audience and with the Mountain Man girls slipped from playful wit into slightly forced kookiness. It's the sort of thing you'd expect from indie-folk singers a couple of leagues below her, but seemed out of place next to the depth of her and her band's performance. No matter, that performance was stunning, and the quality of the new material showed that she is operating at the height of her powers - truly one of the greats of our age, in fact - and no awkwardness can detract from that.
Watch Feist perform "How Come You Never Go There" on David Letterman
It's very rare we hear massed female voices singing the same melodic lines - they gave a distinctive and edgy feel to songs like 'Graveyard'
rating
Share this article