Hidden, BBC One |

reviews, news & interviews
Hidden, BBC One
Hidden, BBC One
Terrific cast, great writing, promising plot - can the show keep it up for four episodes?
Conspiracy theorists: Philip Glenister as Harry Venn and Thekla Reuten as the mysterious Gina Hawkes
One has learned to approach high-profile BBC dramas with mild apprehension, since apparent promise and oodles of hype frequently turn out to be fig leaves for feeble plotting and a half-baked script (The Hour, this means you. And possibly you too, The Shadow Line). Too many recent series should have "promising idea, pitifully executed" chiselled into their neglected, overgrown headstones.
After a single episode, is it too much to hope that Hidden may be the one that has triumphantly broken the mould? Probably, but let's enjoy the moment anyway. The first thing they got right was casting Phil Glenister as seedy solicitor Harry Venn, who works out of a shabby cubby-hole of an office in some festering London suburb which he shares with a long-suffering and underpaid assistant. If they ever remake Le Carré's The Spy Who Came In from the Cold, Glenister, with his face like a battered grapefruit, would be perfect for dingy anti-hero Alec Leamas. As Venn, he projects a flavoursome mix of grouchiness, disillusion, bloody-mindedness and cheek. He won't suffer fools gladly. In fact, he can barely bring himself to suffer anybody at all.
However, he can't resist making an exception for an alluring female, which, we infer, may lie at the root of his middle-aged malaise. In the opening scenes, we irised in on Harry in the midst of a ferocious and terminal row with his girlfriend Frances (Seainin Brennan), who was far too young and glamorous for him, yet was still prepared to take her clothes off on the spot to try to hang on to him. Harry, for some reason, preferred to slink back to his ex-wife Lauren (Lisa Kay, pictured right), but the arrival in his office of the chic and mysterious Gina Hawkes (Thekla Reuten) seems to be the proverbial game-changer.
Gina is an expensive lawyer, hired by one of Harry's old underworld acquaintances, Steven Quirke (a reekingly squalid Paul Ritter). Quirke has been charged with murder, Ms Hawkes says she believes he didn't do it, and Quirke wants her to find a certain Joe Collins who can help him prove his innocence. He has sent her to Harry because he reckons he'll know where to find Collins.
Harry evidently regards Quirke as a lump of low-life chewing gum which he'd managed to scrape off the sole of his shoe, and was going to give Hawkes short shrift until she revealed that Quirke had information about Harry's brother, Mark. As the episode unfolded, we learned through a sequence of flashbacks that Mark had been fatally shot while carrying out a professional hit, and the Quirke case is the lever which is going to prise open a big, scary and blood-drenched can of worms from the past.
Warning bells are already starting to jangle, but Harry is at least as intrigued by Gina as by the case. The less she reveals about herself, the more irresistible he finds her. "You came here to talk about the case," she tells him, as they sit at the bar in her hotel (pictured below). "You're more interesting," says Harry. By the time she's refused his offers of more drinks, dinner and lunch, all in a cool French accent, he's hopelessly hooked.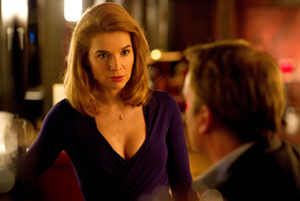 Quite how wide the tentacles of intrigue are going to stretch we don't yet know, but already Harry has had his office blown up and we know there's a European dimension to the story. All this is occurring against a backdrop of political crisis, in which Prime Minister Brian Worsley (David Michaels) is struggling to pull together a coalition government while his opponents dredge up damning stories about his supposed financial malfeasance. Central London is being smashed up by rioters protesting against spending cuts.
Sharply scripted by Ronan Bennett and with punchy direction from Niall MacCormick, Hidden feels like a class act with plenty of aces up its sleeve. I hope I'll still be saying that after the fourth and final episode.
As Harry Venn, Phil Glenister projects a flavoursome mix of grouchiness, disillusion, bloody-mindedness and cheek
Share this article