DVD: The Complete Humphrey Jennings, Volume One - The First Days |

reviews, news & interviews
DVD: The Complete Humphrey Jennings, Volume One - The First Days
DVD: The Complete Humphrey Jennings, Volume One - The First Days
The formative works of a great British war poet who wrote with a camera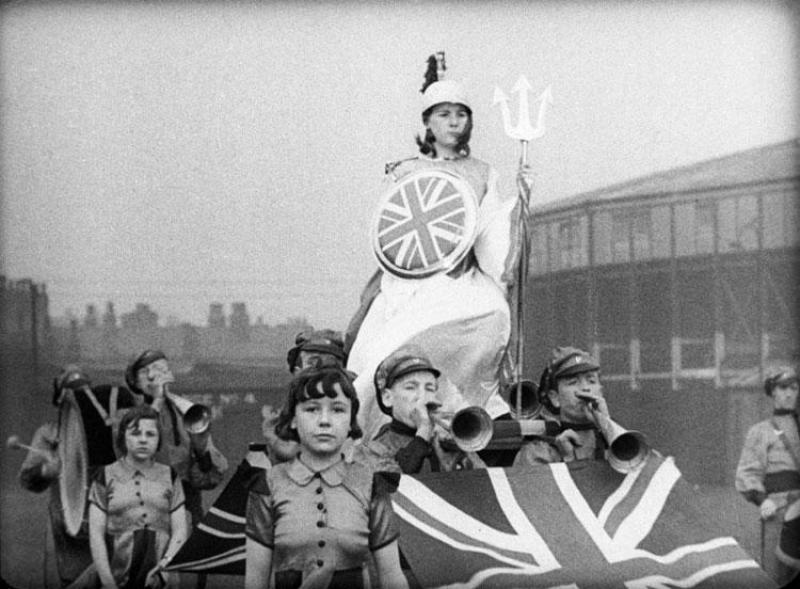 Rule Britannia: cotton workers bring some pageantry to their kazoo band in 'Spare Time'
Because Humphrey Jennings was a director of documentaries, he is never spoken of in the same breath as the greatest British directors of the past - Chaplin, Hitchcock, Powell, Lean and Reed. Another reason is that his career was short, compressed into the 16 years before his death at 43 in 1950 from a cliff fall in Poros, Greece, where he was scouting locations for a film about postwar healthcare in Europe.
Yet Jennings was a visionary whose best films were touched with oddness and poetry - he was a poet and a painter, a champion of Surrealism - and chronicled more movingly than any other director "the People's War". He loved England and the English, and elegantly deployed its literary heritage, but he may have preferred mankind at large. When a place is found for him in the pantheon, this childhood acquaintance of George Orwell will sit beside Ken Loach.
This DVD shows Jennings's evolution as an apprentice film-maker mentored by Alberto Cavalcanti at John Grierson's GPO Film Unit (where he slowly devised the poetic realism Grierson so despised). His early mid-Thirties films include slight educational shorts about the history of the post office (in which Jennings innovatively panned across still images - Hogarth engravings, for example) and the development of locomotives and the wheel. Jennings, whose life work was to have been a massive book about the effects of industrialisation on the British, was ambivalent about machinery - he accepted its role in human progress but feared its destructiveness, not least on tradition, as revealed in the evocative Farewell Topsails (1937) and The Farm (1938), the latter of which was shorn of its cute lambs and piglets and its joking commentary to become a more potent work, English Harvest (1939).
The Farm was shot in colour, as was the most anomalous film collected here, Making Fashion (1938), which reveals how couturier Norman Hartnell's spring 1938 collection was created, from design and sequin-stitching to catwalk; oblivious of the looming war - and that may be its ironic intent - it's shamelessly fabulous. Much more substantial and influential was Spare Time (1939), Jennings's socialistically pointed free-form collage of the leisure pursuits of workers in the steel, cotton and coal industries, which was narrated by Laurie Lee.
It was the war that liberated Jennings and made him a powerful, compassionate artist capable of transcending the propagandist agenda. Collaborating with the more belligerent Harry Watt and Pat Jackson, he made lyrical but tense films about the phony war (The First Days, 1939) and the early Blitz (London Can Take It!, 1940, which, narrated by the American journalist Quentin Reynolds, proved enormously popular in the US). Spring Offensive (1940, aka An Unrecorded Victory) and Welfare of the Workers (1940) depicted respectively how it was essential that farmers should plant in long-neglected fields and how relocated war workers would be helped by the welfare services. Farmers resisted and some workers separated from their families were doubtlessly distraught, but Jennings made a persuasive case that sacrifice would win the war.
None of Jennings's masterpieces - Listen to Britain (1942), Fires Were Started (1943), The Silent Village (1943), A Diary for Timothy (1945) - is to be found on this disc, which, including recut films, offers 18 titles; they will appear instead on Volumes Two and Three, to be released next year. So the best is yet to come.
Jennings was a visionary who chronicled 'the People's War' more movingly than any other director
rating
Explore topics
Share this article