theartsdesk in Brighton: Festival Beside the Seaside |

reviews, news & interviews
theartsdesk in Brighton: Festival Beside the Seaside
theartsdesk in Brighton: Festival Beside the Seaside
Commuting between this year's Festival and Fringe
'Electric Hotel': 'as the action started to loop ineffectually, the woman in the red dress started to masturbate at her window'
Site-specific theatre spread from artists' studios to police cells with the realisation that all the city (and a wee chunk of neighbouring Newhaven) is a stage. Dreamthinkspeak's Before I Sleep (pictured below), a promenade Festival commission based on The Cherry Orchard, was staged in the derelict Co-op building on London Road.
Four floors and 70,000 square feet of disused department store became the canvas for an extraordinary journey from aristocratic isolationism to mass consumerism via the developer's axe (and several secret portals in cupboards and behind curtains through which the adventurous audience member could access whole other "scenes").
It began in the dark basement in atmospheric close-up: the slow creaking of a door handle, the cragged face of Chekhov's abandoned man servant Firs, eerily suspended in gas light. Some time later and several floors up, you became a player in a triumphant crowd scene, trying on ball gowns, bidding for dishwashers and listening to the multilingual patter of salespeople in the glare and babble of an apparently fully functioning international department store. Dreamthinkspeak have always combined imaginative sweep with impeccable technical execution. Now their dramatic aestheticism has discovered a political purpose.
But site-specific theatre isn't just about sight. Just as Dreamthinkspeak couldn't have faked the Co-op's pervasive stench of stagnation, a promenade Fringe production of The Secret Garden drew much of its impact from the mustiness of Brighton's living museum the Regency Townhouse – and the rush of fresh sea air that enveloped us as the shutters were finally flung open onto Mary's walled garden. London company Open Door Enter produced this family piece with infinitely less budget than Dreamthinkspeak but in Frances Hodgson Burnett's tale of suspended lives and locked hearts, the sparse set, and even the sealed-off rooms, worked in their favour.
In fact, smell (and specifically the smell of a slightly down-at-heel Greek taverna) was a dominant factor this year as the Fringe enlisted the help of Brighton's Big Lemon buses, a transport service run entirely on cooking oil. They took us to performance space Coachwerks in the Brighton suburb of Hangleton, where the neighbours' curtains twitched as a bare-chested accordion player balanced on the roof and a transvestite in a bathtub sang Bonnie Tyler for Yael Karavan's performance installation Ship Of Fools.
And on Friday they took us to Newhaven, where the multi Fringe First-winning Brighton Theatre rounded us through dank tunnels occupied by stark weaponry installations from Romany Mark Bruce. This was the ponderous prelude to I Am a Warehouse, a piece about the bombing of a UN refugee aid warehouse in Gaza last year – told, in a bold stab at neutrality from writer Richard Crane, from the perspective of the warehouse itself. The script has a significant life as a dramatic street poem ("I am a warehouse, not a warhorse. I house the wares, I do not take sides"). But ultimately nothing could match the impact of the filmed recollections of Aussie UN worker Jodie Clark, who flew over from Gaza for the premiere.

When my first play was banned, prosecuted, I had obscene letters written in excreta, in human blood; well, they said it was blood, really it was red inkBack in Brighton, a week earlier, we had encountered another building with a mind of its own. Electric Hotel, a co-commission from Sadler's Wells, involved the setting up of a fake glass frontage on outside public space The Level. Seated opposite this unreal building, the audience could both spy on the inhabitants of each hotel room and, via headphones, hear everything from the clicking of heels down a corridor to a strangled scream. Borkur Jonsson's designs give flight to a brilliantly drab surrealism, and the synchronicity of sound and movement was often captivating, but Shunt's David Rosenburg simply didn't do enough with the form. As the action started to loop ineffectually, the row of blokes in front of me ditched the headphones – only to grab them on again in tandem, as if part of the show's own choreography, when the woman in the red velvet dress started to masturbate at her window.
If they wanted sex, they should have gone to see Bred in the Bone's intimate piece about the relationship between Victorian diarist and poet Arthur Munby and his servant, Hannah Cullwick, who took to rubbing herself in chimney soot and licking horse shit from his boots for their combined pleasure. Watching their tense yet tender role-playing in a space so intimate you could see every tremor in Munby's stiff upper lip, I felt as though I was peering through a keyhole into an intensely private recess of history – and the human heart.

The magnetism of Tanya Munday and Leigh Kelly was matched only by Will Keen and Anastasia Hille in Cheek By Jowl's touring production of Macbeth. Their taut, tremulous inter-dependency resolved, surprisingly, into a devastatingly simple death scene. Lady Macbeth remained on stage, gazing trustingly up at her husband, until the very end. When her death was announced she silently stood and slowly walked off stage. Macbeth, who had been stroking her hair all the while, spoke the lines "Out, out brief candle" while winding his hand through the now empty air.

The award for most protracted death scene, on the other hand, goes to the young soldier in a small-scale Fringe production of Edward Bond's Tuesday, whose gurgling demise on the tiny stage of pub theatre Upstairs At Three And Ten caused the playwright and his wife (who'd accepted an invitation from the director) to be sprayed with flying gobbets of blood. Bond, naturally, took this in his stride. As he told us afterwards, "When my first play was banned, prosecuted, I had obscene letters written in excreta, in human blood; well, they said it was blood, really it was red ink…"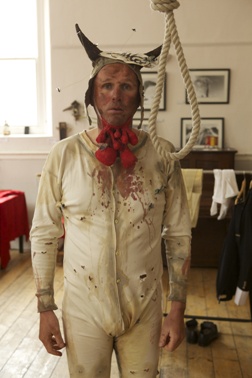 Meanwhile Brighton's own Tim Crouch (pictured left) caused controversy in the main Festival when his Malvolio decided to hang himself on stage. Crouch's riff on Twelfth Night, from the point of view of Shakespeare's pent-up, theatre-hating steward, was performed in both a child-friendly and an 18+, X-rated version (the latter inserting the final indignity of a leopard skin thong – even Toby Belch didn't think of that one). Both versions involved inviting members of the audience on stage to hold the rope and kick the chair.

Audience response was high on the agenda at a post-show discussion for The Lion's Face, The Opera Group's contemporary opera about dementia, which received its world premiere at Brighton's Theatre Royal on Thursday. In it, the sufferer merely speaks while carers and visitors all sing, the discordant score – combined with the narrative-defying nature of the disease portrayed – sending many of the theatre's regular clientele scurrying (or at least shuffling) for the exit. "I felt traumatised," said one woman; "does that mean your production has worked?" "I'm OK with that," said Glyn Maxwell. Glad he's the lyricist and not the consulting clinician.

To be fair, there is no pleasing some people. Staged over tea at The Grand, a Fringe production of The Importance of Being Earnest was so quick-fire and quintessentially English it felt like watching tennis, the cast backhanding Wilde's epigrams to and fro across the perfectly laid tables. But it nearly descended into a real-life muffin fight when two fractious lesbian factions discovered they'd booked on the same day, and steadfastedly refused to share a cake stand. As Algernon would have it, women only call each other sister when they have called each other a lot of other things first.

I've just returned from guest curator Brian Eno's multimedia production Tales of the Afterlives, in which members of the community read David Eagleman's visionary vignettes while seated like pupils in class. And on Sunday Argentine author/director Daniel Veronese presents a UK premiere double bill of his clamorous Uncle Vanya and the response piece Women Dreamt Horses. But I think I probably had my defining Festival moment back in the sprawling dream world of Before I Sleep, when I stumbled through a curtain in a changing room of "Millennium Retail" and found myself standing in a real shop window, surrounded by dummies, and exchanging grins with passers by on London Road. Striking just the right balance between the international and the homegrown, Brighton Festival – and its Fringe – are becoming both a workshop and a shop front for some of the best new theatre in the world.