I Am a Warehouse, Newhaven Fort, Brighton Festival Fringe |

reviews, news & interviews
I Am a Warehouse, Newhaven Fort, Brighton Festival Fringe
I Am a Warehouse, Newhaven Fort, Brighton Festival Fringe
Drama about the destruction of a Gaza warehouse in an evocative setting
Just say "Gaza" and it's like throwing a bombshell marked "Darwin" in among the Creationists. Only in this case it's not always clear who the antagonists might be. Several seemingly liberal theatre venues in Israel, where this project originated as a clear statement of the UN Relief and Works Agency's humanitarian role, cancelled at the last minute; more recently, supposedly enlightened sponsors suddenly withdrew substantial support. None had seen or read the content. It seems that telling the plain tale of a warehouse destroyed is inflammatory stuff. Odd when the warehouse in question, the protagonist of this drama, goes out of its way to tell us that it takes no sides and holds no weapons.
You'd probably have to be among either the converted or the open-minded to make your way to the 1860s fort on the cliff above the weird port of Newhaven, where this Brighton Theatre re-imagining of an original idea by UNRWA spokesman Chris Gunness took place. Director Faynia Williams, who travelled to Gaza to interview its inhabitants, and poet-playwright Richard Crane are award-winning regulars on the scene; it was only when I saw the playbill that the penny dropped and I remembered how Crane's brilliant adaptation of Pushkin's
Eugene Onegin
as the same company's
Vanity
had been a seminal theatrical experience for me back in the early 1980s, when I realised how much could be done with three actors conjuring a world with a small box of props.
This is an altogether more large-scale affair, using the casements and the dank, claustrophobic underground passageways of the Fort to set the scene as the theatregoers - many of whom arrived by the cooking-oil-fuelled
Big Lemon Bus
from Brighton - were herded around atmospheric installations by Romany Mark Bruce, sculptor of the Brighton Aids memorial. The voice of the chief witness we're soon to meet on screen loops around a fluorescent room; rocket shells line up against magnesium flares of light and fragments of poems hang from the walls.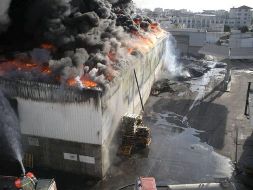 Then you emerge blinking into the light, cross the yard and take your seats and blankets in a nissan hut with a UN tank outside, a truck within and a figure sitting bandaged like a mummy.  She strips off her wrappings to announce herself as the warehouse, a duty shared with her fellow narrators (all three - Anna-Maria Nabirye, Bonnie Silver and Amir Boutrous - work together to clear and simple ends). The reasoned prologue seems far from the destruction we know is in store (
the Gaza warehouse ablaze, January 2009, pictured above
). That unreels in the most powerful part of the experience - powerful simply because no poetry and rhetoric could be more effective than the simple truth, told onscreen by doughty Australian UN staffer Jodie Clark. What she has to tell us about that night in January 2009 when she and a colleague spent two hours trying to persuade the Israeli army over the phone that they were, despite their protests, targeting the vital source of humanitarian supplies for 950,000 Palestinians and their horrified discovery of white phosphorous is infallibly gripping and immediate.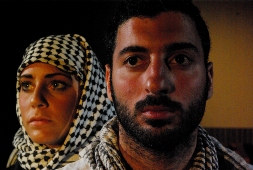 Crane feels obliged to introduce, and to play himself, an Israeli soldier who puts across with trembling directness his country's point of view, the argument that UNRWA by offering balls and kites to Palestinian kids instead of weapons is simply prolonging and obstructing the issue. But even that can't trump what we've seen. The ending is effective: a famous Rumi poem set by Rory Cameron in four-part harmony, delivered direct to the audience before the four participants (
Bonnie Silver and Amir Boutrous pictured above by Malcolm Crowthers
) open a door at the back of the hut and walk off singing into infinity.
It's a difficult subject to have chosen, certainly a courageous and essential one, though it does beg the question of how much, and how far, the original idea has been expanded beyond its fact-establishing mission. For a show thrown together in ten days which could only really be tested on the first night, its various components come together and the text is mostly strong (I'd be very happy to read it in published form). The aim is entirely honourable: to spread the humanitarian word and publicise the good work UNRWA, 60 years old this year, continues to do against the odds. Especially impressive, too, that Jodie Clark and two of her colleagues had made the effort to be there in person. And the venue won't easily be forgotten - that remote and slightly eerie fort at sunset on a warm May evening, left behind as we traipsed through Newhaven, a ghost town even on a Friday night, to the station and back to another world.