Classical CDs Weekly: Bach, Varèse, Giulini |

reviews, news & interviews
Classical CDs Weekly: Bach, Varèse, Giulini
Classical CDs Weekly: Bach, Varèse, Giulini
Modernism from a true maverick, the mellowest, most perfect of Bach keyboard recordings and a much-missed Italian maestro
Saturday, 24 September 2011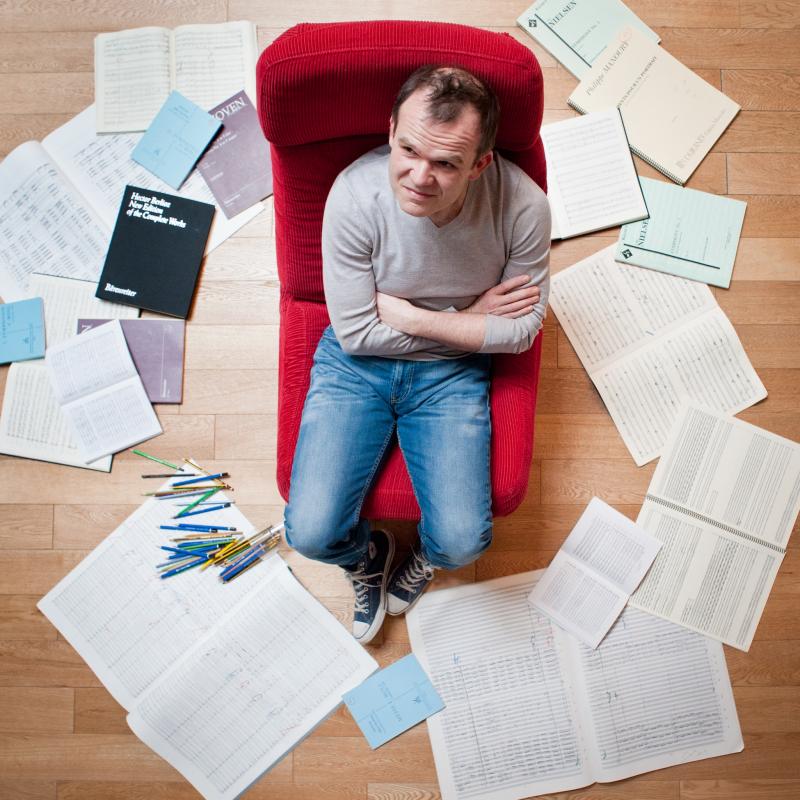 François-Xavier Roth conducts music from another planet
Bach: The Well-Tempered Clavier, Books 1 and 2 Roger Woodward - piano (Celestial Harmonies)
Possibly the most expansive Well-Tempered Clavier around – this one just tips over onto five discs, but there's never any suggestion of sluggishness. Roger Woodward has been mentioned in these pages before – Australian born, he came to prominence in the 1970s as an interpreter of the thorniest modern repertoire. But he's never neglected the core piano repertoire, releasing revelatory recordings of Chopin, Debussy and Beethoven during the past decade alongside excursions into more offbeat territory. He also writes eloquent, articulate sleeve notes.
We're not short of good, modern recordings of this work – Angela Hewitt's two versions are standard recommendations, but this one is even better. It's partly a matter of tempi – when Woodward does take slightly more time over the busier preludes, the clarity is sensational – I've never been more aware of what's going on in Bach's inner-part writing. And the timbre of his modern Steinway is captured with incredible fidelity and warmth – a sound so refulgent that it's like reclining in a warm bath.
You'll find yourself listening to this in huge chunks, ignoring more pressing domestic duties. The austerity of many of Bach's fugue subjects still surprises – the eerie single line kicking off Book I's F minor fugue sounds extraordinary here, before the entry of the other voices gives us the harmonic stability we've been craving. Book II can be a more forbidding experience - the mood feels slightly more academic and it's not always as melodically rich, but Woodward manages to make things intimate and approachable. This is music-making that makes life worth living – stick on Woodward's account of the little C sharp prelude in Book II and it's balm to a troubled soul.
I've not mentioned the luxury packaging – each book presented in a matt black box, complete with a perfectly legible facsimile of Bach's manuscript to follow while you're listening. Both volumes are objects which you'll want to bequeath in your will. Woodward will be playing Book I in Taunton on 2 October. Go and hear him if you're within driving distance.
Edgard Varèse - Kontinent Various ensembles/François-Xavier Roth, Bertrand de Billy and Martin Grubinger (Col Legno)
Edgard Varèse (1883-1965) was born in France but spent most of his creative life in the United States. His published output only totals a few hours, and its notoriety and influence are sadly unmatched by the number of performances. Frank Zappa was a huge fan, and London's South Bank held a mini Varèse festival in 2010. Any outings for this music are a cause for celebration, and this Col Legno anthology, recorded live at the 2009 Salzburg Festival, is a very good one, with instrumental duties shared between three different ensembles and conductors.
First performed in 1933, Varèse's Ionisation was the first work written for untuned percussion alone. It's crazy stuff – music of such extra-terrestrial weirdness that it's no surprise to read Igor Toronyi-Lalic's suggestion that the piece would be an ideal Martian national anthem. Col Legno generously give us two readings – Martin Grubinger's is more tightly focused, but François-Xavier Roth's shimmies and struts a little more confidently, reminding us that this is a Jazz Age soundtrack, its sirens, bells and clangs unmistakeably urban.
You hear clear echoes of Debussy and Stravinsky in the vast orchestral work Amériques; Varèse was capable of writing the most bone-crunching dissonances alongside passages of blissful, quiet stasis. Stranger still is 1934's Ecuatorial, a setting of a sacred Mayan text for bass and an ensemble including two ondes Martenots. The pair swoop and swoon in amongst the stark blocks of sound, while bass Otto Katzameier gamely intones his loopy prayer. Soprano Julie Moffat is the confident soloist in the quieter, subtler Offrandes. Varèse might seem like a hard sell, but his music will only take up three hours of your life, and you'll hopefully finish listening feeling dazed, shocked and invigorated. You have nothing to lose and everything to gain.
Giulini in America Chicago Symphony Orchestra/Carlo Mario Giulini (DG)
A reissue, but a superb one. Carlo Maria Giulini first conducted the Chicago Symphony in 1955, and became their principal guest conductor in 1969 and appeared with them into 1978, when he was poached by the Los Angeles Philharmonic. Giulini was loved by orchestral players, and his calmer manner must have contrasted with that of Georg Solti, the Chicago SO's regular music director.
Like Leonard Bernstein, he slowed down as he aged, retaining a supernatural sense of control and pacing – in essence, these recordings are pretty slow on paper, but never feel so. Start with his famous 1976 taping of Mahler 9, one of the very best, with tempi stretched to extremes in the outer movements. Giulini's slow-burn approach yields huge dividends: the Andante comodo's funereal outburst terrifies, and slower speeds mean that the two inner movements have rustic charm besides sarcasm.
Schubert's Eighth is also weighty, with the Chicago lower strings giving the opening bass rumble a satisfying darkness. Giulini could also make orchestras sing – Schubert's second subject is phrased to perfection, and he gives us an exemplary Dvořák 8, the third movement stately but possessing an incredible grace. This symphony is made to sound more mainstream than it does in the hands of conductors like Mackerras, and the measured approach suits the Ninth better.
You also get Schubert's Fourth and Ninth symphonies – both enjoyable, the latter nearly stretched to breaking point, but just about holding together. Ravel's fussy orchestration of Mussorgsky's Pictures at an Exhibition demonstrates just how good the Chicago brass section was in the 1970s.
Giulini's heavy-footed plod through Prokofiev's Classical Symphony is the only misfire, never soaring despite the detailed and pointed playing. An unexpected delight is the final item in the box, a rapturous account of Britten's Serenade. Robert Tear is in superb voice, and the horn obbligato is played by the great Dale Clevenger. Essential listening, and the Mahler and Britten items make this set a must-buy.
The timbre of his modern Steinway is captured with incredible fidelity and warmth – a sound so refulgent it's like reclining in a warm bath
Explore topics
Share this article