Satyagraha Remix: Opera Reaches Out |

reviews, news & interviews
Satyagraha Remix: Opera Reaches Out
Satyagraha Remix: Opera Reaches Out
ENO uses Glass in ambitious project to expand opera's audience
Saturday, 02 November 2013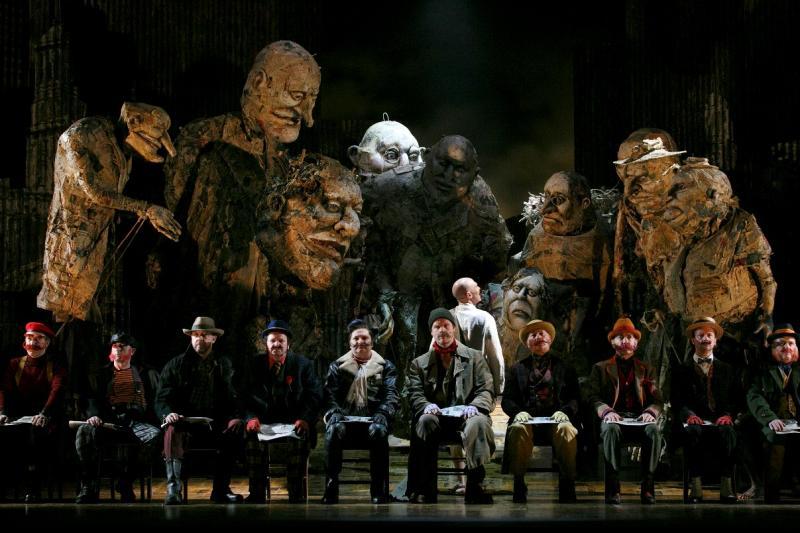 Satyagraha at the Coliseum
The brightly coloured flyer promises all manner of activities. Improvised jam sessions, performance poetry, and philosophy discussions. Oh, and an Indian dance workshop. On an obscenely cold Sunday night I find myself braving not only the cold, but an unprecedented evening of "genre-defying artistic collaboration", courtesy of English National Opera's outreach arm – ENO Baylis.
I ponder whether I'm really ready to have my inhibitions and preconceptions stripped from me in front of a bunch of earnest strangers. Welcome to
Satyagraha Remix
.
The reason for all this unwonted activity? Philip Glass's now iconic 1980 opera – and ENO's biggest-selling contemporary work to date – Satyagraha has recently returned to the Coliseum following huge success at the New York Met. Its combination of approachable minimalist music, big philosophical themes and even bigger puppet-driven staging has captured public imagination where other contemporary works have failed, and lured a whole new opera-going audience out of hiding. Keen to build on this popularity, and seizing upon the work's uniquely heterogeneous appeal, Satyagraha Remix was conceived – an opportunity for a broader community to explore and engage with the themes and music of Glass's opera.
There is something, I confess, in the words "outreach", "community event" and "audience participation" guaranteed to send a cynical shudder down my rather rigid English spine. Such terminology has become tarnished with a certain brand of self-satisfied liberalism, a patronising affirmation of elite and mass cultures and their relative value: outreach only ever seems intended to stretch in one direction.
The first surprise was the venue itself. With the formal space of the auditorium – with its clearly delineated stage and audience areas – closed off, Satyagraha Remix instead spread itself around the foyers, bars and corridors of the Coliseum, colonising underused corners and spaces and appropriating them for various free-form activities in which we were encouraged to come and go at will, glass in hand. The effect in the central stairwell was of a musical Babel – sounds and textures drifting and mingling in patterns that Glass himself would surely have enjoyed.
Despite my worst fears there was not a single hemp-clad individual to be seen among the sort of London cross-section you might expect to find at the Royal Court: a smattering of retirees amongst a diverse body of younger professionals. Of those I spoke to, many admitted to being new to the world of an opera house. Familiarity with Satyagraha (ENO production pictured below) was by no means a given; several people independently explained their hesitation about sitting through an entire work, but expressed interest in Gandhi and the eastern philosophies explored by Glass. Others candidly confessed that, at just £8 a ticket, they were willing to give something a bit unusual a try.


More than just unusual, Satyagraha Remix represents an unprecedented development in ENO's approach to access and community events. Established in 1985, the remit for ENO Baylis is one of education – not only conveying opera to a wider audience but also seeking to develop and enrich the experience for established opera-goers.
"When they hear the term 'education'," explains ENO Baylis producer Hannah Griffiths, "most people assume that we only work with children, but work with whole communities and adult learners has always taken place alongside. It is a cliché, but it's important to balance the priorities of an international opera house with its duty to a local community."
Although the initial idea for Satyagraha Remix was born back in December, it coincides with the recent appointment of Roland Taylor to the newly created position of director of New Media and Participation. Having worked in residential social care, teaching and, most recently, at the BBC (where he was involved in last year's hugely successful Ukelele Prom, attracting over 1000 amateur players), Taylor seems perfectly placed to mastermind a new era of community work, one in which developing technologies will play an increasing role. I encounter him madly jamming away on a keyboard harmonica. "If this were my pad," he says, looking around him, "this is the kind of party I'd want to throw."
And what a party it is. I have just left the philosophy discussion room upstairs: papered with sheets of A3, each with a pertinent quote or question, it's the scene of a fast-flowing group discussion just the right side of charged. When I enter, the topic at hand is the legality of violence. As textbook-thinkers come up against people arguing from life experience, worlds don't so much collide as knock heads – in an unexpected and decidedly irreverent way. Meanwhile, downstairs, performance poet and DJ Charlie Dark declaims a new poem inspired by the debate, against a background of buzzing electronica. A small room is packed and spilling out of the door, as composer Anna Meredith records a Glass-inspired group jam session. A group of hat-sporting indie boys strum on guitars, a bassoonist plugs away determinedly at an arpeggio, and in a corner an old lady delicately manipulates a set of Turkish finger cymbals, engrossed and apparently delighted by their shimmering hiss.
It's the kind of simultaneously chaotic and creative scene that outreach authorities yearn to create and no amount of well-intentioned, politically correct strategising can reliably generate. The key, according to Taylor, is honesty and pragmatism. "Of course we want to be relevant, but ultimately we can be most relevant by being useful."
How might other opera classics be treated? "Study belly-dancing, military strategy and asp-husbandry in conjunction with Handel's Giulio Cesare!"

In this mid-recession pre-election period, "relevance" is the buzzword du jour, the hook upon which arts funding (and survival) hangs. Opera has long since been banished to the political naughty-bench for its incorrigible elitism – even the best attempts of ITV's Popstar to Operastar to drag it down to Daily Mail level seems to have failed – and it falls to the opera houses themselves to attract a new generation of audiences, and prove themselves more than a cultural anachronism. In autumn this year the Royal Opera House will open a vast new production workshop in Thurrock, a community they've been working with closely since 2007. Glyndebourne too, that greatest symbol of privilege, runs an ambitious yearly youth project whose 2010 offering Knight Crew offered an operatic take on knife-crime and gang fighting.
The innovation and achievement that a project like Satyagraha Remix represents is tremendous, but I cannot help but compare its noisy democracy to the obedient three-hour silence and stillness that Glass's opera itself entailed. It is perhaps worth considering that such passive opera-going is still a relatively recent phenomenon; as venues where the audience wielded the power, the opera houses of Handel's day were favoured more for their offstage drama than their music. A project like Remix seems to follow in this tradition, celebrating the excess and extravagance of opera in an honest and unconventionally relevant way. Glass's circling ostinati take on new significance in participation. The music is suddenly up for debate and discussion; it's a feeling of ownership quite new to me in an opera house.
Satyagraha is an almost uniquely suitable work for such a project. How might other opera classics be treated? "Study belly-dancing, military strategy and asp-husbandry in conjunction with Handel's Giulio Cesare!" "Brush up on your parenting skills and play Who's-In-The-Bag with Verdi's Rigoletto!" The challenge for ENO will be sustaining the energy and honesty of this inaugural event through other less accessible works, championing classics as well as contemporary works. With Remix, however, they have proved an important point: done well, community outreach isn't a project, it's a party. And that's something to excite even the sternest of operatic purists.
Visit the Satyagraha Remix website.