Oscars 2010: A Night at the Academy Awards |

reviews, news & interviews
Oscars 2010: A Night at the Academy Awards
Oscars 2010: A Night at the Academy Awards
Mother's Day comes early at this year's Academy Awards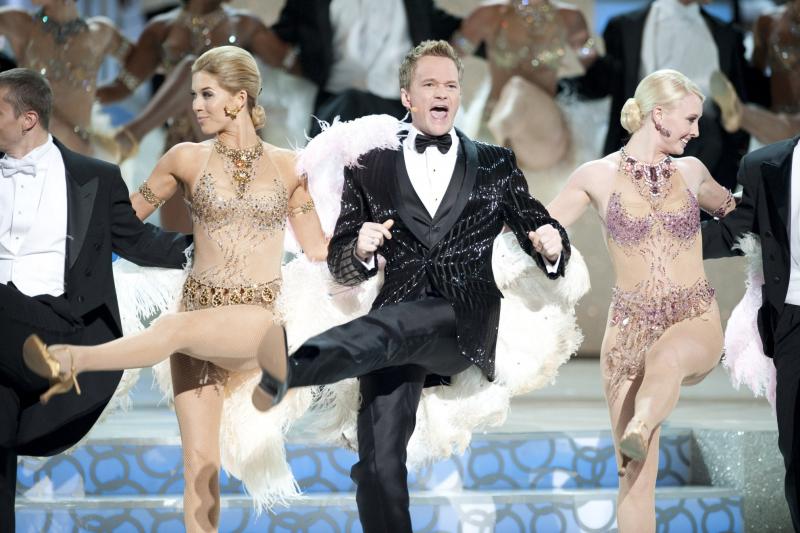 Who he? Broadway and TV star Neil Patrick Harris, whose extraneous opening number padded an overlong show
It's appropriate, given that the Oscars remain the mother of all awards shows, that Sunday night's ceremony made a point of honouring both a mother from hell (Mo'Nique in Precious) and another from Inspirational Movie heaven (Sandra Bullock in The Blind Side).
It's appropriate, given that the Oscars remain the mother of all awards shows, that Sunday night's ceremony made a point of honouring both a mother from hell (Mo'Nique in Precious) and another from Inspirational Movie heaven (Sandra Bullock in The Blind Side). But it was clear there was one thespian earth-mother who reigned supreme as a long ceremony went on. And on. And on. That, of course, is Meryl Streep, now the most-nominated actress in Oscar history and a touchstone of sorts throughout the evening. Steve Martin and Alec Baldwin may have been the night's nominal hosts, but Streep seemed to define the event without once rising from her seat.
Le tout Hollywood paying homage to Dame Meryl - let's face it, that's what she more or less is - lent structure to a notably stodgy Oscar show that lurched along for well over three hours, doling out one predictable award after another. Until, that is, the Best Actress category brought on stage five former colleagues and co-stars of the various nominees to extol those in contention. And before we knew it, suddenly everyone wanted a piece of Meryl (pictured below, taking photos of her own at the Governors Ball: credit, Richard Harbaugh ©AMPAS). Not least that category's winner, Bullock, who finished her ripely emotional acceptance speech by joyously (and comically) extolling "my lover, Meryl Streep". Even losing (yet again) in this category, Streep somehow looked as if she had won.
That's more than can be said for a telecast that even more than usual coupled flashes of exhilaration with long stretches of tedium and the occasional welcome foray into the hallowed realms of Oscar kitsch, of which every ceremony should partake at least once. (The ne plus ultra on this front surely remains the pairing of Rob Lowe and Snow White in 1989.) Just when it looked as if proceedings were going to settle for the lamely unfunny or the sober-sided, along came the film score category that featured lots of rumbustious break dancing tethered to the nominated films. Sherlock Holmes meets b-boys? And why not, especially when you've got them miming explosions during the segment devoted to The Hurt Locker. No wonder George Clooney was shown immediately afterwards giving the camera a giant "Huh?"
To that extent, Clooney was doubtless echoing a broader public that could only stare slack-jawed at missed opportunities for real impact. Why bother to bring on Demi Moore to deliver the annual tribute to those no longer living - Oscar's "I see dead people" moment - if the whole reason for her being there, namely the passing of her Ghost co-star Patrick Swayze, was badly shot and edited in the visual medley that followed? In that vein, it seemed utterly perverse to seat directing competitors, and onetime husband and wife, James Cameron and Kathryn Bigelow directly behind one another and then to cut away from whatever interaction there was between them at the very moment that Bigelow won.
Elsewhere, Kristen Stewart looked just as graceless on the LA podium as she had several weeks ago in London, while residual buzz surrounding the presenters focused on the utterly astonishing weight loss that has apparently been accomplished by onetime Best Actor Forest Whitaker. What's his diet of choice? I think we should be told.
The hosts, Martin and Baldwin, followed recent Oscar practice by seeming to do a slow fade from the night as it crept along, perhaps due to time constraints prompted by several absurdly rambling and ill-prepared acceptance speeches. Supporting Actor Christoph Waltz (Inglourious Basterds) got things off to a dispiriting start by reciting a dreary roll call of agents and execs, proving only that it doesn't take a newcomer to Hollywood long to learn just how many people you've got to keep sweet in that town.
Waltz, though, was nothing compared to Jeff Bridges's inevitable win (I was rooting for the brilliant Jeremy Renner), which led to a heartfelt ovation followed by lots of incoherent babble, punctuated throughout by the word "man", from Bridges (pictured left: credit, Matt Petit ©AMPAS). Far more affecting were the frequent shots of Bridges's wife of 33 years, Sue, who looked considerably sparkier and more fresh-faced than some of the nominees. On the other hand, it wasn't immediately clear that a Hollywood golden boy wasn't going to spend 33 years thanking everyone he'd ever come across, and Michelle Pfeiffer's lead-in to his nomination sounded more like a overripe eulogy than a fond tribute from one thesp to another.
Luckily, things improved on the distaff side, the emergence of Barbra Streisand to present Bigelow her now-historic prize an indication that the Academy had a pretty good sense of how things might turn out. (Under-reported throughout was that history could have been made in this category in an entirely different way, had Precious's Lee Daniels become the first African-American to take the Best Director prize.) Bigelow appeared every bit as gracious and articulate as she has throughout this entire awards season, the ultimate sight of her clutching two Oscars (one in each arm) suggesting a new fitness regime for Hollywood's super-elite.
Best of all, and coming just before Bigelow's triumph, was the fantastically funny and quotable Bullock (pictured right, ©AMPAS), whose ready charm upon winning showed in a stroke how it is that The Blind Side emerged out of left field to blindside erstwhile frontrunner Streep. "Did I really earn this, or did I just wear you all down?" she asked, furthering a love-in with the crowd that took some time to quit. It was around then that Streep was yet again seen throwing her head backwards, presumably having had a good laugh. Or maybe, and with no disrespect to Bullock, she had simply fallen asleep.