theartsdesk in Rennes: 35th Trans Musicales Festival |

reviews, news & interviews
theartsdesk in Rennes: 35th Trans Musicales Festival
theartsdesk in Rennes: 35th Trans Musicales Festival
Best leave expectations at home for Brittany's wayward festival
Tuesday, 17 December 2013
White noise saturates the air. At mind-melting volume, it shifts through the aural spectrum to settle on the bass end. A voice begins yelling angry-sounding gobbets. The words are unintelligible. The stage is in darkness. Gradually, it becomes possible to make out the source of this impassioned diatribe. It's a non-descript, white, bespectacled young man in a T-shirt. This nerdy fellow stops for a moment. So does the accompanying noise.
Then his guitar-toting accomplice piles on slab after slab of noise. The experience is akin to the melding of an industrial garbage compactor, a concrete breaker and the angriest of rap.
This duo are Rhume – French for the common cold. No doubt this communiqué is in their mother tongue. But it doesn't matter. It could be Martian. The audience go bonkers and, as their set unfolds, the music – which it isn't at first – beds in as a hybrid of rap, hip hip and old-style post-punk industrial rock. Noise-rap will suffice as a label.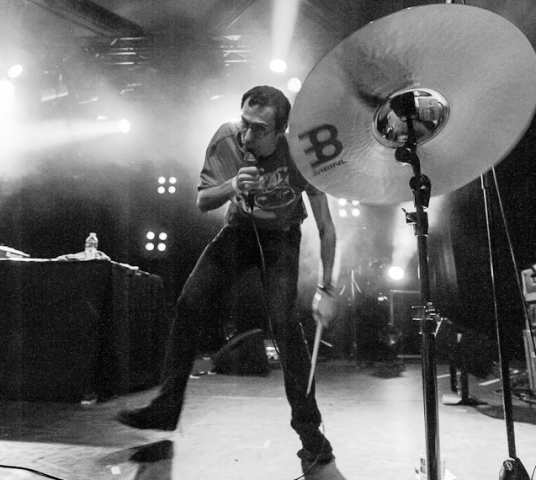 Whether Rhume (pictured right © Trans Musicales/ Renphotographie).are about to conquer the world is doubtful, but their idiosyncratic and challenging manifestation – not a show or concert – was right at home at Les Trans Musicales, the genre-breaking French festival, now in its 35th year. Each December, Brittany's capital Rennes hosts a wildly diverse range of music from all around the world, sticking it before audiences who know expectations are best left at home. Soul-influenced mod bands? Conceptual punk rock out of Florida? British post-trip-hop popsters? Glitter-faced psychedelic stylists? Trans Musicales has them all, and more.
Such a wayward musical policy guarantees Trans Musicales is always the focus for both fans and a music business sniffing out what may be the next happening things (read here for an insight into Trans Musicales' booking policy). It also attracts an endless supply of Brittany's youth who, drunk and unstable, weave, wobble and then collapse. Some fancy fighting. Some do so. All within two hours of the 8pm opening of the main festival site at the Parc Expo, a 20-minute bus ride form Rennes itself. Twenty-four buses shuttle back and forth between 7.30pm and 7.00am. In all, 174 return journeys are made. For those with the stamina, the final bands hit the stages at 4am.
The Parc Expo is an unlovely collection of massive metal sheds. One – Hall 5 (pictured left © Trans Musicales/Nico M) – has been decked out with beautiful lighting and comfy seating which more than mediate the environment. In there, the food on offer ranges from sushi to falafel. It's much, much better than it need be. Bars – including a salon de thé – are dedicated to one type of drink. The wine bar has four different whites and reds, and two rosés .
Although the Parc Expo is the main event – its biggest hall, Hall 9, has a capacity of 7,500 and 12,500 tickets are sold for the festival – Trans Musicales is not all about the out-of-town programme. Rhume played the city centre's La Liberté. Although there were fewer venues overall this year than previously, the festival benefitted from the focus this brought – fewer bands meant a higher standard overall. Also, the off-festival, parallel Bars en Trans strand showcased those who hadn't made it to the official event. Little stood in the way of music discovery - check out the discoveries of Trans Musicales 2013 overleaf.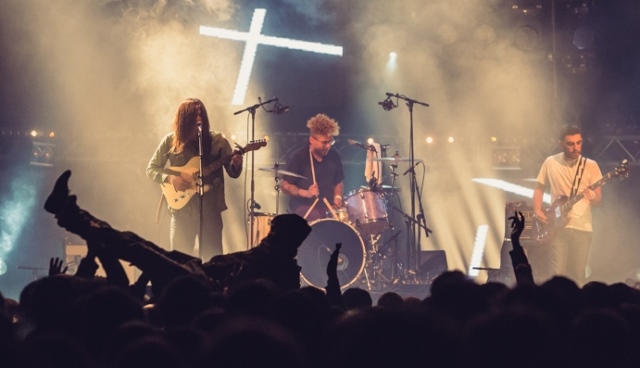 There were, though, also bands who didn't need discovering due to being pretty well known already, at least in their own territory. UK band London Grammar have become ubiquitous via their nagging "Disclosure" and, during their French live debut, they eradicated ideas of them as a studio-born project dedicated to reheating the pop end of trip-hop. Assured and melodic, they can equally be read as an update of electro-era Eurythmics or a down-to-earth riposte to Lana Del Rey. Singer Hannah Reid was engaging and obviously having a fine time, while keyboard payer Dot Major won loads of new friends by trying his French out on the crowd. Douze points.
Other foreigners who surprised included The Rapture's Luke Jenner, who's currently resident in Paris and working on a solo album. Judging by his winning Trans Musicales set, it'll be an eccentric mix of Ben Folds and new wave pop with approachable, sunny melodies and jerky rhythms. On the other hand, Har Mar Superstar was a less delightful. Not only has his dance-pulse shtick worn badly, but exhorting the audience to dance as "it's dance music" fell largely on deaf ears for a crowd content to stare at his jiggling belly. Florida's Jacuzzi Boys (pictured above © Trans Musicales/Gwendal Le Flem) were equally conceptual: a punk trio, with a single hammering duh-duh-duh song which they liked so much they played it over and over again. A treat for crowed surfers but Groundhog Day for anyone else.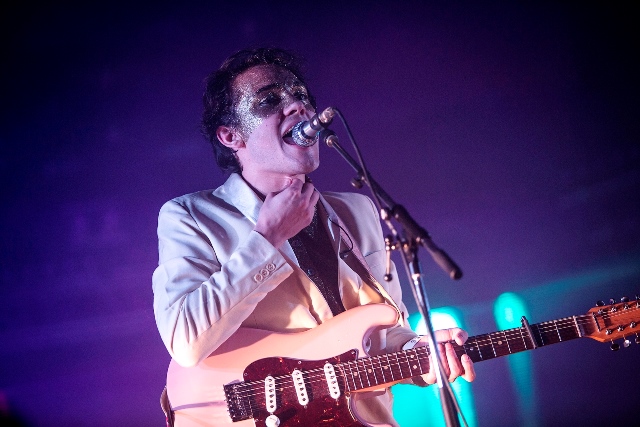 China's Nova Heart had little which was local to their home-base Beijing about them, but their forceful dance-rock with touches of Italo-disco made a connection. Norwegian Mikael Paskalev was set for a tough time though, as his soul-inflected singer-writer approach not only features non-linear songs but also requires bonding with an audience which will engage with the subtleties of his material. Clearly, he had problems – an audible buzz accompanied him – but the metal-shed folk were on his side. A more curious proposition were Oum Shatt from Germany, effectively a Turkish-slanted Franz Ferdinand. Given the right wind, they could occupy a similar space to Django Django.
But the locals dominated as there were inevitably more French acts booked than any from elsewhere. At The Parc Expo, the hotly tipped Moodoïd (pictured above left © Trans Musicales/Nicolas Joubard), a collective with gold- and glitter-covered faces led by Pablo Padovani (the guitarist from the Tame Impala-produced Melody's Echo Chamber) have the moves and a look, but seen live their sinuous modern psychedelia is hard to love as – for now – they are more about presentation than the music on stage. Their studio recordings work better.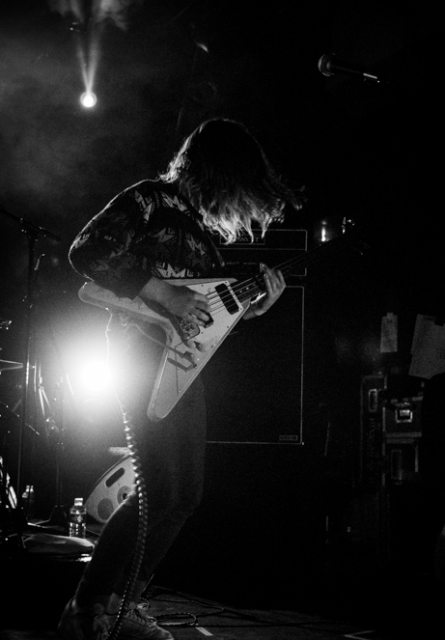 Back in the city, at Le Liberté, the less self conscious and way-more energetic Disco Anti Napoleon (pictured right © Trans Musicales/Nico M), from Nantes, also echo Tame Impala but were tougher, had better songs with pinches of Echo & the Bunnymen and a greater presence. With them though, and flipping Moodoïd's problem over, their thin studio recordings fail to capture the vim of their tremendous live show.
Another band catching attention out at The Parc Expo were Le Vasco, who drew on trip-hop (again), guitar rock, jazz and electro-pop without actually merging each with the other. They also did some synchronised dancing. Le Vasco and their bricolage music are out there on their own. For the long run though, focussing on being more than a jukebox might be an idea.
More straightforward propositions included the joyful, mod-ish Franco-British The Travellers (pictured below left © Trans Musicales/Phillipe Redmond), whose singer Gemma was equal parts Grace Slick and Shocking Blue's Mariska Veres. The clipped playing of their Robert P marked him as Trans Musicales's most striking guitarist.
Out in town, taking to the streets for Bars en Trans while navigating a path through the electro duos – often junior Phoenixs, but never grade-school Daft Punks – the more classic and more mainstream stood out. Cats on Trees are a duo who should become a band proper, but the yearning arc of their songs and a spontaneous sing-along suggest a rosy future before crowds ready to hoist lighters aloft. Based on their show, Rennes' own Missing Season could do with being that far four albums into their career, and their newly roughened sound takes them towards Midlake at their most frazzled and away from their previous introspective Americana. A treat.
Trans Musicales is always a unique and sometimes challenging expedition into the heart of France and its music, and one which sidesteps the modeishness of Paris. It's also a unique chance to look in on the familiar dealing with an alien audience. Standing out is about reaching beyond the edge of the stage. And to return with a list of bands now firmly lodged as ones to watch means Trans Musicales has more than done its job.
Overleaf: check out the discoveries of Trans Musicales 2013
Watch the video for Disco Anti Napoleon's "Blue Lawn"
Watch the video for The Missing Season's "Partied Out"
Watch the video for Cats on Trees's "Siren's Call"
Watch the video for Le Vasco's "Goodbye"
Watch the video for The Travellers's "Summer With no Sun"
Share this article