Tenacious D, second best spoof rock band |

reviews, news & interviews
Tenacious D, second best spoof rock band
Tenacious D, second best spoof rock band
Self-taught Jack Black and Juilliard-trained Kyle Gass are back on the road. This is their story
Tuesday, 26 November 2013
Fenixes rize again: understated stage trickery from Jack Black and Kyle Gass
"There is a misconception that we have called ourselves the greatest band on earth." Jack Black, the self-styled "lead singer" of Tenacious D, is all for dispelling a persistent rumour about a band which has, if he's honest, done practically nothing to make him a famous name in Hollywood. "People have marketed us that way," he explains. "You won't find it anywhere in the albums. You won't find it in any of our songs."
It's true, you won't. A semantic confusion may have initially arisen the first time the band ever performed in public, at a place called Al's Bar in Los Angeles in 1994. The only song in their repertoire at that time made repeated reference to "the best song in the world". In the dozen years of the band's subsequent lifetime, in which they have developed an organic brand of mock pomp acoustic folk metal comedy rock all their own, Tenacious D's schtick has been all about pumping themselves up. If only to save anyone else the bother. "It's not really for us to say," says Kyle Gass, the band's lead guitarist and only other member. "I would say the proof is in the pudding."
Black and Gass look like they know a lot about pudding. It's one of the reasons they don't resemble rock stars. The acoustic guitars strapped over their generous midriffs help to make the point. And however grungily Black wears his hair, it will never quite make up for Gass's shortage in that department. One thing Gass is not short of is shorts, which he wears almost all the time.
The truth is that Tenacious D are not the greatest band on earth. They are not even the greatest spoof band on earth. That honour has been bestowed for all eternity on the legendary Spinal Tap. But they are definitely the second greatest spoofers. The baton was in a sense handed to them directly, if inadvertently, at that first fateful gig. "Harry Shearer was there," recalls Gass. (As Derek Smalls, Shearer plays bass for Tap.) "It was a coffee house, and he just walked in."
The D, as they prefer to refer to themselves, first came to global attention in 1996 when they appeared in Bio-Dome and The Cable Guy. Two years later HBO screened three five-minute comic sketches, in two of which bodily fluids had a, shall we say, seminal role. HBO liked them enough to commission a short series, each episode featuring two of their songs. There would have been a whole series "but they wanted to not have us be executive producer," says Gass, "We said, 'No we'll just make us a movie'" In 2001 there was a debut album, going by the classically simple title of Tenacious D, from which two singles were released: "Dio", a tribute to Ronnie James Dio, and a tender feminist tract entitled "Fuck Her Gently" for which, claims Black, they have been "lauded by women's groups". A double DVD, The Complete Masterworks, incorporating a legendary Brixton Academy gig followed in 2003.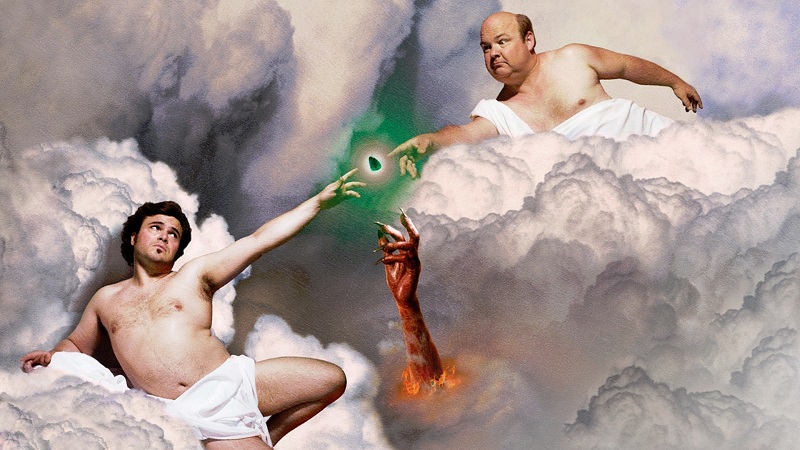 And once one of their number became a global superstar, the movie was bound to follow. Tenacious D in the Pick of Destiny told of their dream of becoming the Greatest Band on Earth, doomed until they learn of a guitar pick (pictured left in ceiling fresco after Michelangelo) which has been played by all the great music makers of history, from Mozart right through to the present day – cuing the hilarious ribaldry of "Classico", in which famous classical melodies are hitched to a lyric in which every other word begins with F.
It's not exactly how it happened in real life, but The Pick of Destiny's plot was not so very far from reality. "I think they're heightened versions of ourselves," says Gass. "Only lowered. So they're lowered versions of ourselves." Both of them Californians, the future members of Tenacious D first met when Black, aged 16, became a groupie of Tim Robbins's Los Angeles theatre company, The Actors' Gang. Gass was the company's muso. "It was kind of punk rock theatre," says Gass. "Very political." "I'm going to say 'not a very good name for a theatre group though'," says Black. "The Actors Gang. Sounds pretty lame. I'm not really scared of that gang." Black weaselled his way into a show about El Salvador by impressing Robbins with some musical material. Gass, nine years his senior, felt threatened. "At the beginning there was a little bit of friction between me and Kyle." "But it was definitely an 'if you can't beat 'em join 'em' scenario. We started jamming."
That was 25 years ago. At that point Black couldn't play an instrument, while Gass was classically trained. "He's the youngest ever graduate of Juilliard music school," explains Black. "The Philharmonic of literally every major city in the world were fine-wining and dining him to come and play classical string guitar, and he opted for a road less travelled, that of a vagabond musician entertainer actor troubadour, if you will." "I, like, majored in music," adds Gass, who in due course taught Black to play. "He picked it up pretty fast, although there were some trying times. There was one period where he would just play the same three chords on the guitar. You don't want to squelch his inspiration, but God dammit it drove me insane!"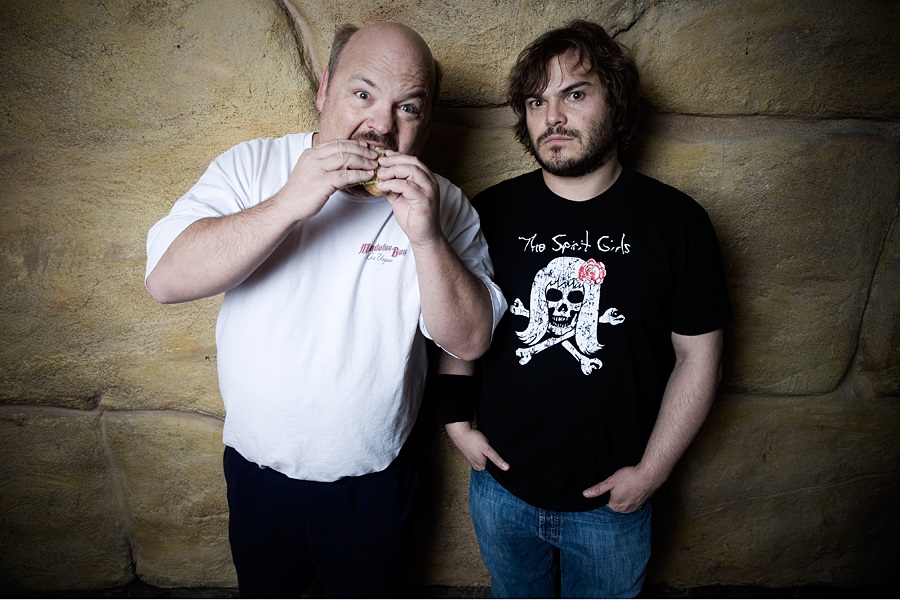 Gass's gift for pastiche makes a perfect match for Black's mock heroic lyrics. Songs like "Explosivo", "The Road" and "Wonderboy" "mostly laugh at people who are singing really self-important songs or songs about how hard it is to be a rock star, which is hilarious to me". It took several years for them to land that first gig. They didn't even have a name at the time, and let the audience decide between a menu of options, including Pets or Meat, Responsive Chord, Balboa's Biblical Theatre and The Axe Lords featuring Gorgazon's Mischief, "which was my personal favourite," says Gass. "But we did like Tenacious D the best so we put it at the end where usually you get the most votes." "It did not get the most votes," recalls Black. "But we forced it through."
With their second album appearing a full two decades after they first met, and their third - Rize of the Fenix - only last year, clearly they've needed to be tenacious. "We've needed a lot of D too," adds Gass. The rise of Tenacious D has run in parallel with the rise of Jack Black. His inimitable gift for pretending to take himself very seriously first snared an international audience in High Fidelity, in which he played a militant record-store rock snob. From Shallow Hal through King Kong to Nacho Libre, he has specialised in fantasists in the grip of a ridiculous conviction, none more so than in School of Rock, in which his character achieves his dream of rock stardom with a bunch of school kids.
"If you look at all my movies they're pretty much a lot of me," he says. "I'm not one of those chameleons." Did Gass have issues with a rock movie with no co-starring role for himself? "I was a little concerned, I guess. It just seemed like maybe he was cashing in a little rock cred but then I saw it and I loved it. But initially it was, you're doing a rock movie with kids? The worst part was one of the extras actually looked like me." "Although Kyle," adds Black, "has said that about half the movies I've agreed to do. 'Bad move career-wise, dude. Don't do it.'"
Finally we must address the age-old question of why, present company excepted, actors can't rock and rockers can't act. "Why are there so few doctor/lawyers?" says Black "They're specialised things." Gass runs an eye over the evidence of bands fronted by actors Jared Leto, Russell Crowe and Kevin Bacon. "If you put 30 Odd Foot of Grunts, 30 Seconds to Mars and the Bacon Brothers all in a stew, it's a really bad-tasting stew. Why have we been able to pass? I think it's just sheer talent."
Overleaf: watch the video for 'Kickapoo'
They have developed an organic brand of mock pomp acoustic folk metal comedy rock all their own
Explore topics
Share this article
Subscribe to theartsdesk.com
Thank you for continuing to read our work on theartsdesk.com. For unlimited access to every article in its entirety, including our archive of more than 10,000 pieces, we're asking for £3.95 per month or £30 per year. We feel it's a very good deal, and hope you do too.
To take an annual subscription now simply click here.
And if you're looking for that extra gift for a friend or family member, why not treat them to a theartsdesk.com gift subscription?