Spaghetti Western Orchestra, Queen Elizabeth Hall |

reviews, news & interviews
Spaghetti Western Orchestra, Queen Elizabeth Hall
Spaghetti Western Orchestra, Queen Elizabeth Hall
No Clint Eastwood on guest vocals, but can the spirit of Sergio Leone still be evoked?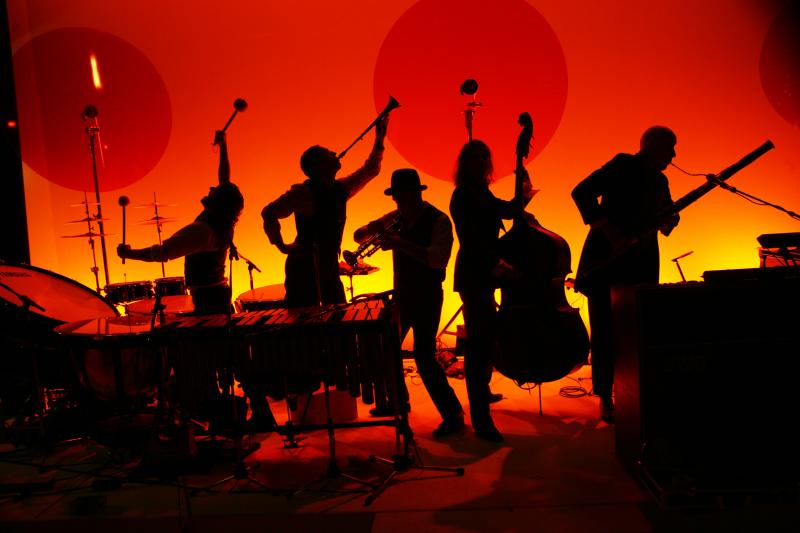 Spaghetti Western Orchestra: bringing movie music to life and so much more
It is a ridiculous idea but also a strangely appealing one. Five Australians recreate the music of composer Ennio Morricone's 80-piece troupe on a variety of traditional instruments as well as an instrument made out of string and a tin can, plus some bubble wrap, an alarm clock, two asthma inhalers and numerous other household items. Imagine a cross between Tom Waits in his junkyard phase and John Noakes building something on Blue Peter three decades ago.
As I said, ridiculous, but strangely appealing.
From the cod-Clint Eastwood whispered intro onwards this band successfully treads a parmesan shaving-thin line between anarchic irreverence and hero worship. Morricone's most famous piece, the achingly evocative theme from The Good, The Bad and The Ugly is rendered with the aid of squeaked ensemble "Wah-wahs" which could be viewed as insulting if they were not delivered with so much genuine commitment. The show includes a spurious narrative about searching for the mysterious "Bob Robertson" (a pseudonym of Leone – the man who popularised The Man with No Name apparently had a few names) but I don't think any of the audience was that bothered about finding Mr Robertson, they were merely here for the seminal soundtracks.
The best moments were when music and performance were ingeniously synchronised
The only thing that was missing in this witty, playful performance was actual film footage. A Carl Davis-style accompaniment to a screening would surely be a dream gig, but the quintet compensated for the lack of ponchos and Almeria visuals with some neat theatrical moves and skilful comic interaction. Perched onstage on two tiers, everyone garbed as sort-of Wild West extras, the band cut shadowy shapes or mugged away as if caught on an invisible camera. Drummer Graeme Leak, kitted out as a bespectacled bank teller and a dead ringer for Antony Sher, was particularly effective at these sideways comic glances.
Like the others, Leak also proved himself to be a versatile musician. He deserted his drumstool to perform the exquisite Once Upon a Time in The West signature tune on the theremin (and on a mini-plinth). Vocalist Patrick Cronin – resembling a restrained member of the Tiger Lillies in his bowler and antique garb – is a mean trumpeter and, more importantly for this song cycle, a formidable whistler. As well as the more familiar excerpts, including the haunting, eerie backdrop to A Fistful of Dollars and an atmospheric take on For a Few Dollars More, there were also lesser known gems, such as a snippet from the Don Siegel/Eastwood collaboration, Two Mules for Sister Sara.
The best moments, however, were when music and performance were ingeniously synchronised. There was more than a hint of vintage steam radio special effects when a chase through a crunchy floored one-horse town was replicated by sticking a microphone in and out of a box of cornflakes, while the encore, a departure involving a footpump, a rubber glove and a soon-to-be-pulped large green vegetable, was more Goons than Morricone.
If there is a problem it is that the format is slightly self-selecting and thus limited. I'd love to hear these five inventive types tackle a particular favourite, the later Leone gangster epic Once Upon a Time in America, but maybe it is a little too painfully mournful for a quirkiness-heavy concept such as this. These Australians have come up with a gimmick, but undeniably one that is great fun for film and music fans alike. Long live the Spaghetti five – they deliver a pretty tasty combination.
Spaghetti Western Orchestra is on tour until 18 March
Watch Spaghetti Western Orchestra perform "A Fistful of Dollars"
The encore, involving a footpump, a rubber glove and a large, green vegetable, was more Goons than Morricone
rating
Explore topics
Share this article