Reissue CDs Weekly: Mission of Burma |

reviews, news & interviews
Reissue CDs Weekly: Mission of Burma
Reissue CDs Weekly: Mission of Burma
America's post-punk greats get a sterling sonic overhaul
Mission of Burma live and in their prime in 1981. Left to right: Roger Miller, Peter Prescott and Clint Conley
Mission of Burma: signals, calls, and marches/Vs.
The opening moments of Mission of Burma's "That's When I Reach for my Revolver" still exhilarate. Recorded in early 1981, it was the first track on the Boston-based band's 12-inch EP signals, calls, and marches. The tension, power and forward motion of this sparse encapsulation of rock at its most textured lay the bed for a brooding melody drawing its lyrical jumping-off point from – depending on how the story is told or who is telling it – either a Hermann Göring comment about his antipathy to culture or a line from 1930s German play by Hanns Johst.
"That's When I Reach for my Revolver" became a post-punk classic and has been covered by Moby and Graham Coxon. But the original recording is all that has to be heard. The UK availability of vinyl reissues of signals, calls, and marches and Vs., Mission of Burma's sole album (originally issued in 1982), brings a chance to revel in the music of this great band.
America had no other band like Mission of Burma, and there was no comparable band in Britain. Billboard reviewed them in 1982 and said their "music lies somewhere between early Gang of Four, late Clash and intermediate Cure". While Gang of Four were soulmates in terms of their musical architecture and relentless forward thrust, it's harder to concur with the other two comparisons. Wire would have made more sense for the same reason as Gang of Four. Mission of Burma though were not copyists and had a hard-rock edge lacked by most bands categorised as post-punk.
Mission of Burma formed in 1979 and played their final show in 1983. Although on an independent label, they weren't obscure. They headlined New York's Peppermint Lounge and toured nationally. The band called it a day due to guitarist Roger Miller's tinnitus, reformed in 2002 and are still going. During their pre-reformation run, three musicians were seen on stage: Clint Conley (bass), Miller and Peter Prescott (drums). They also had a fourth member, Martin Swope. From behind the mixing desk he manned, Swope manipulated tapes and – as he did on the records – integrated them with the sound. The original band issued only four records: the "Academy Fight Song" (subsequently covered by R.E.M.) and "Trem Two" singles, signals, calls, and marches and Vs.
All are essential. Place the needle anywhere on these reissues and it is guaranteed what is heard will delight. According to Miller, in the booklet accompanying Vs., the album was intended to "mimic the feel of a live performance". It, indeed, has the forceful attack of a live show and unfolds in arcs, as though braking to take sharp turns and then accelerating into an open straight.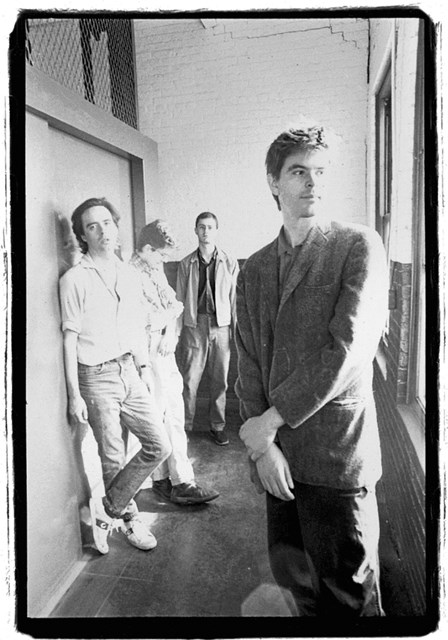 No bonus tracks bolster the reissues, so focus is not lost. This is the band as originally heard, but with one important new dividend. The mastering of these records is extraordinary. While it sounds as if no processing of the master tapes has taken place, comparison with original pressings reveals a greater impact: the sonic spectrum is now wider and more open. The mastering was analogue and direct to lacquer.
The four tracks from the "Academy Fight Song" and "Trem Two" singles are included in the signals, calls, and marches package as a non-picture sleeve seven-inch EP. Each of the two releases comes with an album-size floppy cover booklet which includes interviews with band, photos and images of memorabilia. The track listings in the booklets note DVDs which do not come with the records. Vs. also lists four bonus tracks which do not appear. These may be blown-up, yet carelessly unreconfigured, versions of booklets which accompany other CD/DVD editions.
Original pressings of the four records Mission of Burma issued during their first life are not rare, but they are hard to find in decent shape. Their output has also been almost endlessly recycled, but the sonic upgrade offered by these new reissues makes them integral to this vital band's catalogue.
Place the needle anywhere on these reissues and it is guaranteed that what is heard will delight
Share this article