Róisín Murphy, Royal Albert Hall review - shamanic razzle dazzle keeps us on our feet |

reviews, news & interviews
Róisín Murphy, Royal Albert Hall review - shamanic razzle dazzle keeps us on our feet
Róisín Murphy, Royal Albert Hall review - shamanic razzle dazzle keeps us on our feet
Mercurial goofing from the queen of weird disco
In one sense you know what you're going to bet with Róisín Murphy. Disco beats, a lot of bright colours, costume changes, goofing about, kick-arse vocals, and hats – lots and lots of hats. And yes, all that was present and correct at the Royal Albert Hall. But in another way, any given show is alien territory.
Murphy is an artist who has never sat still since her first releases with Moloko in 1994, not just reinventing herself from project to project as is standard for savvy pop acts, but shifting from minute to minute between accents, sounds, attitudes, seriousness and foolishness, futurism and classicism.
She came out of the gates at a pace for this set. "Simulation" is perfectly illustrative of her unique ways: originally released as a 12" single only in 2012, then repurposed in 2020's Roisin Machine, it has become as much as an anthem for her fans as any older song. She managed to get multiple ovations for it, first as the band struck up in the backstage area beamed onto a screen onstage in glitched black and white, then as they trouped on stage, then again as she led them onto stage, still playing, and yet more as she span round to display her first outfit, a kind of robot-Pierrot-leprechaun glam affair.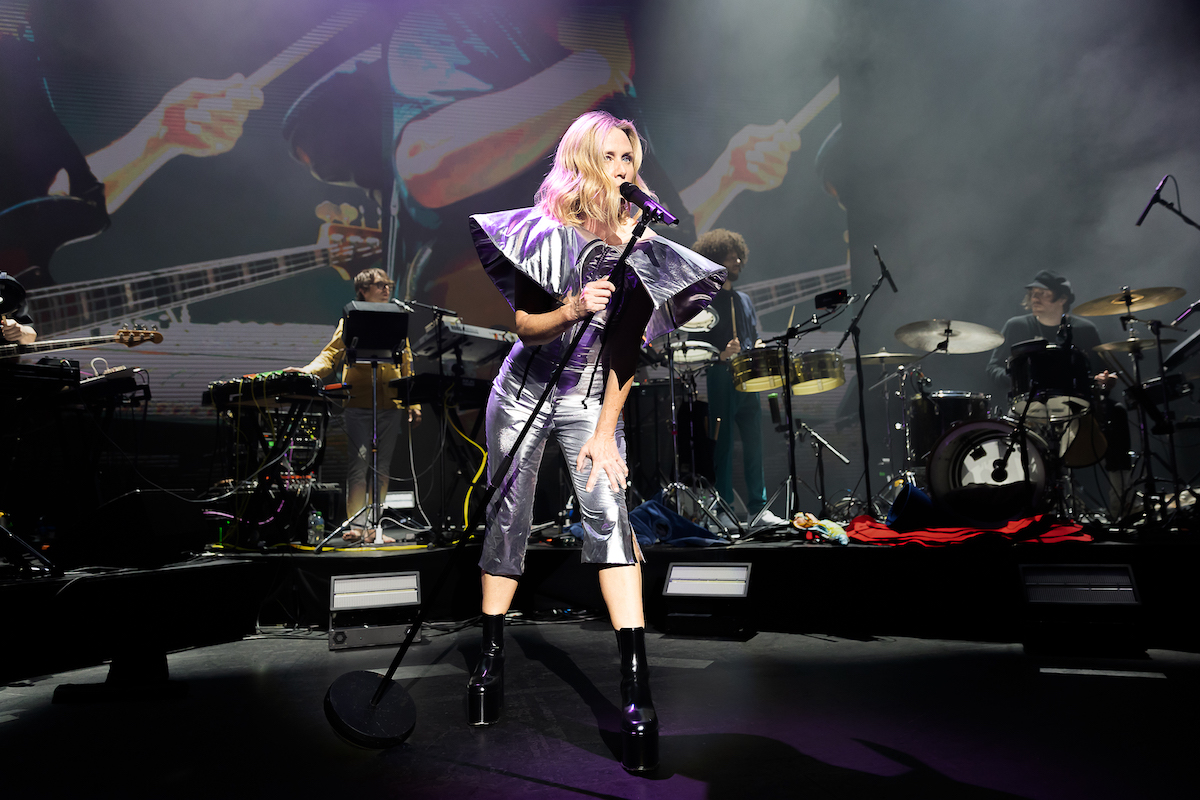 Murphy was not particularly verbose through the set, but she was certainly demonstrative. Where sometimes she can emphasise elegance, here she was clearly in the mood to muck about – barrelling across the stage, doing bandy legged clowning and doing side kicks that threatened to (but never did) tip her off balance. Disco divas usually get compared to other women, but in Murphy's case, though there's a strong streak of Grace Jones to her attitude and voice, performancewise the nearest parallels would be 90s contemporaries Shaun Ryder, Jarvis Cocker and even Vic Reeves.
Musically there was more than a hint of indie-dance, too. For new song "Hurtz so Bad" the band with its two drummers did kick up a bit of a Happy Mondays groove – but they switched straight to raw, sparse old-school house for a crowd singalong of Moloko classic "The Time is Now" and a more lavish dance groove for "Overpowered". Momentum dipped a bit for two more new songs, the single "Coo Coo" and "Universe", but then went into proper disco overdrive with another Roisin Machine single "Something More" which effortlessly transformed via a short interpolation of D Train's "Keep On" into 2007's "Let Me Know".
From here Murphy and the band had full command of the crowd. The projected visuals were overtly psychedelic – and towards the end Murphy would mutter in an eerily detached voice "am I just tripping? Is this the ceremony?" Indeed the various bulging, ruffled and asymmetric metallic clothing items and bizarrely-angled hats that came on and off through the set gave her something of a futurist shaman air, even as she stomped and flapped her trousers like a weird relative about to cause a scene at a party.
The band's ability to weave from dreamy to banging, loose to jazz-funk tight, and organic to electronic without the seams ever once showing was unerring, particularly in the most successful of the new tracks "Free Will" which built into an epic hypnotic jam on the tough and sparse early-90s "wild pitch" Chicago house sound. Inevitably in the chasmic space of the Albert Hall, it was the bangers which landed most successfully – a climactic version of 2004's "Ramalama (Bang Bang)" coming closest to turning the place into a proper rave.
This wasn't a perfect Murphy show in the way, say, last year's Glastonbury triumph was. The proportion of songs from her upcoming album – which the crowd didn't know, and could lose detail in the echoey hall – was high, and they hadn't necessarily found their natural place in the flow of the set. Nonetheless, she fully committed to it and had the guts to end on two low key songs, "Gone Fishing" and "Unputdownable" from 2015's Hairless Toys, and completely carry the crowd with her. And her glitter-covered, shapeshifting, shamanic presence, no matter how goofy she acted, filled the entire space. Murphy's unpredictability has been precisely what has given her creative longevity, and is precisely why she can fill the Albert Hall 30-odd years into treading a path entirely her own.
Performancewise the nearest parallels would be 90s contemporaries Shaun Ryder, Jarvis Cocker and even Vic Reeves
rating
Explore topics
Share this article