Punk's not dead: Moscow's Pussy Riot answer back to Patriarch |

reviews, news & interviews
Punk's not dead: Moscow's Pussy Riot answer back to Patriarch
Punk's not dead: Moscow's Pussy Riot answer back to Patriarch
Feminist punk collective say 'Holy Shit' song is a prayer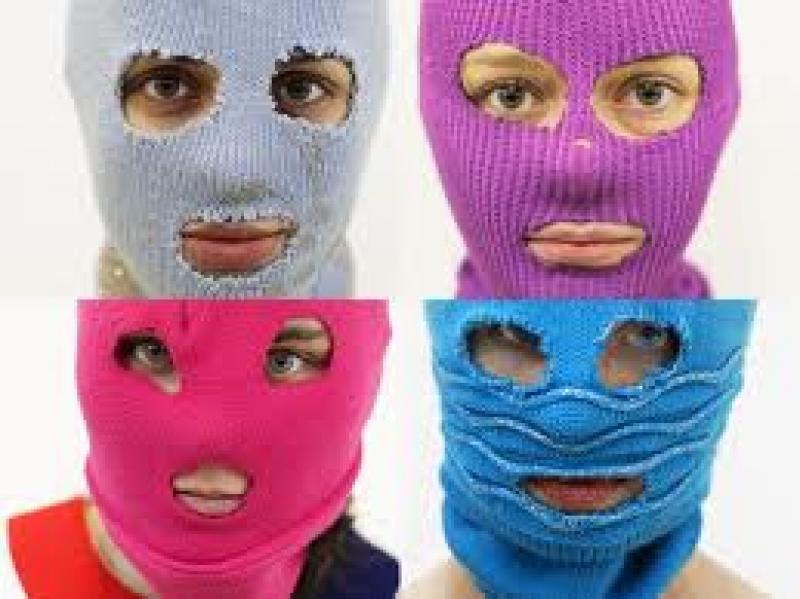 Arrested: Pussy Riot girrrls
The Moscow girl punk band Pussy Riot say their impromptu performance inside Russia's major cathedral of their song "Holy Shit" was a prayer. They were replying to the Patriarch of Moscow and All Russia Kirill who called it "blasphemy".
Speaking at a liturgy in Moscow's Deposition of the Robe Cathedral, the Patriarch condemned Pussy Riot's actions at Christ the Saviour Cathedral as "blasphemous" saying that "the Devil has laughed at all of us."
"We have no future if we allow mocking in front of great shrines, and if some see such mocking as some sort of valour, as an expression of political protest, as an acceptable action or a harmless joke," said The Patriarch.
Watch 'Holy Shit'
The great shrine the Patriarch was referring to is said to be a piece of the Christ's Robe located in Christ the Saviour Cathedral. The girls have denied their performance in the Cathedral was blasphemous, but was "a special prayer" as they addressed the Mother of God "to give courage and power to send away King Herod and his servants and then begin a new life according to human conscience."
Notorious for their colourful balaclavas, miniskirts and tights, they criticise Russia's authoritarianism, pushing for judicial, educational and cultural reform.
Pussy Riot's gig at Christ the Saviour took place on 21 February. Five members broke into the Moscow cathedral, performing a "punk prayer" from the altar. Their song "Holy Shit" is a condemnation of the Russian Orthodox church's close ties to Putin. "Holy Mother, Blessed Virgin," they sang, "chase Putin out!" Three of them have been arrested for hooliganism and they could face up to seven years in jail.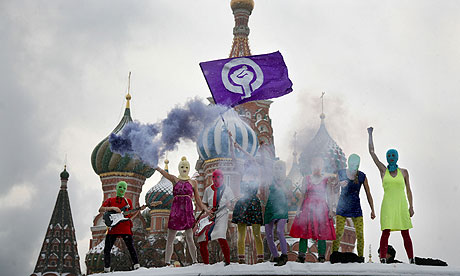 A couple of Pussy Riot gave the following interview to Gazeta.Ru:

How did you come up with the idea to create Pussy Riot?
Several activists of the opposition movement, dealing with the problems of feminism, ecology, as well as rights for the LGBT movement, regularly took part in rallies and other forms of active protest. We understood that Russia did not have enough explosive punk-feminist groups, pushing people to the development of a culture of protest. Anonymity and face masks were laid in the image of the group to avoid committing to specific individuals. Our concerts were to become a pure protest saying: super heroes in balaclavas and acid bright tights seize public space in Moscow. In October last year we recorded the song "Set free the pavement," held the first round of our illegal tour – we occupied several sites on public transport in Moscow.
How many people are in Pussy Riot?
We have 10 performers. We also have several dozens of staff- assistants, editors, etc. Pussy riot is not like an ordinary music band, we have no constant members.
Can anyone become a member?
Of course, one can either perform, or organise a Pussy-Riot style performance by themselves.
How do you organize an event? How do you choose a theme and scene?
Ideas are born after communicating with our close friends – opposition activists. We also participate in different protest events, we study the traditions of global political activism. We train very hard. Each new performance can take a week or even a month of rehearsal.
So what is it then? Art or politics? Work or hobby?
Art and politics are inseparable for us. We try to make political art. Performances and their rehearsals are our job. Life in Pussy Riot takes up a lot of time.
Do the band members have political views?
Most of us follow left non-authoritarian views, some of the members are liberals. Our political ideal is a developed civil society where people are aware of their rights and interests. Politicians must depend on their electorate. Today, a small number of people have taken power by force in Russia, they now change laws to keep control of the country. They have not asked Russia's citizens, whether they want prolongation of presidential term to six years or not. Why didn't they conduct a referendum? Russia does not have democracy now. Our position is to think critically, to doubt all "natural" things, and find lies. Today, some people try to persuade us that Putin is a gift for Russia, that the country would collapse without him. Our position is to think, analyse and make the right decision.
What is your ultimate goal?
We have several of them. For example, we demand freedom for political prisoners. We heard some officials demanded our imprisonment after the performance in the Cathedral of Christ the Saviour. But we only wanted to stress the far too much communication between the church and the government. Our Patriarch is not ashamed of wearing watches worth $40,000, which is intolerable when so many families in Russia are on the edge of poverty.
What do you think needs to be immediately changed in Russia?
We must change the judicial system first. Democracy is impossible without an independent judicial system. An education reform, and cultural reform are also needed. Putin pays attention to anything but culture – museums, libraries, culture centers are all in awful conditions.
We train very hard. Each new performance can take a week or even a month of rehearsal
Explore topics
Share this article