Paul Simon, BST Hyde Park review - still sprightly after 76 years |

reviews, news & interviews
Paul Simon, BST Hyde Park review - still sprightly after 76 years
Paul Simon, BST Hyde Park review - still sprightly after 76 years
Powerful and wide-ranging performance from one of the all-time songwriting greats
Paul Simon: full of vim, sass and clear intent
"Homeward Bound – the Farewell Tour", they were calling it. But with a show this strong, nobody would complain if that farewell were to turn out at some point not to be absolutely final.
Paul Simon is 76, and there is absolutely no doubt that as he sings in "The Boxer", "the fighter still remains". He has just done 10 of these shows across Europe in the last 16 days, each of at least two hours, and yet the voice still sounds strong, and his energy completely intact. This was a performance full of vim, sass and clear intent.
Above all it's a show about the power of all those great songs, and a great communicator at work. He never left the stage, and sang 26 of them last night, including just about all of the favourites. The words came across with great clarity, and time and time again the audience would join in. The sense of connection both with the words of the songs and the rhythms of the many danceable numbers was palpable.
The show had huge stylistic variety and numerous clever changes in pace, thanks to Simon's remarkable band and its fine and versatile players. One uniquely potent force is percussionist Jamey Haddad who has worked with Simon for 20 years. His tabla-playing and Carnatic singing were given their brief moment in the limelight on "Dazzling Blue", but he was also there in the powerful reggae backbeat of "Mother and Child Reunion" and at one point I spotted him proudly accoutred in a wearable washboard.
The horn section brought other strengths to the party. CJ Camerieri set the whole show in motion on French horn, and then popped up later playing mellifluous piccolo D trumpet on "The Boxer". Mark Stewart from Bang on a Can played baritone sax and is also a fine guitarist. Andy Snitzer is a gutsy tenor sax player who also took some fluent solos on soprano. And all of them combined as a section in various guises: as the most authentic of American show-bands in "Obvious Child" or as a full-on latin horn section in "Late in the Evening".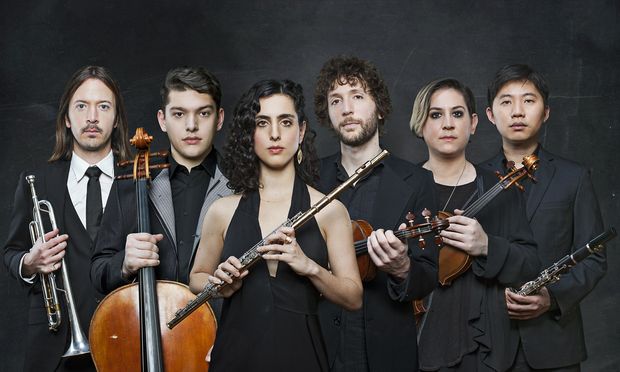 Star South African bassist Bakithi Kumalo had his expected slap bass moment on "You Can Call Me Al" but was in the mix and adding powerful and positive propulsion throughout. Piano player Nick Rossi stepped out on Fender Rhodes in "Still Crazy after All These Years." Simon has also incorporated the entire six-piece YMUSIC ensemble (pictured left). He gave them their moment in the spotlight together as a mini-orchestra, and as a way to temporarily detach the group from its powerful rhythm engine completely. That was achieved to vivid effect in the Ravel-like "Rene and Georgette Magritte with their Dog after the War".
That was one of those moments where the pace was deliberately slowed down. If the occasional song did manage to outstay its welcome – "Questions for the Angels" or "Cool Cool River" come to mind – all that that did was to prepare the ground for a powerful re-connect. After those two songs came an astonishing rendition of "Diamonds in the Soles of Her Shoes" with an a capella opening in (I'm guessing) at least 10-part harmony from the band as singers, followed by the unleashing of the whole band in Township mode.
The sound crew, mercifully, had a better night than last Sunday when bass feedback bedevilled both Steve Winwood and Eric Clapton, but they were challenged to find a good balance by some of the constant changes in instrumentation and weren't always equal to it. Simon had talked with emotion about "reclaiming a lost child" before he sang "Bridge Over Troubled Water", but then when he sang it, he was overpowered by the band.
At the end of "The Sound of Silence" Simon lingered reflectively onstage for a moment, bowed deeply, stretched out his arms and left the stage, his work done. This was a show which will stay in the mind for a very long time.