Paul Simon and Sting, O2 Arena |

reviews, news & interviews
Paul Simon and Sting, O2 Arena
Paul Simon and Sting, O2 Arena
A memorable evening as the pair light up the stage with classic songs and thumping good tunes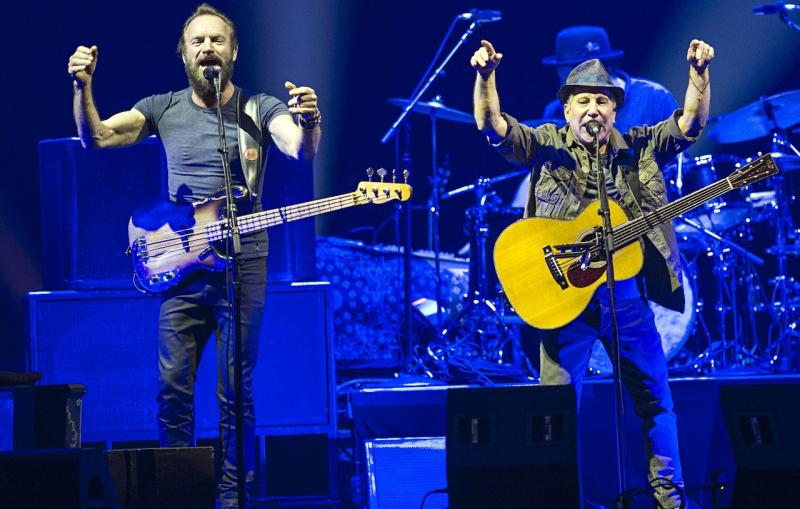 Sting and Paul Simon on the British leg of their On Stage Together world tour
Put your hand up if you were in the audience last night, or indeed on any of the nights of this ambitious On Stage Together tour, and came only to see one man, and that man was Paul Simon. I'm sure you won't need much nudging. After all, after almost six decades in the business, Simon's star may have dipped – and endured the political controversy of the Graceland years – but has never faded. Sting's meanwhile, certainly has.
It seems that breaking a UN cultural boycott is less of a crime than being the butt of tantric sex jokes.
But Simon doesn't need to be cool to be loved. He's got the songs, and while the Police back catalogue is strong on zippy, rousing, white reggae-inflected pop tunes, Simon's best songs are classics. As Sting aptly put it last night, before breaking into a husky-voiced rendition of Simon and Garfunkel's "America", these are songs that have formed the musical backdrop to his life, and probably yours, too, if you're reading this. They're songs you want to listen to when you're falling in love, falling out of love, when you're lonely or feeling homesick. And Sting's pared-down "America", which somehow segued into a punchy "Message in a Bottle" and, remarkably, managed to feel just right in doing so, was good.
Simon didn't exactly return the compliment, nor, as elder statesman – at 73, he's got ten years on Sting – does he need to. But still, there was clearly a lot of affection and camaraderie between the two on stage. Accompanied by a multipiece band, and the most impressive tuba and fiddle-playing you'll hear for a while, they shone, with neither bidding to outdo the other. The atmosphere was relaxed, chilled, just two buddies on the road, and completely focused on the music – and if there's one criticism it's that there was too much musical noodling from sections of the backing band, though it has to be said the musicianship was superb.
What makes this double-bill a winning one is the energy Sting brings to both Simon's songs and to his own
Still, it probably gave the two a chance to catch their breath. Thirty-three songs performed over three hours – more or less evenly spliced to cover good ground over each of their careers – is no easy feat; and though the solo sets did form the core of the evening, there were also belting duets opening, closing and punctuating the middle. "Mrs Robinson" got a radical makeover, so much so that it took a few beats to recognise what was coming, while "The Boxer" was given a gentle Nashville lilt.
What makes this double-bill a winning one is the energy that Sting brings to both Simon's songs and to his own. "So Lonely", "Roxanne" and "Message in a Bottle, all performed solo, certainly got the near-capacity crowd at the cavernous O2 on its feet, but he also gave extra spice to Simon's more reflective songs. And Simon himself does well when he bounces off the energies of another performer, since he's certainly not one for big onstage gestures – though, having said that, you probably don't need much help on that front when you've got the stomping African beats of "The Boy in the Bubble" and "Graceland" to jack things up. And Simon just lit up with "Graceland".
Of Simon's solo set two songs, perhaps surprisingly since neither ballad can be said to be a post-Simon and Garfunkel classic (the latter quietly sinking when it came out as the title track on the 1983 eponymous album) gave us two of the evening's highlights: "Still Crazy After All These Years" and "Hearts and Bones" were more or less straight renditions, and they were sung beautifully, affectingly.
It has to be said, both Sting, now sporting a grizzly old man's beard (and as the gig drew to a close draped in a fashionista man gown) and Simon, who looked slimmer and fitter than he has in some time, looked incredibly well. And they both sounded good – though perhaps Sting's rasping roar of a crescendo in "Bridge Over Troubled Waters" near the end proved a bridge too far for his old vocal chords. No matter. This was a memorable evening.
Simon does well when he bounces off the energies of another performer, since he's certainly not one for big onstage gestures
rating
Explore topics
Share this article