Hardanger Musikkfest 2023 review - fertility, folk music and the supernatural unite along Norway's fjords |

reviews, news & interviews
Hardanger Musikkfest 2023 review - fertility, folk music and the supernatural unite along Norway's fjords
Hardanger Musikkfest 2023 review - fertility, folk music and the supernatural unite along Norway's fjords
The village of Lofthus hosts an unconstrained festival where Grieg's spirit is never far
Thursday, 07 September 2023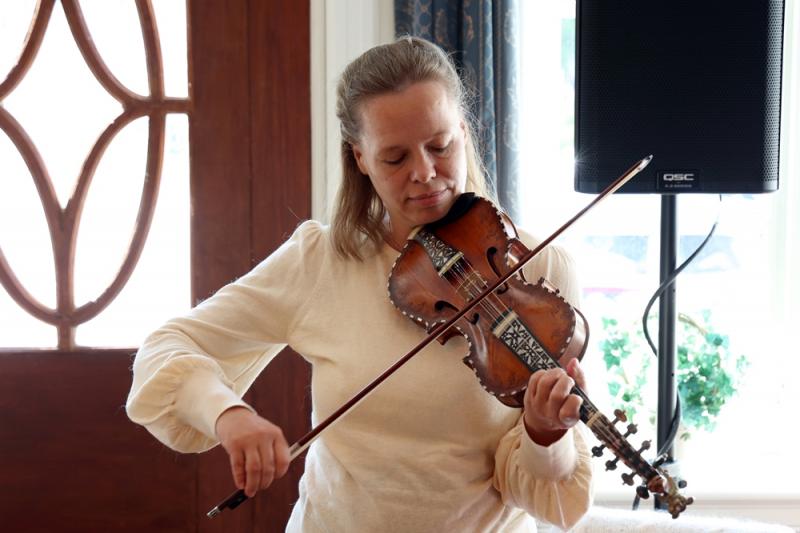 Anne Hytta at Hardanger Musikkfest, with her Hardanger Fiddle – made in 1860
The cows are scattered across the mountains. Without scrambling up the slopes, the only way to summon them is to call. Unni Løvlid is beckoning them. Instead of standing outdoors she is in the medieval Ullensvang Church, in the Norwegian village of Lofthus. She uses the interior of a grand piano to get the necessary resonance, the echo which distant animals would hear.
This evocation of an aspect of country life is part of a radical reinterpretation of Edvard Grieg's 19 Norske Folkeviser (19 Norwegian Folk Songs), composed in 1896. The first piece in the cycle is "Kulok" (Cattle Call). With Løvlid are Ingfrid Breie Nyhus at the piano and Anne Hytta, playing the typically Norwegian Hardanger fiddle. All three are long-established Norwegian musicians, whose music draws from folk as much as it does an experimental outlook. For each of them, existing templates are there to be reconfigured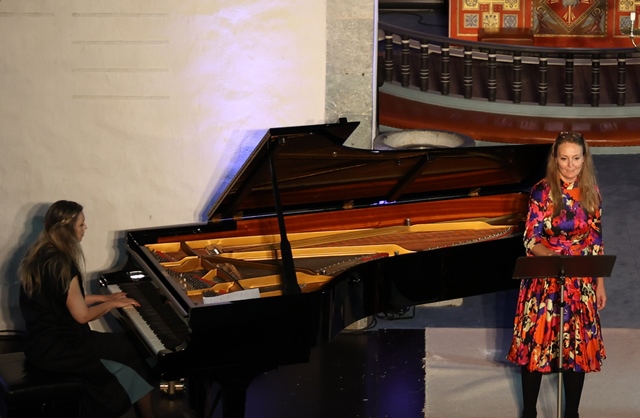 Although 19 Norske Folkeviser was composed for piano and has subsequently been arranged for orchestra, this version is more akin to a combination of Arvo Pärt and La Monte Young were they working with a singer who can instantly switch between the straightforwardly melodic and the impressionistic, and a violin player offsetting drones with the circularity of folk-dance music. When Nyhus moves from piano to harmonium, gothic territory is close. The supernatural world also isn't far. Løvlid suddenly interrupts her vocal flow and emits what isn't recognisable in any language as words. A forest spirit has inhabited her and is communicating an incantation which is delivered backwards. The abrupt appearance of this eerie manifestation is disconcerting. (pictured right, Ingfrid Breie Nyhus, left, and Unni Løvlid, right, during the performance of 19 Norske Folkeviser at Hardanger Musikkfest)
As one of the set-piece performances of 2023's Hardanger Musikkfest, this intense transformation of what might be recognisable when performed in another context proves to typify the festival. This is the 28th edition of what bills itself as an "international chamber music festival"— really, it means the music is performed in intimate settings, whether the church or Lofthus' village hall Krossvoll.
Lofthus has a population of just over 600. It's dominated by the 170-room Hotel Ullensvang. It and the village's houses hug the Sør Fjord, a north-south offshoot of the massive Hardanger Fjord to the north. On one side, water. On the other, mountains, the lower slopes of which are draped with apple orchards – 80% of the cider on sale in Norway's shops comes from fruit grown here. As a resort, Lofthus attracts hikers. Charmingly, one of the accredited routes is named "HM Queen Sonja's Panoramic Hiking Trail" – Norway's monarch has travelled the path by foot and ski. Getting to Lofthus proves a form of hike. It takes two-and-a-half hours from Bergen, the nearest city. The roads to Lofthus curl along the sides of fjords and stab through tunnels puncturing the mountains. (pictured left, Edvard Grieg's composing cabin at Lofthus)
Initially, it seems an odd location for a music festival. The setting is magnificent, but Lofthus is hard to get to – there is no train line and, perplexingly, the infrequent buses aren't direct from Bergen – so the village doesn't instantly suggest itself as a cultural hub. There is a small supermarket and one bar. A cafe is only open for lunch. The bakery shuts in late afternoon. The bar serves pizza in the evenings, and food can also be found at a guest house by the church. The evening buffet at the Hotel Ullensvang is super expensive, unreachably so, even by Norwegian standards. Yet despite the limited amenities, here it is; a festival which doesn't pin itself down to one form of music. This year's theme is Grøde: fertility. It's the harvesting season.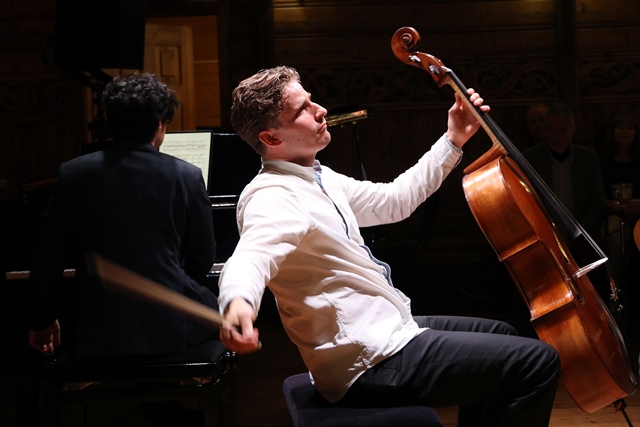 A wander round the village helps bring understanding of why this is here. Between the hotel and the Sør Fjord is a small wooden shed. It's Edvard Grieg's composing cabin. Inside, a piano, a chair and table. He first came to Lofthus in 1877. To the hut's south, the Ullensvang Church rests on a premonitory projecting into the fjord. The prospect looks like a chocolate-box image promoting Norwegian National Romanticism – Grieg may have thought something along these lines as he took in the view before putting pen to paper as part of his contribution to championing Norway's identity. (pictured right, Andreas Brantelid at Hardanger Musikkfest)
Administratively, Lofthus is within the Hardanger region. And this area of Norway is the early home of the Hardanger Fiddle (the Hardingfele), which has a second set of resonating sympathetic strings making a drone and for a stunningly loud instrument. The standard violin first arrived in Norway in the 1600s and began supplanting the zither-like langleik as the instrument of choice for dance musicians. The Hardanger Fiddle is known from around 1700 and wasn't built by trained makers until the 1850s – concurrent with the rise of Norwegian Romantic Nationalism. Anne Hytta plays an instrument made in 1860. Layer onto this that violinist Ole Bull was based in Bergen and regularly visited Lofthus: he brought the fiddler Targeir Augundsson, billed as the miller boy, to Oslo (then Christiania) in 1849 – the first time a stage there hosted rural, traditional music. Folk music, its dissemination and the active acquisition of a Norwegian identity are embedded in this place.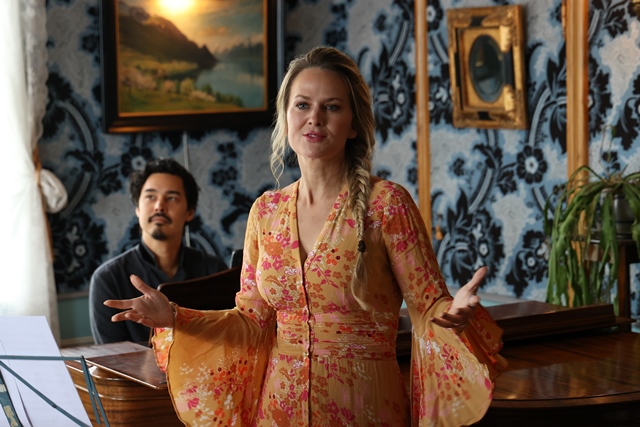 All this resonates through Hardanger Musikkfest. It isn't a folk festival or strictly about the classical music it also hosts, but instead reflects the enduring spirit of Norway's 19th-century search for its own unique qualities. The building blocks found then remain dynamic. The exploratory essence of the festival is in keeping with the period when Norway was defining itself and, in the same spirit, is not about standing still. (pictured left, Christopher Park and Mari Eriksmoen at Hardanger Musikkfest)
Consequently, Hardanger Musikkfest features some intriguing collaborations. Above the Fløy Bakeri, Anne Hytta and Danish cellist Andreas Brantelid – with his Stradivarius instrument – breach the boundaries between folk and the classical repertoire. Playing with Unni Løvlid and on her own, composer/violinist Hanne Kallestad confirms that genres mean nothing: she could take a turn leading to the experimentally inclined Norwegian label Hubro. In the church, Brantelid and Oslo-based, German-born pianist Christopher Park power through Rachmaninov's Cello Sonata in G minor. Then, Park plays with Norwegian soprano Mari Eriksmoen in a tiny room of a house frozen in the late 19th century. Despite pieces by Tansy Davies and the slightly less recent György Ligeti cropping up here, the feel conjured by these recitals cannot be far from what Grieg and Bull witnessed while working to bring Norway into concert halls and salons.
Just how far Hardanger Musikkfest pushes beyond the familiar comes into focus during an extraordinary evening at the Hotel Ullensvang's Hardangerhallen – usually employed as a sports hall. Billed as Musical Grøde (Musical Fertility), it unites musicians from the Ullensvang school (the names Lofthus and Ullensvang seem interchangeable) and nearby Opedal and Stusshamn schools. After a solo spot from Anne Hytta, kids in traditional Norwegian costume perform folk dance to accordionist Anita Solheim Bråvoll. (pictured right, the performance of Vasskaninen at Hardanger Musikkfest)
Then it gets odd. Magical too, and increasingly so as it progresses. Percussionists Owen Weaver and Håkon Skjæret, from the new music outfit BIT20 Ensemble, face-off against each other behind drum kits and motor through Steve Reich's Music for Pieces of Wood. A reflective interlude from Ingfrid Breie Nyhus is offset against the Ullensvang and Strusshamn school musicians playing a piece featuring the on-mike munching of an apple and percussion played in a water tank, which isn't so far from parts of The Beach Boys' Smile. The evening climaxes with Skjæret and Weaver (each conducting one half of the musicians in opposition with the other half) leading all the school musicians playing Vasskaninen, specially composed for the festival by Craig Farr – the British-born, Norway resident composer/percussionist who has also played with Kings of Convenience. Benchmarks coming to mind encompass Philip Glass and Harry Partch with a dash of Squarepusher. Some of the players use iPads to conjure-up random electronic sounds, which are represented visually on TV screens. A very offbeat school concert.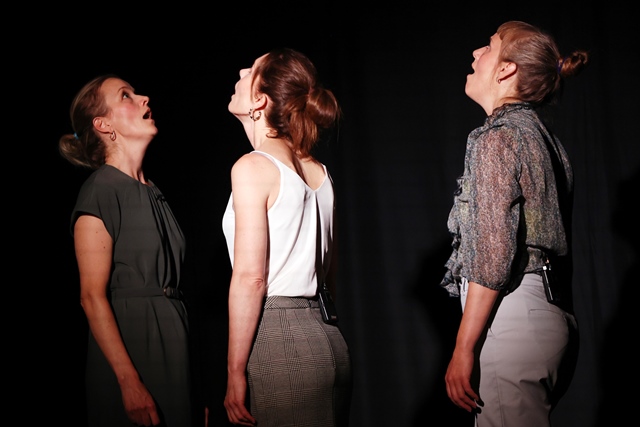 Equally memorable and just as challenging is Vemodig Disco (Melancholy Disco), devised and performed at Krossvoll by the performance art/vocal trio Små Grå. It seamlessly takes in ensemble dance, Swingle Singers-style wordless vocal sections, stuttering recitations, vocal eruptions recalling Janov's Primal Scream and satire about the roles people are expected to adopt and what they consume. There's an oblique Samuel Beckett undertone. Overall – and, as it transpires, it is equally hard for Norwegian speakers to interpret – it appears to be about frustration, stress and not being heard: when the self is rendered invisible by external circumstances. All overriding themes in keeping with the name Små Grå, which translates as Small Grey. Amazing, immersive stuff. (pictured left, Små Grå at Hardanger Musikkfest)
The 19 Norske Folkeviser, Musical Grøde and Vemodig Disco set-piece performances push Hardanger Musikkfest beyond anything which might be expected from the declaration of this as a "chamber music festival." Of course, aspects of it are. But, surely, this description sells it short as it implies limits to what's on offer. Just as the regular local visitor Edvard Grieg sought to inject new identities into the music accommodated by Norway's mainstream, the engaging Hardanger Musikkfest shatters boundaries. Any music fan would be captivated by this festival.
Such pondering, however, is forced into the background at the Ekspedisjon bar during the Festivalkviss, the festival's quiz. At tables with anyone who has bought a ticket are Anne Hytta, Unni Løvlid, all of Små Grå, Håkon Skjæret; anyone and everyone playing the festival. Hardanger Musikkfest's lack of heed to constraints results in a horizontal, non-hierarchical event where the barrier between performer and audience is removed. Had he popped out of his nearby hut to join in, a time-travelling Edvard Grieg would doubtless have approved.
Any music fan would be captivated by Hardanger Musikkfest
Explore topics
Share this article