Genesis Breyer P-Orridge, October Gallery
Genesis Breyer P-Orridge, October Gallery
From Throbbing Gristle to pandrogyny: Genesis Breyer P-Orridge reflects
Saturday, 24 January 2015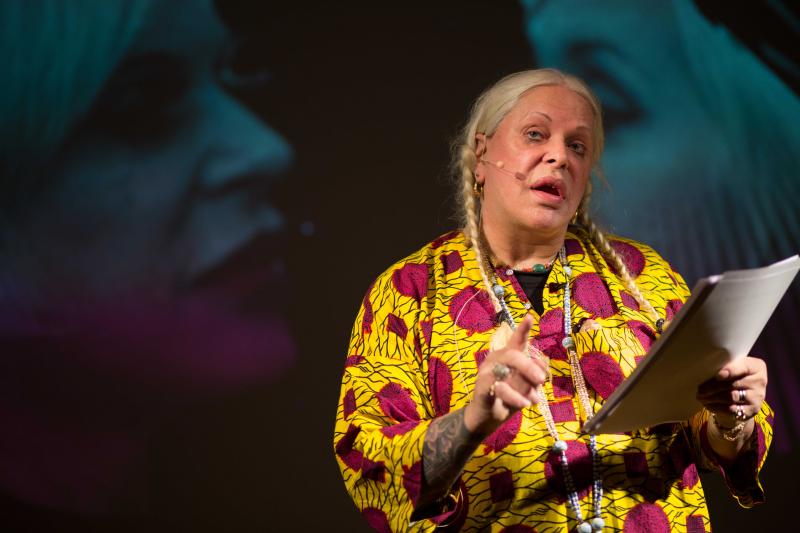 Genesis Breyer P-Orridge
There have been Throbbing Gristle reunions at Tate Modern, and Psychic TV last played in London at the now-demolished Astoria in 2008 – the band in nurse's uniforms, playing psych garage rock over projections of medical procedures and sex scenes – but it's a long time since Genesis Breyer P-Orridge was in London.
Combining a sort of spoken-word memoir with poetry and a closing Q&A upstairs at the October Gallery as part of its Burroughs centenary exhibition, Can You All Hear Me?, the first half was an hour's impromptu talk about how Neil Megson became the pandrogyne figure there on the dias, long grey pigtails framing a surgically altered, heavy-lipped face. He took us through a life's work in music, performance, visual art and magic, progressing from 1970s communes in Islington and Hull through Industrial music, COUM, Thee Temple ov Psychick Youth, collaborations with William Burroughs and Brion Gysin, raids on his home by Scotland Yard and American shelter and exile under the wing of Winona Ryder's dad, Michael Horowitz, and his "pandrogyne" life in with Jaye Breyer (who died in 2009), applying Burroughs's cut-up technique to their own bodies.
When he first met Burroughs, he tells us, the writer gave him a mission: "Find out how to break the centres of control." Downstairs in the main gallery, there are artworks by Burroughs – spray paint, shotgun holes – Brion Gysin's calligraphies, a kinetic Dreammachine-like sculpture by Liliane Lijn, and P-Orridge's image montages, or Sigils, dating from the 1980s to the 2000s, created with magical intent to affect physical change for friends and collaborators such as Derek Jarman.
Upstairs, the sold-out audience listened as P-Orridge cast his nets, unscripted and without faltering, through the shoals of collectivism, magical action, chance operations, physical symbiosis, DNA as virus, non-specific consciousness and cutting the lines of control, of expectation, of physical form. It's all about opening up to radically altered perspectives and perceptions, and at the heart of it all is the Cut-Up, that most enduring of 20th-century cultural tools. In P-Orridge's magical universe, it is applied to word, to image, to body, to mind, to gender. It is there in sex magic; that is, in harnessing the power of orgasm to affect actual change. But really, it was about cutting the lines of expectation and therefore control. P-Orridge's expansive, discursive monologue, sometimes to imagery and projections – including graphic footage of his own cosmetic procedures – and the surprisingly effective poetry with film projections that came in the second half, was an intensive and absorbing application and extension of Burroughs' methods in the centenary of the writer's birth.
Other events to accompany the October Gallery's exhibition include a salon of neurologists, botanists, zoologists, biologists and more (January 31) discussing Burroughs' preoccupations and ideas; and Barry Miles and Stewart Home discussing Cut-Ups as a revolutionary weapon on the last day of the exhibition, February 7.
One of Burroughs' enduring preoccupations – and one that has inspired at least two feature films – was the occurrence of the number 23. P-Orridge, too, draws on this number and its predilection to appear at significant moments, as a proving of a magical, patterning perception of the universe.
Of course, it goes without saying that this event fell on January 23.
At the heart of it all is the Cut-Up. In P-Orridge's magical universe, it is applied to word, to image, to body, to mind, to gender
rating
Explore topics
Share this article