The Gaslight Anthem, O2 Academy, Glasgow |

reviews, news & interviews
The Gaslight Anthem, O2 Academy, Glasgow
The Gaslight Anthem, O2 Academy, Glasgow
New Jersey rockers go from strength to strength on their Handwritten tour
Saturday, 20 October 2012
The Gaslight Anthem's Brian Fallon shows off his rockstar moves on a previous trip to Glasgow
The Gaslight Anthem's star has been in the ascendant for some time now - arguably since the release of their 2008 breakthrough record, The '59 Sound. But nowhere has that change been more dramatic than in the evolution of their live shows. The Gaslight Anthem that commanded the stage in Glasgow last night was an altogether more confident, self-assured beast than the band that played the same venue in the summer of 2010.

There's a certain weariness that sits on Brian Fallon as a songwriter nowOne thing that hadn't changed since then, however, was the somewhat eclectic choice of support band. The staccato backline of Brighton's Blood Red Shoes, all squalling bass and frenetic drumming, seemed at odds with the headliner's meat-and-potatoes classic rock influences, and the crowd didn't seem particularly enthused even as Steven Ansell seemed to taunt them with a screamed "Are you listening? are you watching" refrain. Their half-hour set seemed a tremendous waste: third album In Time to Voices, released earlier this year, is a worthy listen and the catharsis that drives their live performance is awe-inspiring to watch. "Cold", the lead track from that new album, is deliciously creepy; the right combination of louds and quiets and eerie harmonies even in a space probably more cavernous than the duo tends to play.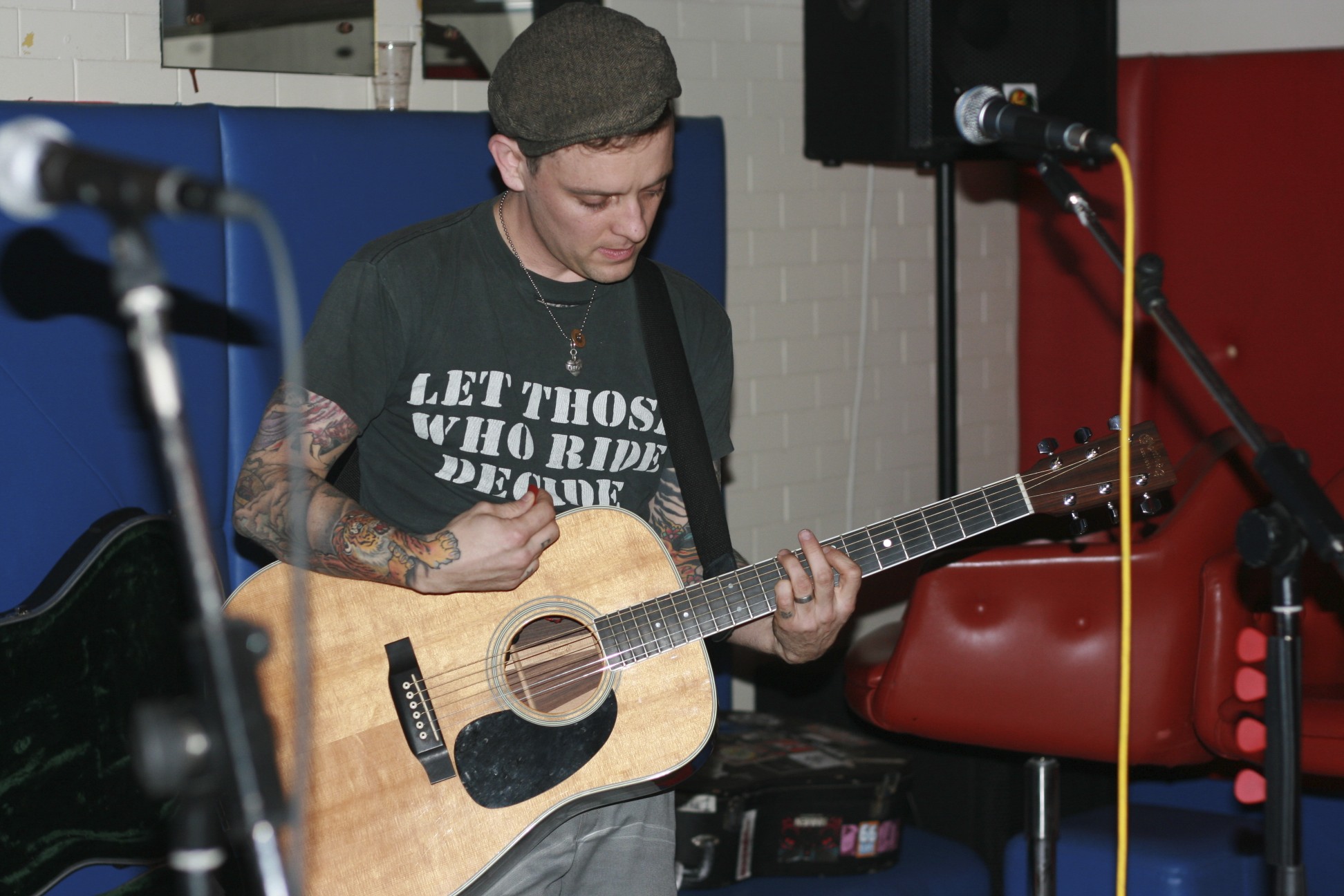 The acoustic set from Dave Hause (right), sometime frontman of Philadelphia punks The Loved Ones, which began the evening was less of a surprise. Hause joined Gaslight Anthem frontman Brian Fallon on last year's Revival Tour, the long-running collaborative acoustic event organised by Chuck Ragan of Hot Water Music, and both songwriters' material touches on many of the same themes. The camaraderie between so many of the artists on the folk-punk circuit - not to mention the artist's open, funny, onstage persona - has in the past led me to wish I liked Hause's music a lot more than I do, as he often strays too far into earnestness with an acoustic guitar in his hand. His closing medley - one of his Loved Ones songs mixed with favourites by Joe Strummer, The Hold Steady and Frightened Rabbit - worked far better than something like "Pray for Tucson", from his solo Resolutions album.
Not that any of that diminished my excitement to see him back on stage later with the Gaslight Anthem, belting out a counterpoint on the chorus of "American Slang". With sometime guitar tech and Fallon's partner in his Horrible Crowes side project, Ian Perkins, adding a third guitar to the line-up, the New Jersey rockers already presented a beefed-up sound to an excited audience, and an early streak of some of their most anthemic songs kept excitement levels high.
"Mae", from this year's Handwritten album, was an inspired choice of opener. I'd written the song off on my first couple of listens, rolling my eyes at the Bette Davis eyes and mother's party dress of the song's Gaslight-by-the-numbers heroine, but its wistful lyrics and evocative melody have grown on me as it has become familiar. Although the band's central concerns have remained constant throughout their four albums - love and desire, fading youth and the comforting presence of the songs on the radio - their musical evolution has never been clearer than in the juxtaposition of "Mae" with "The '59 Sound". There's a certain weariness that sits on Brian Fallon as a songwriter now, a sense that his nostalgia is more personal than those early lyrics that referenced a bygone era that was never his. Although "The '59 Sound" deals explicitly with a death, it has never sounded resigned, and as the band thundered through the song's singalong "Young boys ain't supposed to die on a Saturday night" refrain a sense of youthful rebellion remained front and centre.
On a purely technical level the band were probably the best I have ever seen them: tight, professional and slick with Fallon's stage banter, when it wasn't muffled by the sounds of an appreciative crowd, packed with zingers like "booing for Justin Bieber is like cheering for pizza". Setlist-wise, however, heavy reliance was placed on the newest album to the exclusion of fan favourites. It made for a middle section that seemed to lag, for want of a better word; a shame for a band whose back catalogue includes enough short, sharp punk songs and weepy ballads to create the perfect mix. Only "Wooderson", towards the end of the evening, made an appearance from debut Sink or Swim, while "Here's Looking at You, Kid" and "Great Expectations" was an emotional sucker-punch at the end of the main set.
It's always bittersweet to see your favourites grow into a new audience, even when their getting there is well deserved. The good news is that The Gaslight Anthem can hold their own and then some.
Although the band's central concerns have remained constant throughout, their musical evolution has never been clearer
rating
Share this article